SANTA MONICA, CA, USA: trailblazing pro audio manufacturer Antelope Audio is proud to announce availability of Goliath HD | Gen 3 — advancing its formidable flagship offering as the world's most powerful audio interface with brand-new, state-of-the-art AD/DA converters to achieve a stunning 136dB DNR (dynamic range) on its mastering-grade monitor outputs, offering the most comprehensive connectivity available anywhere, and also including a complimentary Edge Duo microphone with switchable polar patterns and realtime mic modelling via its impressive studio partner's onboard FPGA-powered emulations and Accusonic mic preamps — as of July 23…
As implied by the ThunderboltTM|USB 3.0|HDX Port|MADI wording boldly blazoned across a facelifted front panel that is sure to stand out in the most demanding studio setups that the top-tier audio interface itself is duly designed to handle, Goliath HD | Gen 3 works with any DAW (Digital Audio Workstation), connecting to Mac and Windows computers with 192 kHz audio over Thunderbolt, USB 3.0, HDX (available as a separately-purchasable, optional upgrade), and MADI (to Dante Bridge). As an Antelope Audio innovation, Goliath HD | Gen 3's proprietary HDX Compensation Delay technology ensures that any analogue or digital input entering Pro Tools arrives as a fully-sample-accurate signal source, while the company's custom-created, ultra-fast Thunderbolt driver delivers 64 channels of simultaneous playback and recording at up to sub-millisecond (imperceptible) latency. Additionally, a latency-free direct monitoring environment encompassing four independent internal mixers, each with 32 assignable inputs, is always at hand. Having said that, Goliath HD | Gen 3's digital and networking connectivity is established by industry-standard AES, MADI, ADAT, S/PDIF, Thunderbolt, USB, and HDX connections combining to total an astronomical 346 digital I/O channels, certainly living up to its name!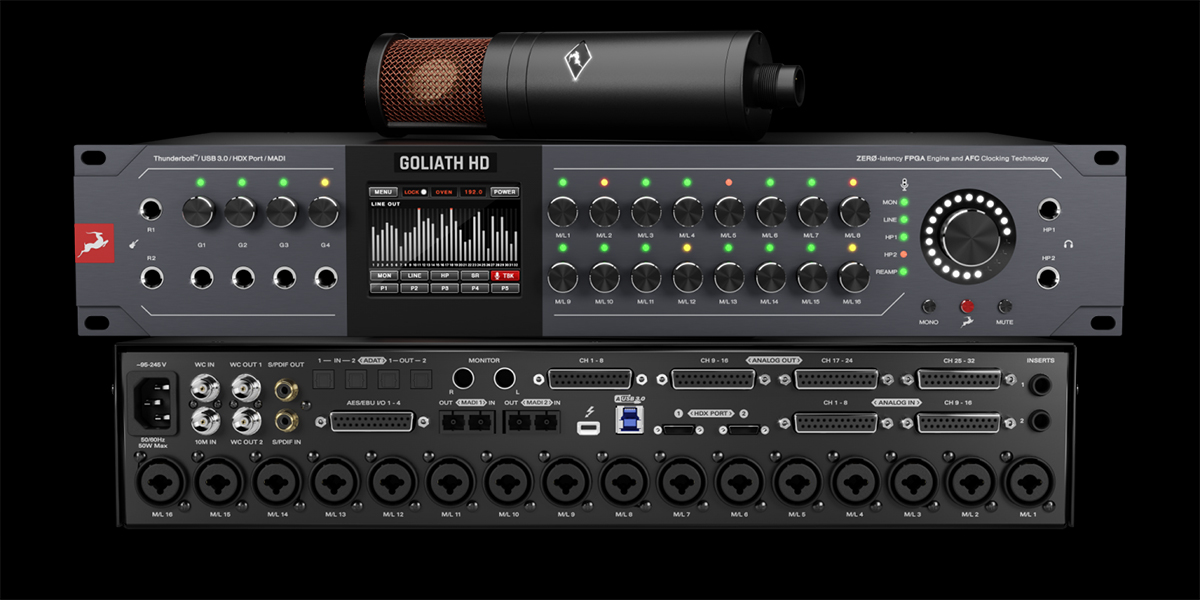 Needless to say, Goliath HD | Gen 3 also excels in the analogue domain. I/O includes 16 Accusonic mic preamps (M/L 1 through to M/L 16) with mic modelling support for the included Edge Duo microphone's 11 emulations — namely, Berlin 47, Berlin 49T, Berlin 57, Berlin 87, Berlin 67, Berlin M103, Tokyo 800T, Vienna 12, Vienna 414, Oxford 4038, and Sacramento 121R (https://en.antelopeaudio.com/products/edge-duo/#description); two analogue INSERTS; and four instrument inputs (G1 through to G4) alongside an additional 16 analogue inputs (ANALOG IN) via two D-SUB 25 connectors (with 124dB DNR), while 32 analogue outputs (ANALOG OUT) over four D-SUB 25 connectors (with 129dB DNR), two transformer re- amp outputs (R1 and R2), and two independently-assignable headphone outputs (HP 1 and HP 2) bring the total to 38 analogue outputs.
Of course, no studio production project is complete without audio effects; again, as implied by the ZERØ-latency FPGA Engine and AFC Clocking Technology wording also boldly blazoned across its control feature-laden front panel, Goliath HD | Gen 3 does not disappoint. Indeed, it includes 36 realtime FPGA (Field Programmable Gate Array) hardware-based effects (https://en.antelopeaudio.com/products/goliath-hd-gen3-real-time-fx/#fx) valued at over $3,000.00 USD, taken from Antelope Audio's acclaimed AFX library — namely, AuraVerb (reverb); BA-31 (mic preamp model); ClearQ (linear EQ); FET-A76 (FET-based compressor); Gyraf Gyratec X (true tube stereo compressor); PowerEx (in-house expander); PowerFFC (feedforward compressor); PowerGate (noise gate); VCA-160 (VCA-style compressor); VEQ-1A (vintage tube EQ); VEQ-HLF (Pultec-style high- and low-pass filter); VMEQ-5 (midrange EQ); Stay-Levin (American tube compressor); and x903 (natural-sounding compressor), plus 11 guitar amps and 11 guitar cabinets. Coupled with Antelope Audio's latest 64-bit