Gamechanger Audio [Booth 1259] announce that they are showcasing their three newest products at the Summer NAMM 2019 show in Nashville, TN: The Plasma Coil, the Plasma Rack unit and the electro-mechanical synthesizer Motor Synth. These products demonstrate Gamechanger's continued commitment to creating intriguing and unorthodox musical tools that utilize innovative technology to provide artists with inspiring new sounds.
Plasma Coil
Plasma Coil is a collaboration between Jack White's Third Man Records and Gamechanger Audio.At its heart is Gamechanger's innovative High Voltage Distortion technology that expresses audio signal as a series of electrical discharges. Even though they've been printing the words: "High Voltage Rock'n'Roll" on t-shirts since 1973, PLASMA Distortion is the first commercial musical device that literally amplifies audio signal to 3500 Volts.
Plasma Coil takes High Voltage distortion to new heights by adding multiple Octave-style circuits, and an additional Effects foot switch that can be toggled as latching or momentary.
Features include
High Voltage PLASMA Distortion circuit converts audio signal into a series of Electrical discharges at 3.5 kV.
2 EQ Controls to boost or cut LOW and HIGH frequencies;
VOLTAGE Knob - adjusts the amount of electrical current sent to the PLASMA Tube
EFFECT Knob allows you to select 1 of 6 different Special EFFECT types:
Volume Boost
2 Subharmonic modes (Bitcrush-style Octave Down)
1 Upper Harmonic mode (Octafuzz-style Octave Up)
2 Mixed modes (Upper and Lower harmonics combined)
EFFECT Foot switch - engages the PLASMa COIL's special effect circuit.
Master VOLUME Knob - cuts or boosts the Output Signal level.
ON/OFF silent foot switch.
Effect Foot switch TOGGLE - configure EFFECTS Foot switch as a latching ON/OFF switch or as a Momentary switch.
The Plasma Coil in stock and available for purchase at Third Man Records online store and showrooms at a price of $350 USD.
Plasma Rack

The Plasma Rack is a progression of Gamechanger's original Plasma Pedal, which won Best in Show at Summer NAMM 2018 for its innovative distortion circuit that transforms the player's input signal into high-voltage plasma discharges for its signature sizzling sound. Plasma Rack brings this technology to a 1U sized rack effects unit for both live and studio applications with a larger xenon tube than the original that is able to conduct audio signals at up to 5500 volts – suitable for use with guitar and bass as well as synthesizer and drum tracks.

Additional new features of the Plasma Rack include:
Input Gain control to fine-tune the Plasma Rack for any type of input signal.
Sustain Mode allows the user to achieve long sustained notes even at Low Voltage settings.
Oversaturate Mode which overpowers the Plasma tube to achieve Octave Up / Overtone effect.
Built-in Plasma Tremolo which creates unique Tremolo and Ring Mod effect with adjustable Depth and Dynamic response.
Built-in Distortion Channel that adds High-Class Op Amp dirt to the Dry Signal.
3 Effects loops at different parts of the signal chain and work with line and instrument levels.
Connectivity of two inputs (unbalanced and balanced with PAD
Full MIDI control that gives the user control of all parameters and values via CC Messages and Program Change Messages with 8 Preset slots.
Expression input allows the user to assign expression pedal to any parameter of Plasma Rack.
Default Savable Boot-Up Settings to make the Rack gig-ready.
The Plasma Rack is in stock and available for purchase for $1499 USD both through the Gamechanger Audio online store and approved dealers.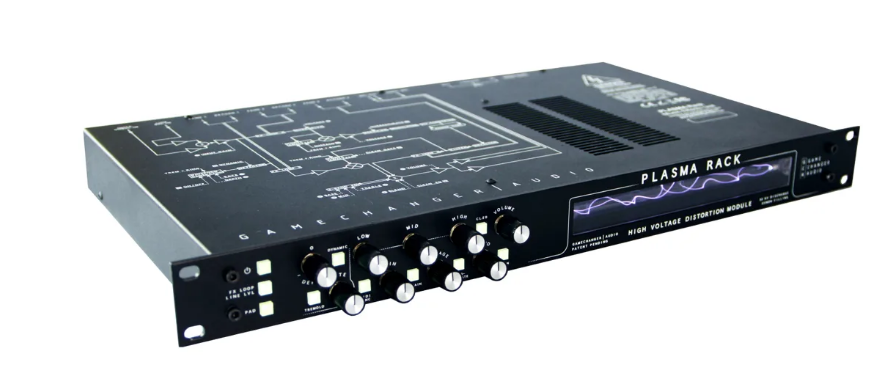 Motor Synth

Gamechanger's revolutionary electro-mechanical synthesizer Motor Synth, which recently completed crowdfunding after raising nearly $350,000 on a stated goal of $50,000, was debuted earlier this year at SuperBooth2019 and has already received the enthusiastic endorsement of artists like Jean-Michel Jarre and Richard Devine. The four-note polyphonic synthesizer uses innovative drone motor technology to generate its otherworldly synthesizer textures, producing sound by precisely accelerating and decelerating its motors to RPMs that correspond with specific musical notes, generated either by pressing the synthesizer's keys or tracking to a monophonic signal from a guitar or bass via ¼ inch mono input.
Motor Synth includes analogue envelopes and filters alongside arpeggiation, cross modulation, LFO, sequencing, and multiple polyphonic mode facilities as well as loop station functionality, which gives the player the ability to create a near-infinite variety of new sounds and sonic textures. The synthesizer is expected to ship December of 2019 and will retail for $1299 USD.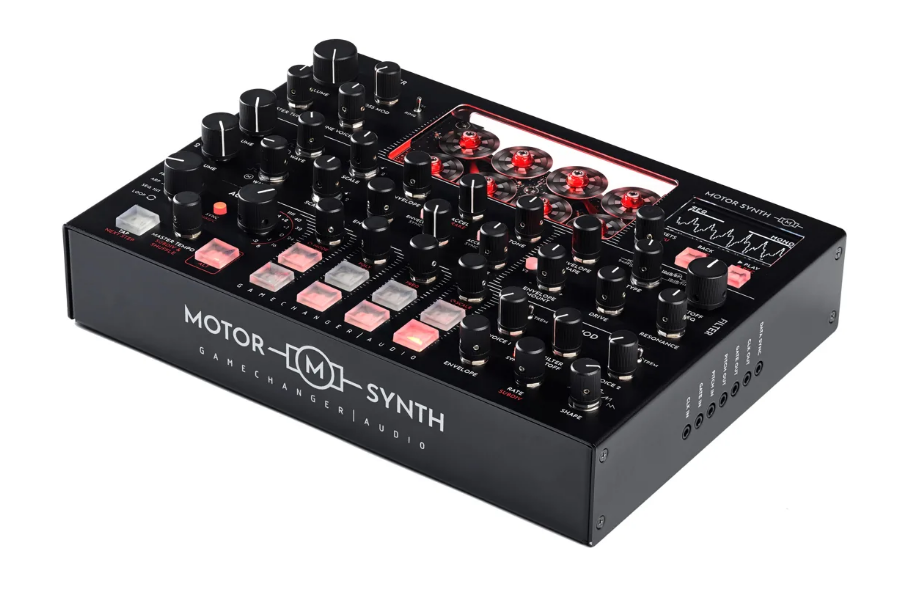 For more information about Gamechanger Audio, please visit: https://www.gamechangeraudio.com/
About Gamechanger Audio
Gamechanger Audio was founded by four friends committed to exploring the uncharted territories music electronics, to create devices that provide real value while stretching the imagination of both musicians and engineers.
The company has been praised for innovation in creating its inaugural PLUS Pedal, the world's first sustain and sostenuto pedal for all melodic instruments, based around a proprietary audio algorithm that lets users capture and sample small parts of the connected instrument's signal in real time and loop them into a seamless, warm, and responsive sustained tone; and its PLASMA Pedal follow-up, forming the basis of a unique approach within the realm of overdrive and distortion by transforming the connected instrument's live signal into a series of continuous high-voltage discharges within a xenon-filled tube. The latter has since been applied to a 19" Rack format and Eurorack modular format.
The company intends to continue this path with its next product, Motor Synth, the world's first electro-mechanical desktop synthesizer.