Paris, 2019/09/23: Blue Cat Audio
( 
http://www.bluecataudio.com
) has released
Blue Cat's Axiom 1.3
and
Destructor 1.5
free updates with major improvements for its distortion, amp simulation and guitar & bass effects processors.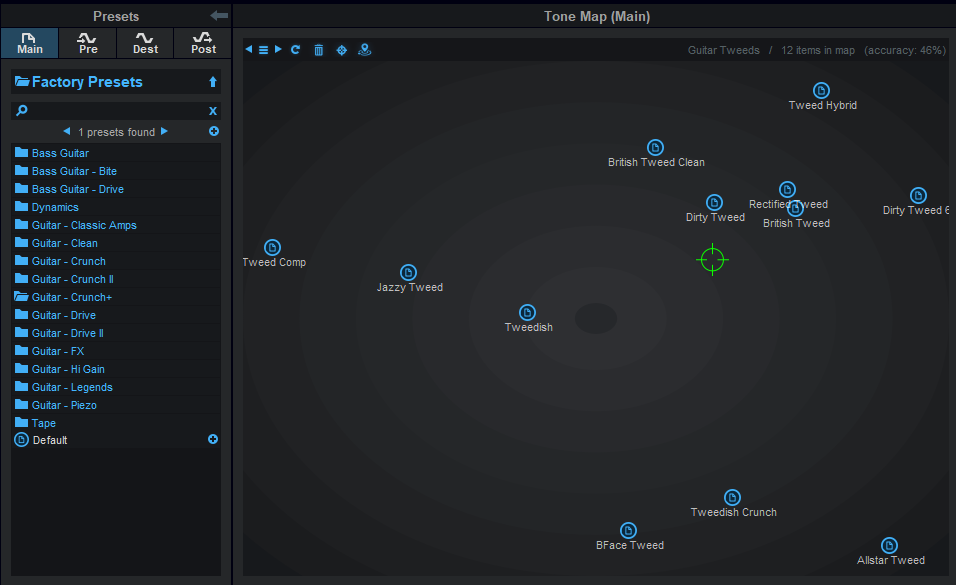 The new version of Destructor, which also acts as an amp and pedals modeler inside Axiom, introduces a brand new way to explore presets and create new tones easily: with the "tone explorer" (see 0:56 in video below), you can navigate and morph factory or user presets in two dimensions, on predefined or user-created maps: you can find the right tone without diving into the parameters of the plug-in. In Axiom, it is now possible to create brand new amp models by just choosing the right spot on the screen.
Both Axiom and Destructor also include a new presets browser with built-in search, to find your way through the thousands of presets available for the entire plug-in, or for each section. Many new presets have been added in these new versions (not forgetting bass guitar players), and extra free guitar amp presets using impulse responses from Seacow Cabs (
https://seacowcabs.wordpress.com/
) are available as a separate free download.
Axiom 1.3 also adds 4 new built-in effects (2 distortions pedals), and both updates include many other new features and improvements detailed below.
The update is free for existing customers, available from the same location as the original download (link received by email upon purchase). Special offers are available for new customers (details below), and registered Blue Cat Audio customers will receive extra coupons by email shortly.
What's New in Axiom 1.3:


New features:
New amp tones explorer with amp models morphing: explore and morph amps in 2 dimensions to create unique new tones easily.
New presets (and sub-presets) browser with built-in search: find factory or user amp models and effect chains to create new patches.
Added hundreds of new presets, sub-presets, new amp models (from
Destructor 1.5) and new reverbs, delays and modulation effects from Late Replies 1.4.
VST3: added MIDI output support for VST3 plug-in format.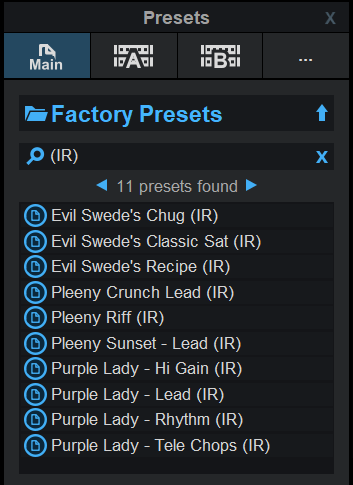 Built-in Effects:
New "Overdrive" and "Overgrind" distortion pedals.
New Level (volume control) and Micro EQ built-in plug-ins.
Added a gain parameter to several built-in plug-ins to avoid volume changes when switched on/off (pitch and frequency shifters, modulation effects, delays).
Increased knobs precision for pitch shifter and waveshaper built-in plug-ins for smoother control.
Increased gain control range for distortion pedals.

Third party plug-ins host:

VST and VST3 plug-ins previously displayed as missing because of name changes are now relocated automatically (Waves major updates, 32 and 64-bit plug-ins with different names etc.)
Improved auto-relocation performance when a large number of plug-ins have moved.
VST3 Host: added MIDI output and program change support for recently updated VST3 plug-ins.

Other fixes and improvements:

Enlarged the area to click on plug-ins bypass and "Show Editor" buttons.
Fixed an issue with hosted plug-ins editors not always restored in the right position in Cubase on Windows.
Mac: fixed issue with Magic Mouse that could trigger drag and drop instead of mouse click.
Spectrum analyzer display of built-in EQ will not take priority over DAW or other plug-ins user interfaces.
Changing the slope of lowpass and highpass filters in the built-in EQ is now smoother.
What's New in Blue Cat's Destructor v1.5:

New tone explorer with presets morphing: explore presets on predefined or custom visual maps, and morph tones in 2 dimensions to create unique new sounds easily.
Added more than 100 factory "tone maps" for the new tone explorer.
New presets (and sub-presets) browser with built-in search.
New guitar factory presets: classic guitar amps, metal and signature guitar presets.
New bass guitar factory presets, including 45 new bass cabinet models.
Free Seacow cabs presets available for download here: https://www.bluecataudio.com/Presets/Product_Destructor/#Product_DestructorPreset_SeaCowCabs
Performance improvement: the user interface now only loads modules that are visible.
Changing the slope of lowpass and highpass filters in pre and post filters is now smoother.
Each instance of the plug-in can now have its own MIDI Program Change settings.
MIDI Program Change preference is now saved into session instead of global preferences, so each instance can now use different MIDI channels. It is also saved in the user default preset.
VST3: added support for MIDI program change messages to change presets via MIDI.
VST: the user interface is now properly resized in Cubase on Windows.
Hovering the mouse on the current preset name now displays a tooltip with the full path of the last loaded preset file.
Improved plug-in listing in Windows 10 start menu.
Mac: faster GUI rendering on recent Mac OS systems (up to 5x faster on level meters).
Mac: fixed user interface not properly shown on retina displays in some applications built with the 10.14 Mac OS SDK.
Blue Cat's Axiom 1.3 - Guitar Tone Crafting Revisited:
System requirements:
- Intel Mac running Mac OS 10.7 or newer.
- PC running Windows Vista or newer.
Links:
Pricing (taxes included):
- Blue Cat's Axiom:
149 EUR or $149 (instead of 199, until October 15th)
- Blue Cat's Destructor:
79 EUR or $79 (instead of 99, until October 15th)
- Blue Cat's Axe Pack bundle:
249 EUR or $249 (instead of 299, until October 15th)
Web: http://www.bluecataudio.com