French music masters Arturia have reworked the classic British EMS modular synth into a software instrument; staying true to the original sound and ethos of the original "silver machine", while adding some groundbreaking new features.
Bringing their modelling expertise to the Synthi AKS and VCS3, and combining them into one full-featured software instrument, a new generation of musicians can now enjoy those legendary sounds. Loved by Brian Eno, Pink Floyd, and Hawkwind, the original hardware synth was really unstable, with a lot of work you could make it sound in tune, but that wasn't really what it was famous for: sound effects, drones, and psychedelic textures were what put this synth on the map.
Synthi V puts all of the imperfect patch-pin analog synthesis at your fingertips, and with a simple flick of a switch, you can quantize oscillators and remove analog cross-talk, making it the best of both analog and digital. Revamped with powerful new features and loaded with awesome presets, experimental sound designers and modern producers alike will fall in love with the "battleships" style programming and avant-garde sound possibilities.
BRITISH SILVER MACHINE
Smart pins: Patch together a huge variety of parameters. Assign pins with varying strengths, and group them together to make powerful modulations easy.
Reborn sequencer: The original "Run Like Hell" real-time sequencer has been reborn in software too, and enhanced with new features and DAW integration.
Put the joy in "Joystick": Organically control your sound, and program simple or complex movement paths to use as modulations on any parameter.
Function generators: Create your own functions with up to 16 points, free or quantized, and assignable to anything you want. One shot, or looping, for ultimate control.
Awesome effects: The original instrument included some great vintage effects modules, and Arturia have pushed the boat out with even more studio quality effects.
Great presets: Packed with great presets that show off both the sounds that made the original famous, and a look at how Synthi V could shape tomorrow's sound.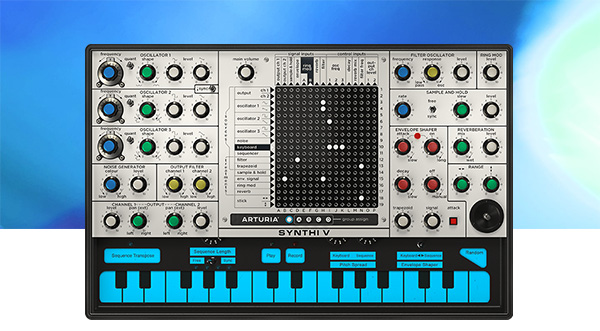 Synthi V is one of 3 amazing new instruments found inside V Collection 7, alongside Mellotron V and CZ V. Recently updated to version 7, V Collection contains 24 legendary instruments reimagined as software. Each instrument not only perfectly recreates the sound of the original, but also reimagines its potential thanks to Arturia's exclusive modelling technologies, and the advancing power of home computing.
Breathing life back into the most iconic keyboard instruments of all time, V Collection is the ultimate creativity launchpad, and an essential studio tool for the modern music producer.


LAUNCH OFFER
To celebrate its release, and only for a limited time, Synthi V will be available for an incredible price.
Intro offer from $99/99€, ends June 10th.
Street price $199/199€