Marillion, With Friends From the Orchestra
Genre:
Progressive Rock
Musicianship:
Songwriting:
Production & Engineering:
Vibe:
Overall Rating:
3.85
For long-time Marillion fans wishing the band would put out something sounding a bit more like "classic" Marillion, your prayers have been answered on With Friends From the Orchestra. This exceptional record features the band re-recording nine classics accompanied by the string quartet, In Praise of Folly, who performed with the group two years ago during the band's first sold-out appearance at Royal Albert Hall.

Unlike the band's 2009 release, Less is More, this isn't the band stripping their songs down to acoustic reinterpretations, but rather enhanced and expanded by the presence of the quartet. The vibe of the classic songs is never diminished here, and if you've loved this collection of songs before, you'll love the new recordings just as much.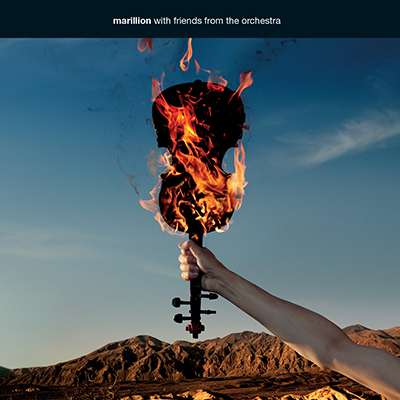 The band is not replaced by the quartet here, so there's still plenty of instrumentation from the fab five, and Steve Hogarth sounds as strong as ever, with a voice that continues to defy the progression of years. I can't say enough good things about this release. While I look forward to a new Marillion release of "songs that haven't been made before," this is one hell of a stop-gap that is going into regular rotation. I've heard plenty of orchestrated records that were somewhat lackluster, but in this case, With Friends From the Orchestra is simply breathtaking. A must-have for any prog rock lover, and a welcome introduction to the band for any lover of quality, melodic songwriting.

Track Listing:
Estonia

A Collection

Fantastic Place

Beyond You

This Strange Engine

The Hollow Man

The Sky Above The Rain

Seasons End

Ocean Cloud