Standard-setting kit features full-sized 20" kick for incredible feel and impact, latest-generation mesh heads for unequalled response and the most capable, versatile Strike module ever.
Cumberland, RI USA (November 26, 2019)—Alesis (alesis.com), the world's leading manufacturer of electronic drums, today announced their new Strike Pro Special Edition 11-piece electronic drum kit with full-sized 20" kick, latest-generation mesh heads and an updated Strike Pro Module with more instruments, kits and versatility than ever before. The full-sized kick gives drummers an unprecedented degree of response and impact—unmatched by any other electronic kit—enabling the Strike Pro Special Edition to absolutely redefine the playing experience and realism for electronic drums.
The original Alesis Strike drums were revolutionary, featuring all-new drum and cymbal design. The new Strike Pro Special Edition builds on that legacy, most notably with its full-sized 20-inch kick drum. It looks and feels like an acoustic drum. When drummers sit behind the Strike Pro Special Edition with its full-size kick, the playing and visual feel is fundamentally identical to an acoustic set. There is none of that "electronic kit adjustment" time period that players usually have to deal with. Strike Pro Special Edition's kick is solid and sturdy, with no wobble. It responds and feels like an acoustic bass drum. It's ground-breaking.
Check out the Alesis Strike Pro Special Edition - Assembly Guide Video:

However, there is far more that makes the Strike Pro Special Edition an extraordinary playing experience than just the full-sized kick. To begin with, the Strike Pro Special Edition utilizes all-new latest-generation mesh heads, dual-zone for the snare and all the toms. Their response is faster, more natural and easier-playing than ever before. Drummers will fly over these heads, effortlessly  laying down powerful grooves and snapping off crisp fills. These heads won't fight you; instead, these new Alesis mesh heads are your bestally.
The 3-zone Strike Pro Special Edition 16" ride cymbal, 14" crash, and 14" movable hi-hat feel spectacularly realistic: They are covered with a new thick comfortable rubber that creates the perfect blend of feel, control, bounce and volume. The cymbals offer a large bell area for enhanced playability, along with a cool "hammered" look. Plus, these cymbals are much quieter than traditional  e-cymbals, perfect for late-night practice sessions when volume needs to be minimized. The new hi-hat in particular sets a new e-standard for fast response, solidity and its amazing ability to convey a deft, subtle touch.
Strike Pro Special Edition's lugs are attached directly to the shell, exactly like those in acoustic drums. The direct adjustment offered by these lugs is yet another way in which the StrikePro Special Edition is superior to other e-kits. Strike Pro Special Edition premium Hybrid Birch wood shell snare and toms come in in standard acoustic drum sizes (8-10-12-14") so drummers instantly feel at home when they sit behind them. Alesis recognizes that aesthetics also play a role in the overall satisfaction and positive attitude with which a musician approaches their instrument. To that end, the Strike Pro Special Edition boasts truly striking black hardware and gold tension rods, along with a brand-new visually-distinctive mesh head design. Looking great while sounding great is a deadly combination.
The Strike Pro Module is by far the most versatile and capable module that Alesis has ever offered. Alarge measure of the amazing playability and character of this kit is due to the expansive sound library with over 136 custom kits made from over 1800 instruments and 45,000 samples. The module has onboard sampling capability, 16GB external card storage, and USB/MIDI connectivity, which you can use in conjunction with your favorite music production software as well as the powerful new Strike Software Editor. With this editor players can assemble their own custom samples into multiple velocity layer and round-robin instruments, piece together the perfect drum kit, and then transfer it onto the module via USB. Every feature and control is incredibly easy to keep track of, thanks to the Strike Pro Module's 4.3-inch color LED screen, which displays all the player's settings and choices at a quick glance. It adds up to unprecedented flexibility and programmability, combined with total mastery of the kit's status.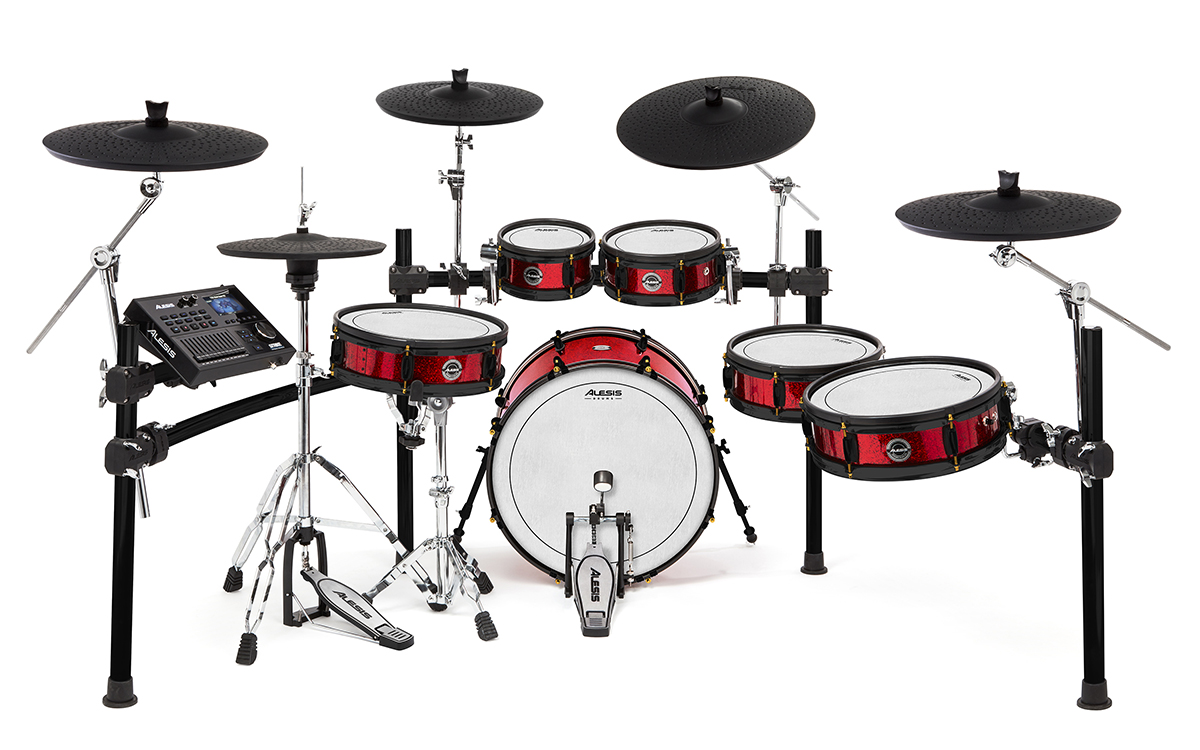 Strike Pro Special Edition: 11-Piece Professional Electronic Drum Kit:

• Latest-generation mesh heads for fastest, most natural response ever
• Patented Enhanced Articulation System
• Full-sized 20" kick drum
• 14" dual-zone mesh snare w/hybrid wood shell
• 8"-10"-12-14" dual-zone mesh toms w/hybrid wood shells
• 16" Strike ride cymbal (3-zone) w/full rubber pad and hammer marks
• (3) 14" Strike crash cymbals w/choke, w/full rubber pads and hammer marks
• 14" Hi hat cymbals w/full rubber pads and hammer marks
• Strike software editor for creating your own custom kits and instruments
• Strike Performance Module with 4.3 color LED screen
• Over 1800 drum and percussion instruments and 136 Kits
• 45,000 sample sounds included or load .wav files through included 16GB SD card
• Premium 4-post steel rack
"The Alesis Strike Pro Special Edition elevates the expectation of e-drum kits to a new higher standard," said John Emrich, Director of Drum Development for Alesis. "The days of saying, 'Well, it plays pretty well for an e-kit' are over for good. Now drummers will say, 'Man! I just love playing this kit!'"
The Alesis Strike Pro Special Edition is available now. U.S. pricing is $2,499.00.