LONDON, UK: Spitfire Audio is proud to announce availability of PERCUSSION SWARM — a one-of-a-kind, encyclopaedic collection of beautiful cloud-like evolutions, pointillistic textures and single hits created from rare and extensive tuned and untuned instruments, representing the sound-specialising British music technology company's first percussion library in three years as a new world of dynamic sounds created in close collaboration with three of the world's most renowned percussionists performing in the hallowed (Lyndhurst) Hall at London's legendary AIR Studios, resulting in undulating textures and swarm-like swells, ranging in sparsity and density with a creative choice of 16 signals plus 30 warped sounds and 235 snapshots served up in Spitfire Audio's proprietary Mercury Synth engine — as of November 14…
Watch Spitfire Audio's widescreen percussive textures trailer video for PERCUSSION SWARM here:

As a distillation of musical experimentation and innovation, the epic and versatile set of tools that collectively constitute PERCUSSION SWARM follows the blueprint of Spitfire Audio's acclaimed ...SWARM series of sample-based virtual instrument libraries, designed to add movement, depth, and a modern edge to TV, film, or game scores. Spitfire Audio has brought all of its hard-won sampling techniques to bear on percussion, pushing its collective creativity to the limit by posing itself a complex question: 'What if you take percussion instruments and play them as if they are strings?' Significantly, PERCUSSION SWARM features truly stunning performances from some of the world's finest percussion players, equipped with their enviably rare instrument collections. Cue Paul Clarvis, Gary Kettel, and Frank Ricotti, all of whom have performed on existing Spitfire Audio percussion libraries and are renowned for their prolific film work.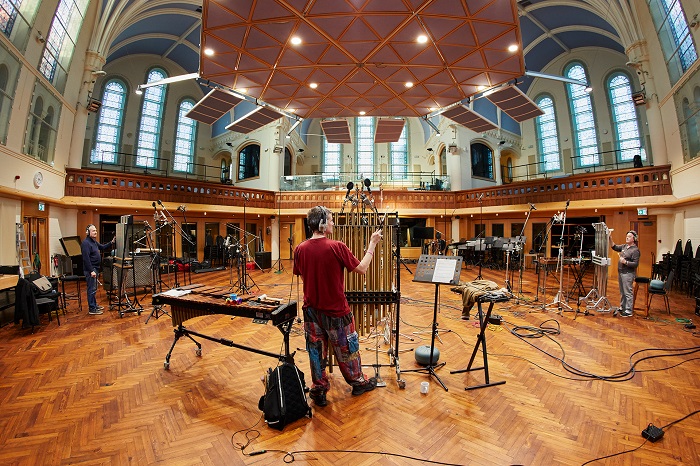 With PERCUSSION SWARM, Spitfire Audio selected a huge range of well-known and lesser-heard tuned and untuned percussion instruments, from Glockenspiels to Tubular Bells and Angklungs to Udus, most of which do not naturally sustain. So — using performances and the resonance of the hallowed (Lyndhurst) Hall at London's legendary AIR Studios, combined with unconventional playing techniques, including using bows and rubber balls to lengthen each sound — Spitfire Audio added breadth, depth, and harmonic range to each instrument, transforming them into a liquid-like form that dances along to the picture. Professionally recorded by engineer Jake Jackson — one of the most exciting talents to emerge in recent years within the TV and film scoring genre, with many of the projects he has worked on being awarded BRITS, Golden Globes, Grammys, and Oscars — and self-styled sound engineer and lover of music and film Fi Cruickshank, PERCUSSION SWARM's sounds blend seamlessly with the sound-specialising British music technology company's other orchestral and percussion libraries, perfectly providing textural additions to any orchestral composition.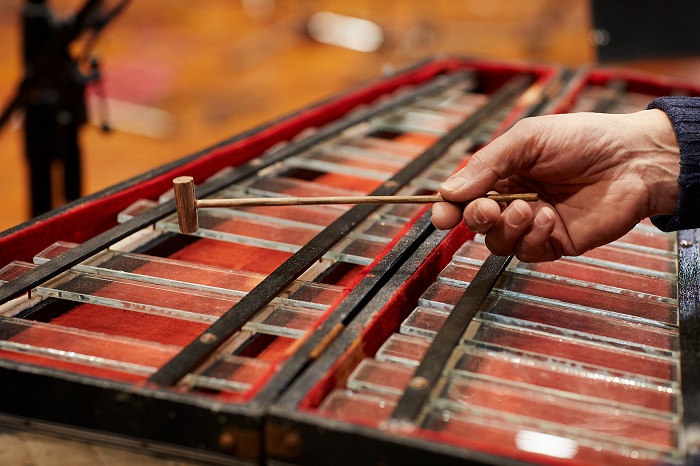 Composer — and Spitfire Audio co-founder — Paul Thomson is certainly qualified to comment on the musical malleability of those PERCUSSION SWARM sounds, stating that the library itself is "...a fantastic, really deep palette of creativity for you to use in your productions — everything from the beautifully-recorded, multi- percussionists sounds in the Hall, all the way through to these fantastic warped sounds; there are lots of short sounds for you to use in there, percussively, and there are lots of long sounds to use as these kind of evolving beds — alternatives to standard stuff, such as long string notes and things like that."

Watch Spitfire Audio Director Paul Thomson's 'traditional' video walkthrough of PERCUSSION SWARM here:

That (truthfully) said, PERCUSSION SWARM offers much manoeuvrability when it comes to encouraging experimentation and fine-tuning with 16 signals — six standard microphone positions from Close to Ambient, plus the Close Pans section, allowing anyone to hone in on any of the equally-spaced three players or mix and match for much more immediacy and detail. PERCUSSION SWARM also features four distinct mixes curated by Jake Jackson for instant playability. The 'Clouds' are long, looped notes made up of a glorious patina of uneven repeated hits, with a slider to control Density, while the 'Swarms' range from thunderous rolls to swells and through to bowed metallic sheens, where each individual hit is imperceptible with a slider to control Swarm speed and note length. Spitfire Audio also recorded short, single hits for each instrument, useful for custom creation of rhythm tracks. Therefore, PERCUSSION SWARM offers a unique experience impossible to replicate live, letting users bring something truly unexpected to their scores. Standard stuff alternatives, indeed!
Taking those organic sounds to a completely new place, PERCUSSION SWARM's warped section provides 40 warped sounds and 235 snapshots created by Spitfire Audio's accomplished development team. These were made using granular synthesis, guitar pedals, and other outboard gear. Go discover a radical range of otherworldly pads, evolving swells, and atonal rhythmic textures — all presented in Spitfire Audio's proprietary Mercury Synth engine.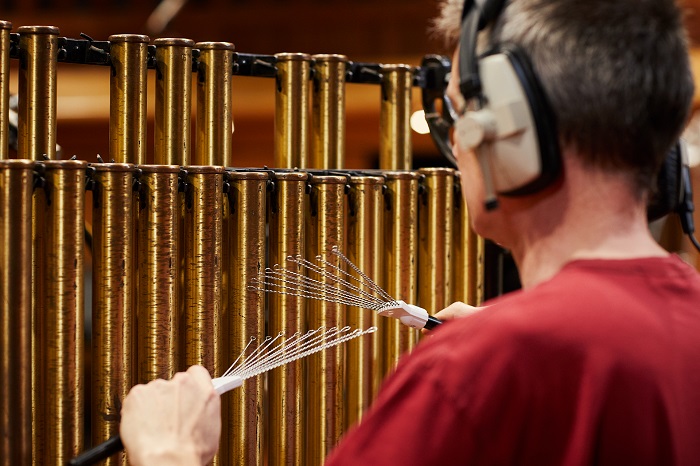 Ending on a high note, Paul Thomson ties things up technically: "The library is 64 GB in compressed format, down from 145 GB of .WAV files. There are 21 instrument groups in the library, 76 articulations, 30 warped sounds, and then, using those warped sounds, we've created 235 snapshot presets."
Playing percussion instruments as if they are strings — "...so various long notes, swells, and all kinds of interesting stuff like that," to quote Paul Thomson one final time — has been duly delivered with PERCUSSION SWARM. Spitfire Audio has once again lived up to its ethos of collaborating with the best composers, artists, and engineers in the world to build musical tools that sound great and are exciting to use.
Watch the PERCUSSION SWARM launch live stream here:

Pricing and Availability:

PERCUSSION SWARM is available at an attractively-discounted promo price of £229.00 GBP (inc. VAT)/$269.00 USD/ €269.00 EUR (inc. VAT) until December 8, 2019 — rising thereafter to an MSRP (Manufacturer's Suggested Retail Price) of £299.00 GBP (inc. VAT)/

PERCUSSION SWARM needs Native Instruments' KONTAKT PLAYER (5.6.8 or higher) — a free version of the KONTAKT sample playback engine (included in its purchase) — to respectively run as fully NKS (NATIVE KONTROL STANDARD®) supporting plug-in instruments for Mac (OS X 10.10 or later) or Windows (7, 8, or 10 — latest Service Pack, 32/64-bit), while Spitfire Audio's free Download Manager application allows anyone to buy now and download anytime.
For more in-depth information, including some superb-sounding audio demos, please visit the dedicated PERCUSSION SWARM webpage here: https://www.spitfireaudio.com/shop/a-z/percussion-swarm

About Spitfire Audio (www.spitfireaudio.com) 
Spitfire Audio is a British music technology company that specialises in sounds — sample libraries, virtual instruments, and other useful software devices. It collaborates with the best composers, artists, and engineers in the world to build musical tools that sound great and are exciting to use.