Ampethron, a new synthesizer company, introduces Ampethron Portable – a live act and studio hardware device with unique a external controller and the possibility to endless extensions and upgrades (install next synthesizers, instruments and algorithms to the hardware device).
If you want to learn more, see videos and hear demo songs at: www.ampethron.com
"After more than 4 years of development, multiple beta testing stages, everything is coming to perfection and we are ready to roll out. We are starting Crowdfunding Campaign mainly because we need to know how many pieces should be produces in first series" Ampethron company says.
Ampethron portable video:
Ampethron EFXPLODE expansion:
Ampethron in real-use (Live-act / DJ set):
Ampethron factory presets overview:
Here is the complete specification of Ampethron portable FX synthesizer:
Ampethron FX+ synthesizer is a primary synthesizer installed in every Ampethron portable device. FX+ is synthesizer with both classic and futuristic/innovative algorithms of sound synthesis allowing you to create FX sounds and soundscapes never heard before. The main advantage of FX+ synth is speed of work – you can rapidly create hundreds of FXs while sounds amazing in every setting.
FX Synth Top features:
- 4X Oscillators (1x Wavedrawing – user can draw his own waveform realtime with finger or pc mouse, 2x Special wavetable oscillator with special Re-Synth-Remodulation algorithm, 1x classic virtual analog oscillator)
- Variable routing of every oscillator to Filter 1 or Filter 2
- Oscillator phase knob for selected oscillators
- FM synthesis (FM and Micro FM control)
- De-Tuner with octave and 12 semitones control + fine tuning knob
- 2x Special wavetable oscillator with special Re-Synth-Remodulation algorithm with following waveforms: 80s FM horror,Alien autopsy, Alien investigation,Aliens speak to you organic,Alienspeak FM FAT,Alienspeak FM,Angelic pad,Angry Buddha,Buddha speaker,Buddha speaking,Comet,Cosmonauts,Cosmotrol,Dark Buddha,Dark Church,Dark lizardz,Darkwdr noise down,Deep sea,Desert creatures,Devilious voices,Digital bubbles,Downturn,Energizer,Extraterestrial forces,Extraterestrial submarine,Female decoder,FX resonoise down,Hackers,Highpsy,Hitech noises,Hitech synchronizer,Hypersquelch,Hypertube,Kapital,Katapulka,Magic portal pad,Mental tunneling,Mid pad,Monstakill,Nasty riser,Nemektar,Neurobotik,Neurovoices,Noise bomb,Noisy down riser,Nuclear bomb,Paranoid voices,Phasy speak,Progressive ev sweep,Progressive sweep,Quantizer,Quark,Remysterion,Runner,Siren,Slow synch growl,Space cops,SpaceBlip,Speaking delta,Sun Riser,Supersynchronizer,Synchro down,Synchron,Vintage rocket,Weird speaker
wavetable oscillator with Re-Synth-Remodulation algorithms: AmphSine,AmphRepulse,TriAmph,Amphsquarel, XnoisAMPH
and res. Freq, res. Speed, res. Amount, and level controls
- 1x classic virtual analog oscillator (Sine, Sawtooth,Triangle, Square,Noise) and Additional FM synthesis with FM and MicroFM control
- 1x Wavedrawing – user can draw his own waveform realtime with finger or pc mouse
- Separated level control for every oscillator
2X Filters with variable Serial or Parallel routing
- 1X Analog type "warm, soft and liquid sounding" filter
with cuftoff and self resonance and tracking control
- 1X Multifilter with following types of filters:
APMTH LowPass
APMTH BandPass
APMTH HighPass
Low pass
Band pass
High pass
Notch
Peaking
Creamy Analog Low pass
Low pass + High pass,
Low Pass + Band Pass,
BP+Notch
Analog LP + HighPass
Formant speaking filter.
with cutoff, self resonance and tracking controls
Analog type Amplitude and Filter envelope – Attack, Decay, Sustain, Release + amount knob (with 2 separated control knobs for level of modulation of filter 1 and filter 2)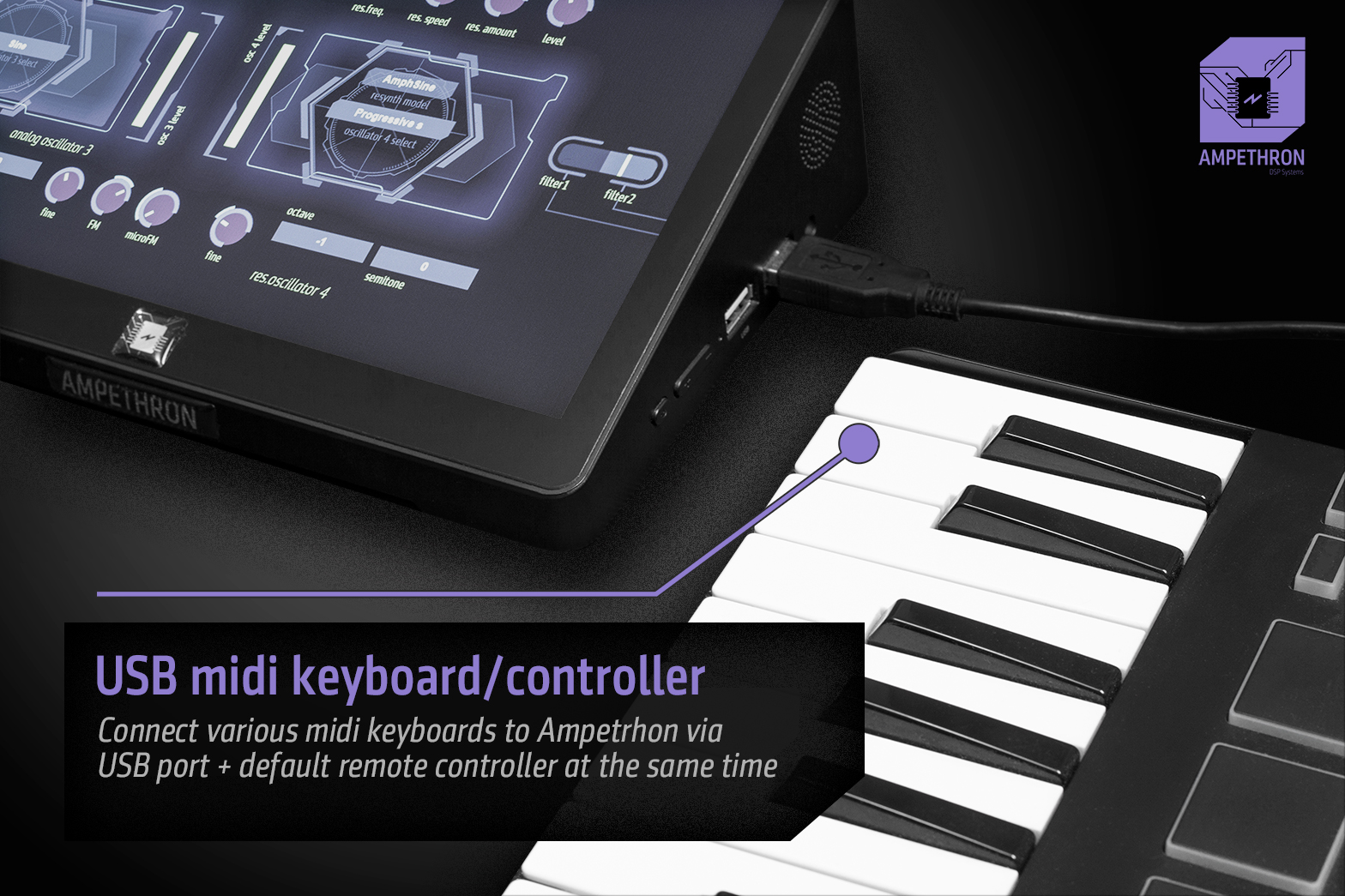 Modulation + Complex Modulation Matrix:
2x Free running analog type LFO (with Sine, Sawtooth, Triangle, Square, Noise waveforms)
with Speed and Depth controls in wide range of frequency
1x Hand wavedrawing LFO (user can write his own LFO waveform with finger or pc mouse!)
with Speed and Depth controls in wide range of frequency
LFO can act in Positive, Positive inverted or Bipolar mode
1x Modulation envelope (Attack, Decay, Sustain, Release and amount knob)
1x Modulation Matrix with 1X1 power
- 4x Individual source or destination slots with 4x control knobs
Sources: LFO1, LFO2, LFO3, None, Modulation envelope,
Destinations: Filter 1 cutoff modulation, Filter 2 cutoff modulation, None, FM Modulation
1x Modulation Matrix with 1X1000 power
- 3x Individual source/destination slots with 3x control knobs
Sources: LFO1, LFO2, LFO3, None, Modulation envelope,
Destinations: (OSC1, OSC2, OSC3, OSC4, None)
FX Section:
- Ping-pong BPM synchronized delay (Free from 1ms or BPM synched)
Delay, Feedback, Dry/Wet control knobs
- Device internal tempo / BPM control from 20 to 230 BPM
- Chorus/Flanger with Rate, Depth, Pre-delay, Feedback, Mix control knobs
- Sound characteristics / boosting – Sharp & Fat controls
- Saturation and Output control
- Output limiter with limiter release control and on/off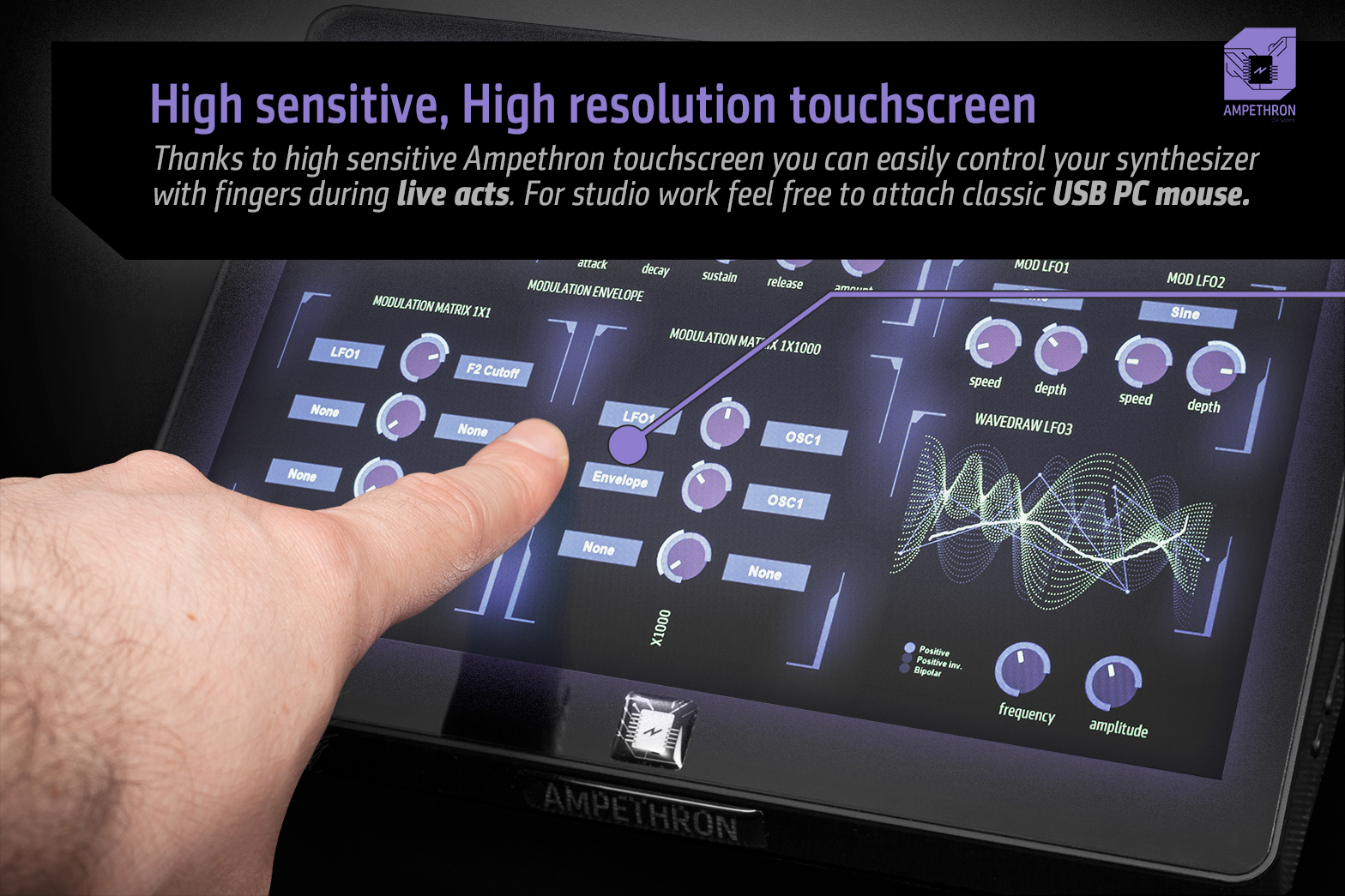 Main control section:
- Midi device selector (possibility to connect midi devices via USB)
- Sound output selector (possibility to connect external audio soundcards via USB but not all soundcards are supported)
- Preset manager with 9 default banks and more than 140+ default presets (you can create your own banks and presets for your liveacts)
- External controller: 4x very fast, responsive buttons to play notes (C3, C4, C5, C6) with very low latency – much easier to play notes in rhythm than with a piano (because of shorter path length of buttons),
- 2x joysticks to control Filter cutoff and Pitch (up/down) and a digital control of joystick behavior (attack and release time of every joystick)
- preset browsing with left and right controls on external controller
Technical / Hardware specification:
There is a solid hardware background behind Ampethron portable.
The hardware has been chosen thoroughly to give a solid performance and to cooperate perfectly with the DSP software and internal algorithms. The application is tuned up to get the best results during your DJ sets, Live-Acts and studio work.
System
• CPU: Quad core
• CPU Base Frequency: 1.44 Ghz
• CPU Burst Speed: 1.92 Ghz
• RAM: 2GB
• Storage: 32GB
Display
• Dimension: 8.9"
• Resolution: 1920x1080 Full HD
• Touchscreen: capacitive 5-touch
I/O ports
• Micro SD Slot: 1x
• USB port: 4x Type A
• Video Output: HDMI
• Audio Output: 3.5mm Jack
Other
• Power: AC 5V 2.5A
• Material: Plastic + Metal
• Dimensions: 217*147.5*60 mm (8.54*5.81*2.36 inches)
• Weight: 630g (22.22 oz)
Package Content
• Ampethron portable
• AC Power supply
• Controller
• User Manual