Orange County, California (February 4th, 2020) – Gruv Gear designer and manufacturer of the innovative Kapsule travel guitar bag is pleased to announce the Keyboard Kapsule. Devised around the needs of the gigging and touring keyboardists, it sets a benchmark for lightweight travel-ready keyboard cases.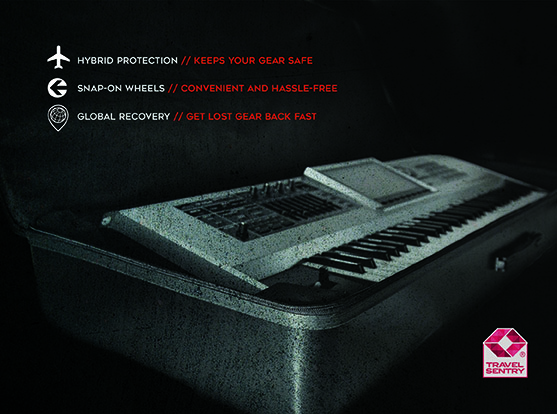 The Keyboard Kapsule case stylishly fuses the benefits of hard and soft cases, revolutionizing transportation of keyboards, portable pianos, and synthesizers everywhere. The industry-proven, tough polycarbonate / ABS hard shell is lined with varying density foams for excellent protection and shock absorbency all around, and is finished with a tough fabrics in front.
The bold design of the new case includes Gruv Gear's standard security TSA locks and the Global Recovery Tag tracking system recognized by nearly 3000 airports worldwide. This powerful combination keeps the instrument inside safe and secure at all times, giving traveling musicians peace of mind.  Moving the Keyboard Kapsule case is simple and easy with comfortable retracting handles, and convenient snap-on wheels which attach in seconds. Also included are thoughtfully designed pouches for power cables and pedals, multiple EVA foam blocks for a more customized fit, and a large front pocket for additional cables and music sheets. The Keyboard Kapsule is available in a range of sizes to fit keyboards from 49 to 88 keys.