UVI release Drone, a featured texture and atmosphere designer, available now with special intro pricing until June 16th
Paris, June 10th, 2020 - UVI release Drone, a new instrument focused on the creation of long evolving textures and atmospheres. At its core, Drone is a dual-layer sample synth loaded with hundreds of purposefully designed long-format samples. With both standard sample playback and the IRCAM Granular engine, Swarm, Feedback Loop, an all-new Harmonic effect, native MPE support, and surround sound (within Falcon), Drone lets users easily craft powerful and evolving soundscapes, shimmering atmospheres, rich expressive pads and more.
Designed for composers, sound designers, and musicians alike, Drone delivers two fully-featured sample engines loaded with custom and exclusive sounds, including a section created by veteran sound designer Nicolas Becker (Gravity, Arrival, Ex-Machina). Users can quickly browse presets and samples, or randomize them, from a streamlined main page editor, and then dig deeper into the full range of controls on dedicated Edit, FX, Modulation and Settings pages.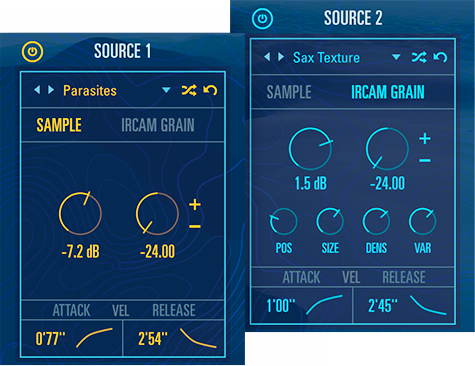 A large X/Y pad is central to creating motion and evolution in Drone. Users can utilize dual LFOs, a chaos modulator, hardware controllers, or host automation to morph, blend, or mangle their sounds as much or as little as desired. Swarm (unison), a dedicated feedback loop of effects, and a per-harmonic modulator unlock a massive range of sounds and movement, capable of transforming even the most basic sample into a rich and detailed sonic landscape.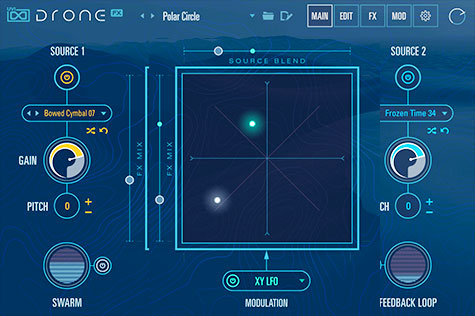 A deep and inspiring sound design tool with endless potential for evolving soundscapes, detailed textures, and evocative ambiance, Drone is a unique and powerful instrument perfect for film, games, music and more.


Drone is compatible with current versions of all major DAWs on both Mac and Windows platforms (VST, AU, and AAX). A single license includes 3 activations that can be used on any combination of individual computer systems or iLok keys.

Pricing and Availability: Drone is available immediately at a special introductory price of $99 / 99€ through June 16th, 2020 (regularly $149 / 149€)

Additional Product Information: https://www.uvi.net/drone