OWC®, the premier zero-emissions Mac and PC technology company, and a respected provider of Memory, External Drives, SSDs, Mac & PC docking solutions, and performance upgrade kits, announces several new and innovative additions set for release in 2021.
First, OWC Announces Envoy Pro FX as Fastest, Most Compatible Waterproof, And Ultra Rugged Drive Available
Portable SSD for All Computerkind works with past, present, and future Macs; Windows and Linux PCs; and iPad Pro, Chromebook, and Surface devices with data speeds up to 2800MB/s
OWC® announces the OWC Envoy Pro FX universal compatible Thunderbolt and USB Portable SSD. By supporting the max performance capability of any interface up to 2800MB/s and built like a tank with dust/drop/waterproof certification, you can transfer gigabytes of data in seconds anywhere.The OWC Envoy Pro FX is ideal for everyone and every need for Mac and PC compatibility spanning back to 2010. Fast, tough, Bus-powered (no AC adapter needed) portability. That's a lot of features boxes checked off. The OWC Envoy Pro FX then goes to the next level by being the ideal drive for various uses and ranging from photography, video, and document storage backups to a secondary/portable OS boot drive. The perfect on-set project drive for editing dailies, multi-angled camera shots, utilizing large sample libraries within audio projects, or portable Steam games library.Its sleek, heat-dissipating charcoal grey aluminum housing is IP67 rated so that you can work in the dirtiest and wettest environments. Take on the urban jungle or a chaotic movie set with supreme confidence that your data is protected by MIL-STD810G certified military-level drop toughness. It's so tough that it was sent into space and back aboard the Blue Origin New Shepard rocket. Whether you're dropping it in a puddle or suspending it in zero-G, the Envoy Pro FX has all the right stuff.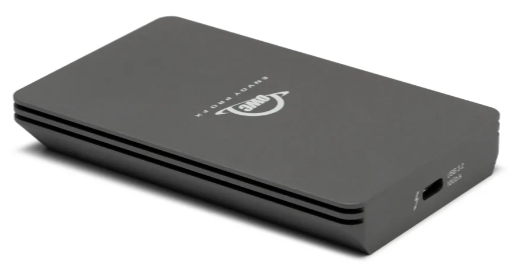 OWC Envoy Pro FX Highlights
Plug & play with past, present and future Macs, Windows and Linux PCs, iPad Pros, Chromebooks, and Surface devices

Supports the max performance capability of any Thunderbolt and USB interface – up to 2800MB/s

Perfect for audio, video, photography, graphics, gaming, and general data storage/backup use

Advanced storage technology with TRIM support works with Thunderbolt to deliver the fastest and most reliable portable drive performance available today

Certified dustproof, drop-proof, and waterproof

Bus-powered and smaller that most compact smartphones

Fanless, heat dissipating aluminum housing for distraction-free operation

Included Thunderbolt/USB cable plugs into to any machine, anywhere

Worry-free: Up to 3 Year OWC Limited Warranty and lifetime US-based support
"The OWC Envoy Pro FX is a giant leap For All Computerkind™," said Larry O'Connor, CEO and Founder of OWC. "It's the first portable SSD with out-of-this-world performance and compatibility. With the OWC Envoy Pro FX, you plug into past, current Thunderbolt and USB equipped Macs and PCs, or future Thunderbolt 4 and USB4 machines."
The OWC Envoy Pro FX 240GB to 2TB models will be available in January 2021, starting at $169 on MacSales.com.
---
Secondly, OWC Announces World's First U.2 Carrier Shuttle for 3.5" Drive Bays
OWC U2 Shuttle enables new capability, flexibility, and performance, enabling the use of up to four NVMe M.2 SSDs into a swappable, high capacity, flexible, and RAID-ready storage module
OWC® announces the OWC U2 Shuttle as the world's first U.2 carrier shuttle for 3.5" drive bays that combines four NVMe M.2 SSDs. It offers video editors, audio producers, photographers, and graphic designers everything they've always wanted in a multiple blade SSD: blistering speed, massive capacity, RAID-ready flexibility, and swappable convenience. The OWC U2 Shuttle can be used with U.2 port-equipped PCs and servers, as well as OWC storage and PCIe expansion solutions.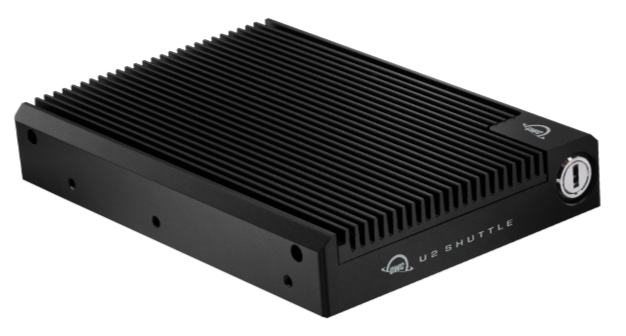 With four NVMe SSDs the OWC U2 Shuttle gives you more RAID options than a dual drive enclosure or adapter card. Now you can harness the power of RAID 0, 1, 4, 5, or 10 via your choice of hardware cards or RAID utilities including SoftRAID, the easiest to use, most fully featured software RAID package available. This powerful and intuitive software RAID utility offers maximum volume capacity, optimum drive performance, data protection, or a combination of attributes.
Available preconfigured with OWC's Aura Pro NVMe SSDs, the OWC U2 Shuttle are optimized for the best and longest working life. From running double checks on data and correcting errors to ensuring the uniform use of its flash media, Aura equipped U2 Shuttles are calibrated for endurance as a factory pre-set. You can also add your own NVMe M.2 2280 SSDs to create a custom configuration for your particular need.
OWC U2 Shuttle Highlights
Configurable: Choose from preconfigured solutions or add your own NVMe M.2 2280 SSDs
Easy RAID: Plug and play out of the box or enjoy more RAID variations than traditional dual drive enclosures – up to RAID 10
Compatible: Use with OWC Helios 3S, OWC ThunderBay Flex 8, and the new OWC Mercury Pro U.2 Dual, as well as any computer with U.2 support and an available 3.5" drive bay
Easy swaps: Move between OWC U.2 storage devices as well as PCs, enclosures, and servers
Media workflows: Dramatically lowers production-to-lab shipping costs vs. shipping larger, heavier drives
Secure: Key lock for data security compliance
1 Year OWC Limited Warranty and lifetime support
"The OWC U2 Shuttle boldly goes where no drive has gone before," said Larry O'Connor, CEO, and Founder of OWC. "It's perfect for media production workflows as it eliminates tedious, time-consuming drive enclosure disassembly or costly fees for shipping an entire enclosure to get a day's shoot to post-production. Just ship the lightweight OWC U2 Shuttle to the post-lab and swap it in quickly and economically".
The OWC U2 Shuttle will be available in January 2021 for $149.99 at MacSales.com.
---
Third and Finally, OWC Announces New Thunderbolt Dock – Adding to its Line of Thunderbolt Solutions
New Dock adds the ports you know and more Thunderbolt ports too
OWC® announces the new OWC ThunderboltTM Dock for Mac and PC. The OWC Thunderbolt Dock massively expands the functionality of the latest Intel 11th Gen Core and Evo PCs with Thunderbolt 4, as well as expanding the functionality of the new M1 Macs and Thunderbolt 3 equipped Macs once they are upgraded to the new Apple MacOS 11 'Big Sur'. Connect more, display more, and charge more with this new Thunderbolt solution. The OWC Thunderbolt Dock joins OWC's award-winning and Thunderbolt certified line of docking solutions for Mac and PC like the Thunderbolt 3 Pro Dock, Thunderbolt 3 14-port Dock, and Thunderbolt 3 Mini Dock.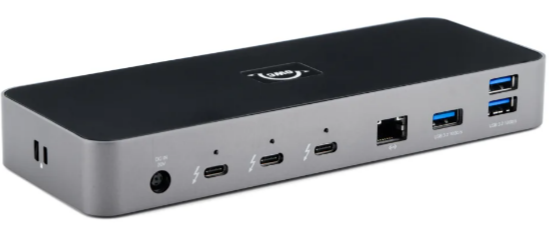 With the OWC Thunderbolt Dock you can now have four Thunderbolt ports, plus four USB ports, as well as a port for your SD Card, Gigabit Ethernet, and a combo audio in/out. You gain convenient access for all of your essential Thunderbolt and USB devices all through a single cable to your Mac or PC. Utilizing the latest Thunderbolt technology, the OWC Thunderbolt Dock enables users with Intel 11th Gen Core and Evo PCs with Thunderbolt 4, existing Macs or new M1 based Macs to add a mix of ports, including additional Thunderbolt ports. OWC Thunderbolt 3 docks without the Thunderbolt hub are compatible with OS 10.12 or later. Our Thunderbolt 4 based docks will continue to work great with our existing Thunderbolt 3 solutions such as storage, adapters, and more."Being a leader in Thunderbolt integration and accessories, OWC is excited to offer the Thunderbolt  Dock," said Larry O'Connor, CEO and Founder of OWC. "These new solutions will give users, especially on the Mac side, what they have been asking for, for years. The ability to expand upon the number of Thunderbolt devices they can add to their machines and create new workflows to optimize their workflows better."OWC Thunderbolt Dock Highlights:
The Thunderbolt hub you've always wanted:  Have four fully functional Thunderbolt 4 ports for your computer.  All Thunderbolt ports also support USB devices and monitors

Plug it all in: The same Thunderbolt device compatibility and performance, whether plugged into this dock or directly into your machine

Reimagining the daisy chain: Create three separate device chains, so you can remove devices from one chain without affecting or disconnecting the others. You can even add three Thunderbolt bus-powered devices.

Powerful charging capabilities: Thunderbolt 4 host port also keeps your notebook charged with 90W power delivery

Four USB ports: Connect and charge through USB

Manage additional devices: Connect more storage, up to two 4K displays or one 5K/6K/8K display, or other accessories, you name it, you can use it

More reliable sharing and streaming: Gigabit Ethernet eliminates low-quality, patchy Wi-Fi - ideal for IP-based workflows and secured networks

More content: Access photos and movies via the SD card reader at speeds up to 312MB/s

More audio: Plug headphones and mics into the audio combo jack

Adjustable LED: Customize the illumination for your work setting

Built-in security: Kensington Security Slot™ and Nano Security Slot™ for anti-theft cabling
"OWC Thunderbolt dock, with up to four multi-purpose Thunderbolt 4 ports, makes it simple to connect your monitors and favorite accessories while charging your laptop.  Thunderbolt™ 4 ports, cables and accessories are tested and certified to help increase reliability", said Jason Ziller, General Manager, Client Connectivity Division at Intel. "Thunderbolt 4 docks deliver the performance and capability headroom that content creators need, to improve their workflows."
The OWC Thunderbolt Dock is available for order now through MacSales.com for $249. OWC Thunderbolt 3 docks are available ranging from $119.00 for the OWC Thunderbolt 3 mini Dock, $249.00 for the OWC Thunderbolt 3 14-port Dock, and $299.00 for the OWC Thunderbolt 3 Pro Dock.