Guitarists can now access authentic Jimi Hendrix™ tones along with an interactive experience featuring historic moments and gear, real time Auto Tone presets, and more

San Diego, CA (October 14, 2021) – As part of their 10th anniversary celebration, Positive Grid proudly announces Experience Jimi Hendrix™ Official Gear Collection for Spark and BIAS FX 2. Created in collaboration with Authentic Hendrix, LLC, this official, curated collection offers interactive access to the tones, historic gear, imagery and storied performance moments of the most celebrated guitar icon of all time.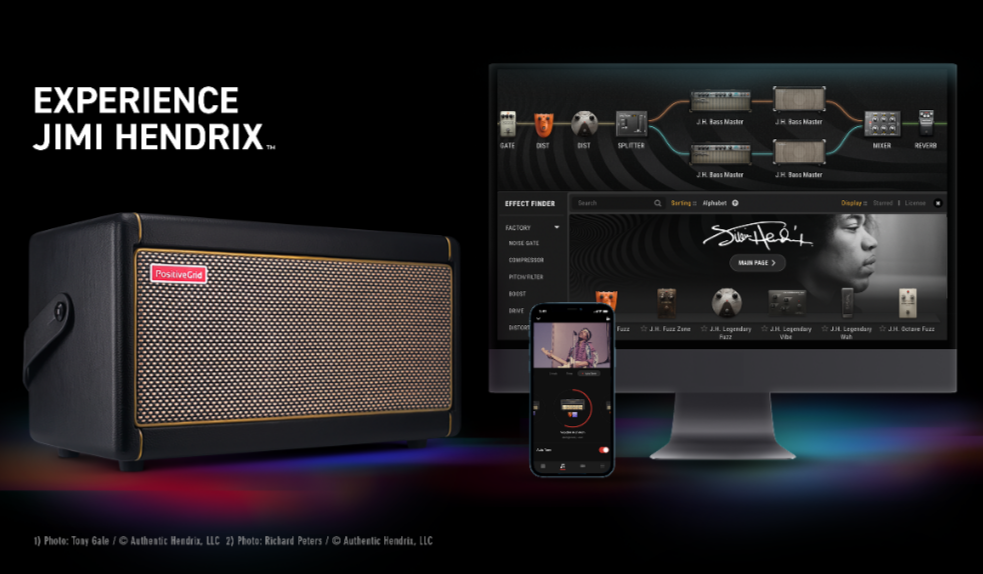 Intimate Access to Historic Gear
Experience Jimi Hendrix™ Official Gear Collection is available for Positive Grid's Spark smart guitar practice amp and for the BIAS FX 2 desktop or mobile versions. Guitarists can play and experiment with a selection of meticulously re-created effects and amps from Hendrix's famed collection of gear that helped define his unmistakable sound. BIAS FX 2 users can also add two guitars to the BIAS FX 2 Guitar Match feature that allows any guitar to be transformed into another.

Auto Tone for Spark
Spark users can select Hendrix songs in the accompanying Spark app. Then, as they play along with songs, the tones and presets will automatically change in real time to reflect the original guitar nuances exclusive to Hendrix.
Jimi's Gear
Spark and BIAS FX 2 users can click on a piece of historic gear to learn about its background and how Jimi used it, then preview or apply the related presets to jam on their own.
Famous Moments
Custom-designed for BIAS FX 2 and the Spark app, Famous Moments offers an interactive journey through the incredible career of Jimi Hendrix, illustrating how he forever changed the art of guitar. Users can view an exclusively curated timeline of significant Hendrix events, then expand it to learn more and select milestone songs associated with the moments to jam along with.
Laura B. Whitmore, Positive Grid's SVP of Marketing, notes, "After many hours of research and painstaking attention to detail, our team thoughtfully designed a collection that pays tribute to this guitar legend. It allows all generations of guitarists to experience the indelible mark he left on the world of music in a super-realistic way that immerses them in the unique sounds and gorgeous imagery associated with Jimi Hendrix."
Availability
Experience Jimi Hendrix™ Official Gear Collection for Spark and BIAS FX 2 is now available. For more information, visit positivegrid.com/jimi-hendrix.