Gig Control is pleased to announce the release of V3.3 of their performance automation software which now offers seamless integration of the 8-track Looper module into the Song and Set play facilities. This allows the recording of samples from any available audio input and their subsequent playback during the performance of the Song. Apart from classic creative looper box applications it is ideal for thickening-up backing vocals and for doubling instrument parts.
Gig Control is a dedicated fast, compact and reliable Windows program which perfectly synchronizes all audio and midi events of individual Songs and of Sets (the series of songs to be performed at a gig). This allows sound, lights, mixing desks and all outboard equipment to be controlled whilst still enabling flexibility and spontaneity in the performance.
The application is built around libraries of Songs and Sets. A Song in this context is a collection of time-related or manually triggered actions to generate audio playback (backing tracks, click tracks or stems) or the output of midi commands thus giving you total automated control over devices in your live setup - mixing desk, lighting controllers, fx units, synths etc. Songs may also include repeated sections (loops) during which all Song events remaining completely synchronized. Midi and audio devices are fully configurable and the performance can be managed remotely by midi, network or Bluetooth connection. Multi-track audio recording and playback are included to enable a recording of the performance and to facilitate virtual sound-checks. Complex decision making and control logic is facilitated through user-defined Procedures.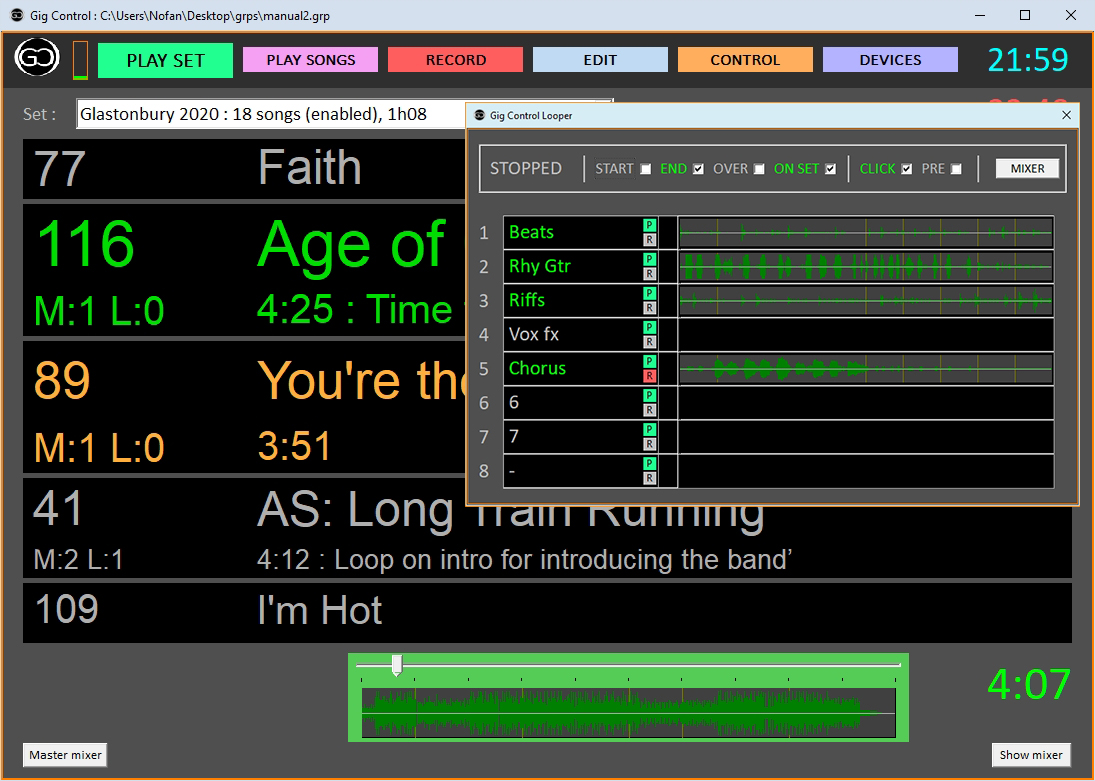 Version 3.3 of Gig Control has now been released and will be presented at the Prolight+Sound exhibition in Frankfurt (26th to 29th April 2022). The 8-track Looper already offered a sophisticated alternative to a traditional loopstation pedal. With this latest release use of the Looper may be fully integrated into any Song with sample-level synchronization of audio playback, midi events and the Looper.
The Pro version of Gig Control with full functionality is priced at €159; the Standard version (without the programmable Procedure and Looper modules) €99. A fully featured Demo version (limited to 5 Songs) is available for free 'no-strings-attached' download. For details visit www.gigcontrol.com.