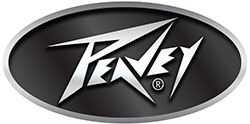 MERIDIAN, MS — Peavey Electronics® introduces PVs™ Series Subwoofers, offering big bass for various live applications. Each sub can be used with a wide variety of speakers and features Peavey's Bass Enhancement to boost performance. Road-ready and user-friendly, PVs Series Subwoofers are a great addition to any pro-audio setup.
The PVs Series Subwoofers offer three models, the deep and mighty PVs 18; the punchy and portable PVs 15; and the compact yet powerful PVs 12, perfect for hiding the subwoofer when needed. Each unit begins with a vented bass powered subwoofer enclosure at 1,000 W peak power and a heavy-duty woofer based on size, at 18, 15, and 12 inches, respectively.
All PVs Series subs use high-density materials in their construction to ensure all the energy from the drivers is directed to the audience and not absorbed by the cabinet. Peavey's proprietary drivers and power amps ensure maximum SPL (sound pressure level) while maintaining the utmost reliability. Another Peavey exclusive feature, Bass Enhancement, increases bass impact and allows these speakers to outperform other subwoofers in their class. Additionally, each unit's power amp has forced air cooling for maximum performance.
Built-in crossovers and outputs (two high-pass outputs and one full-range thru XLR) ensure PVs Series Subwoofers can be used in nearly any application with a wide variety of speakers. A XLR/quarter-inch combo jack input also helps to ensure sound quality. All three units have DSP-based (digital signal processing) crossover, compression, limiting, and EQ. A polarity switch enables polarity reversal of the subwoofer, allowing for better low-frequency response in select environments.
Built to be road warriors, PVs Series Subwoofers are made with a full-coverage, heavy-duty perforated steel grill as well as steel handles and large, rugged locking casters with damped bearings. To prevent interference, Peavey includes ground lift, for lifting the cable shield from the ground, as well as a threaded pole mount with an included speaker pole.
Whether users are on the road or in a club, church, restaurant or bar, PVs Series Subwoofers are an ideal solution for reliable low-end. Pump up the bass with Peavey, starting at MSRP $899.
To learn more and get a closer look, visit www.peavey.com.