Boutique amplifiers have been around for a long time now and seem relatively commonplace. Some live up to the hype while others fall short. Yet lurking in the background, there have been a few companies that have remained off the radar to all but players "in the know."
Two-Rock is one such company. A number of years ago, we had a musical out-of-body experience when we got to sit in and play a Two-Rock prototype during the Mammoth Lakes Jazz Jubilee with the Northern California band Gator Beat. It was one of those moments where you knew that from then on, any other amp would merely be a flaccid sonic compromise by comparison.
Category

Value

Rating

Features

20%

Usability

25%

Sound

25%

Documentation & Support

10%

Price

20%

OVERALL RATING = 3.2. 
3.6 stars or better: Outstanding, WIHO Award
3 stars or better: Worth considering
2 stars or better: Suited to specific needs
1 star or less: Not recommended
Make no bones about it: the Two-Rock Custom Reverb Signature is designed for the serious pro who knows exactly what he or she wants and will spare no expense in attaining it. The clean sound is absolutely stunning. Every frequency stands at attention awaiting your command to envelope your audience in lush tube warmth, body, and shimmer. And the lead channel sings proudly with a vocal, woody, vowel-like quality that will touch your soul forever.
Whether you play blues, rock, country, funk, or jazz, all roads lead to the Custom Reverb Signature as the sure-fire way to define your signature sound.
Features
The Two-Rock Custom Reverb Signature (CR Sig) features four 12AX7 preamp tubes, a 12AT7 reverb driver tube, and two 6L6 power tubes to produce an output of 50 watts. For a lower power option, a rear-mounted switch allows you to drop the output of the 6L6s to 35 watts. Three speaker jacks are provided rated at four, eight, and sixteen ohms respectively.
The CR Sig is a two-channel amplifier in which Channel 1 is dedicated to producing clean tones while Channel 2 (lead) handles the higher-gain, overdriven sounds. Tone controls consisting of Treble, Middle, and Bass are shared between the two channels while each channel features independent Gain and Master controls.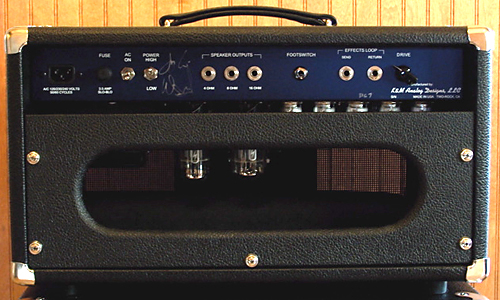 Included are switches for Bright, which adds high-end sizzle; Mid, which boosts both gain and midrange response; and Deep, which serves to shift the low-mid/ low-end frequency response. Like the tone controls, they are shared between channels.
A dual-feature switch provides two distinct combinations of overall equalization and gain. EQ1 is designed for situations in which higher headroom and extended bass/midrange response is required. There is much less gain available with this setting than EQ2. EQ2 provides a much smoother frequency spread as well as an increased amount of gain available to both channels. EQ2 is typically used to access the distinctive, expressive lead tone that the CR Sig is known for.
A Tone Bypass switch removes the tone stack from the circuit. When using the bypass in conjunction with the clean channel, there is a large increase in volume, gain, and midrange response. You won't get an overdriven lead tone but instead, a really useful, bluesy type of breakup to accentuate rhythm parts or for dynamic, touch-sensitive low gain leads. In the lead mode, gain and midrange are boosted while the lower frequencies are slightly cut. Volume does increase, but not as much as with the clean channel. Our consensus is that if you need that little extra oomph to make your lead tone a bit more aggressive and out in front, the tone bypass will do the trick.
In lieu of a traditional Presence control, the CR Sig has a Contour control. This allows for tweaking of the amp's frequency response to compensate for room acoustics or different types of guitars and/or pickups without having to change any of the preamp's EQ settings.
Reverb is provided by an all-tube Accutronics spring reverb unit. Setting the reverb level and decay is accomplished via a front-panel Mix control and a rear-panel Drive control. Turning the mix control fully counter-clockwise defeats the reverb effect.
A tube-buffered series effect loop featuring an internally fixed return level is included.
A two-button footswitch is provided in order to change channels as well as engage/disengage the Tone Bypass function. Bright red and blue LEDs are located above each switch which allowed us to easily tell how the amp was set.
Construction of the amp is top notch and includes an aluminum chassis, point-to-point hand wiring, and a host of specially designed, proprietary components. The short chassis head comes standard covered in black tolex and is personally signed by its designers. Custom coverings are available for an additional cost.
Usability
The CR Sig is a very classy looking amp and it is obvious that a lot of thought has gone into this amp to allow the player to access all of its great tones with a minimum of fuss. In addition, with its wide array of tone-altering toggle switches, it is an amp that can easily help you to unlock those elusive, mystical tones that have been swirling around in your head for years.
We found dialing up tones on the CR Sig to be a relatively straightforward affair. The clean and lead channels share controls for Treble, Middle, and Bass. Normally this would be of concern to some players, but we found that each channel is voiced so well that whatever settings work for one channel almost always sounded great when you switch to the other channel (but more on that in the Sound section).
Offsetting the slight compromise in tonal flexibility from the use of shared tone controls, each channel features a set of independent gain and master controls. It should be noted that the amount of gain present in the clean channel determines the signal level feeding the lead channel. Lower settings of gain in the clean channel will require higher settings of gain in the lead channel in order to achieve similar levels of overdrive. Finding good combinations of gain was relatively easy and we found a lot of useful interaction between the controls. You could spend countless hours exploring the subtle variations in gain combinations and their corresponding effect on each channel's tone and dynamics.
Plugging in outboard effects, whether they be modern rack gear or stomp boxes, proved to be no problem via the tube-buffered, fixed level, series effects loop. However, we're a little concerned that with so many variations of pedal effects on the market, some pedals without level controls could have trouble working properly with this type of set up.
Channel switching or activating the Tone Bypass can be achieved using the two-button LED footswitch. This is a sturdy black metal box with very bright LED's that are easy to see, be it a daytime outdoor festival gig or on a stage in some dark, funky club. Our only complaint is the permanently attached stereo quarter-inch cable. While it is plenty long, it's conceivable that it could easily be cut or broken on a gig leaving the entire unit useless. We wonder why an otherwise excellent design doesn't use a standard removable cable.
Fortunately, should something happen to the pedal, or if you accidentally forget it, you can still switch channels or use the Tone Bypass function via front-panel mounted mini toggle switches.
Sound
Having had the magical experience of playing a Two-Rock prototype a number of years ago, we couldn't wait to fire up this baby and let her work her mojo on us, and wow, did she ever!
For our test we used a custom Strat with Seymour Duncan vintage staggered pickups in the neck and middle and a JB junior in the bridge, as well as a late Eighties Ibanez RG-series guitar with dual humbuckers and a single coil in the middle.
Two-Rock was kind enough to send us one of their 2x12 semi-open-back cabinets loaded with custom Eminence speakers. For comparison, we also used an Avatar 2x12 loaded with Celestion Greenbacks.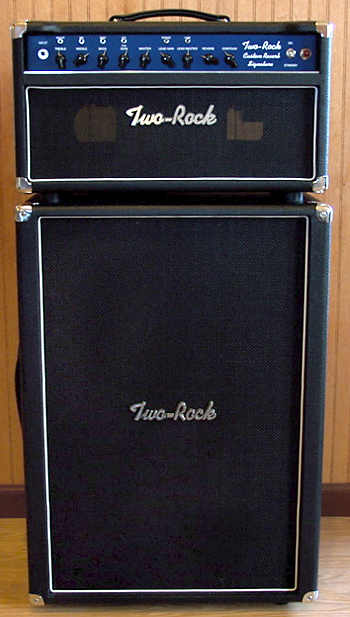 The sound of the CR Sig's clean channel roots are steeped in the tradition of the best of Fender's blackface era amps. However, that being said, the CR goes so far beyond what those amps could do. Imagine the best blackface but with more of everything. Bigger lows, more powerful mids, and absolutely stunning, shimmering highs.
With the EQ toggle set to EQ2, we were able to access the most heavenly blues tones you can imagine when we played our Strat using the neck pickup. Hit the strings lightly and the amp stays soft and sweet. Increase your attack, and notes feel as if they explode off the fret board. For a real treat, step on the Tone Bypass and prepare to be floored as the extra midrange boost and gain combine for a truly electrifying, dynamic, bluesy tone that truly separates the CR Sig from all the rest.
Switching to the bridge pickup on either guitar added a decidedly country flavor to the amp. There was plenty of twang, yet the tone was still very round and full without any brittleness in the top end. We can't even begin to imagine how wonderful a Telecaster would sound through this amp.
The in-between positions on the Strat really showcased the brilliant, chimey, bell-like tones the amp offers up. What really amazed us is how this amp can paint such a complete picture of the tonal spectrum without any harshness in the top end or muddiness in the bottom. We simply couldn't make the amp sound bad!
With the amp still set to clean, we flipped the EQ toggle to EQ1. This is a much lower gain setting than EQ2. EQ1 is voiced to primarily be used as a clean tone. When the switch is initially flipped, we noticed a big decrease in sound. When we increased the gain, mid and bass controls, the sound fattened up to deliver deep, luscious, three dimensional clean tones. However, we really didn't care for the lead tone in conjunction with the EQ1 setting. It was a bit muted sounding and lacked the clarity and presence afforded by the more flexible EQ2 setting.
With many two channel amps, when you change sounds it's sound like you're playing two entirely different amps. Not so with the CR Sig. When set to EQ2 mode (which happened to be our favorite), the lead channel shares all of the character, depth, and complexity of the clean channel. The sound is one of the most vocal, woody, emotive tones we've ever heard. Two-Rock refers frequently to a term they call bloom. Playing though this channel makes that term very easy to understand. Hold any note, especially in the lower register, and you can hear all of the harmonics gradually come out and surround the fundamental. Your guitar literally speaks in vowel sounds.
The general character of the lead channel lends itself very well to blues, rock, country, or fusion. Playing both the Strat and the Ibanez through this channel yielded very different results. In either case, the amp lets the true character of the instrument stand out. The neck position on the Strat yielded a thick, creamy blues tone that cleans up beautifully as you roll back the volume on your guitar. Flipping the bright switch added some additional brilliance to the top end that made double-stop leads really shine when we had the guitar's volume backed off.
Plugging in the RG, the amp took on a much more aggressive character. Using the bridge position, we were able to coax up some great medium gain tones that were well suited to chunky rock/blues rhythms and expressive single-note jazz type melodies. At higher gain settings, the amp has a really open, singing, multi-dimensional tone that made our most over-the-top "hair on fire" solos sound simply breathtaking.
One of the hassles we've encountered time and time again is having to constantly adjust preamp settings every time we change guitars or play a different venue. Two-Rock has come up with a very useful feature to address this problem. In place of a Presence control, the amp has a Contour control which works like an active, wide-band EQ sweep. With one knob, you can easily adjust for bright or dark guitars or for live or dead rooms. We also found that this control can really change the character of the amp. Settings around twelve o'clock yielded a darker, moody tone. Turning the knob further clockwise really awakened things, offering up a really open and revealing tone. As the contour knob cruises past three o'clock, you better have you chops up to task since this amp won't easily cover up any flaws in your playing.
If you're wondering why we haven't tried to compare the lead tone to other amps such as Marshall or Boogie, it's because we really feel this amp speaks in a voice that is all about forging your own path. Depending how we played, we were able to find tones reminiscent of Robben Ford, Eric Johnson, Stevie Ray Vaughn, and Steve Vai.
Using the onboard spring reverb might be all the effect you'll really need with this amp. It was very warm sounding and provided a really nice ambience to the amp. Using the mix and drive controls, we were able to dial up everything from a short decay reverb simulating a small room to the most reverb-drenched surf sounds you can imagine.
Documentation and Product Support
The included owner's manual covers in sufficient detail all the basics you'll need to get up and running. The manual doesn't provide any suggested settings, but we suspect that someone considering this amp is already a seasoned pro and isn't interested in copying someone else's sounds anyway. Fortunately, even while discovering this amplifier's true character, we really couldn't seem to dial in a bad sound.
Two-Rock has an informative website with a lot of valuable information about their current line as well as past products (in case you're interested in a little history). They also have a forum where you can communicate with other Two-Rock owners. Owners of Two-Rock amps consider themselves part of a family and as such, you get much more than just an amp when buy one. Since the company is very small, you can speak directly to the people who build and design these wonderful amps. They are more than happy to answer any questions you may have. In the unlikely event something should a problem arise, the CR Sig is covered by a five year warranty.
Price
50-watt head $5,000
100-watt head $5,500
Great tone doesn't come cheap, and the Two-Rock CR Sig takes this thinking to the extreme. There aren't many amps in this price range, but then again, there aren't many amps that become a true extension of your art the way this amp can. Chances are if you're at the level to require an amp like this, then the price will only be a temporary barrier to the realization of your musical voice.
Contact Information
K & M Analog Designs, LLC
www.Two-Rock.com
Evaluation Short-List
THD Flexi 50

Bogner Shiva