Let it be said here: nobody ever got fired for mixing with Waves plug-ins. They are as much a studio standard as Pro Tools is the studio standard for digital audio workstations. And with the demise of Avid's RTAS plug-in platform in favor of the newer AAX format, we knew it was time to outfit the MusicPlayers.com studio with a variety of next-generation plug-ins. Our first stop on the upgrade path: Waves.
With so many plug-ins available from Waves, it can be overwhelming trying to determine which Waves plug-ins you want, and if you're just outfitting a project studio for the first time, it's easy to get lost in the numerous offerings. Allow us to help.
Category

Value

Rating

Features

20%

Usability

25%

Sound

25%

Documentation & Support

10%

Price

20%

OVERALL RATING = 3.8 Stars, which earns it a
WIHO Award!


3.6 stars or better: Outstanding, WIHO Award




3 stars or better: Worth considering




2 stars or better: Suited to specific needs




1 star or less: Not recommended
For general-purpose recording and mixing tasks in the rock/pop/fusion/country disciplines, the Waves Gold bundle presents a perfect starting point. It offers so many of the essential Waves plug-ins—and a bunch of nice "extras"—that many in-the-box mix engineers can get along fine mixing records without ever adding another plug-in to their DAW.
If the Gold package stopped with nothing more than the Renaissance Compressor, Renaissance EQ, and IR-L Convolution Reverb, we'd still recommend buying it, as the first two plug-ins offer such a perfect blend of quality sound and ease of use that they are worthy of placement on nearly every track in a typical rock band session, and the reverb delivers world class ambience. Still, these just barely scratch the surface of what's included here. There's even some fine guitar amp modeling software!
The Waves Gold bundle really is your studio-in-a-box, and if you've made the upgrade to Pro Tools 11, its 64-bit AAX plug-in support makes this a no-brainer first purchase to stock that new virtual studio with gear. Artists and engineers on a tighter budget would be wise to check out the Waves Silver package, which contains many of our favorite essentials at a lower price point. We'll highlight the differences between bundles later in the review.
Features
The Waves Gold Bundle includes 35 plug-ins that cover areas including dynamics processing and sound shaping (compressors, EQs), effects (delay, reverb, modulation), stereo imaging, sonic enhancement, guitar amp modeling, and more. Here, we'll attempt to sort them by effect type, and provide a brief description where necessary, quoted directly from the Waves website:
Dynamics Processing & Sound Shaping
AudioTrack (a channel strip with EQ/Gate/Compression), C1 Compressor, C4 Multiband Compressor, H-Comp Hybrid Compressor, MV2, Renaissance Compressor, V-Comp, Q10 Equalizer, Renaissance Equalizer, V-EQ3, V-EQ4
Delays and Reverbs
Doubler, H-Delay Hybrid Delay, IR-L Convolution Reverb, Renaissance Reverb, SuperTap, TrueVerb
Pitch and Modulation Effects
Enigma (uses a unique combination of filters, short delay feedback loops, reverb, LFO modulation, and more to create radical, never-before-heard sonic textures), MetaFlanger, MondoMod, UltraPitch
Stereo Imaging and Sonic Enhancement
DeEsser, L1 Ultramaximizer (Look-ahead peak limiting, level maximization, and high resolution re-quantization), MaxxBass, PS22 Stereo Maker, S1 Stereo Imager, Vitamin Sonic Enhancer (multiband harmonic enhancer and tone-shaping)
Guitar Amp Modeling & Effects
GTR3 Amps, GTR3 Stomps, GTR3 ToolRack, GTR3Tuner, Renaissance Axx
The guitar plug-ins here are a big part of the draw for the Waves Gold package (Silver doesn't include these). GTR3 Amps offers a selection of different modeled amps and speaker cabinets, while GTR3 Stomps is a dedicated plug-in that lets you assemble virtual pedalboards. GTR3ToolRack lets you build virtual guitar rigs comprised of modeled amps from GTR3 Amps plus effects from the Stomps plug-in, and then easily operate them via MIDI foot controllers for live use. Renaissance Axx is a compressor plug-in optimized for guitars.
Miscellaneous Effects
Doppler (creates illusion of movement), PAZ Analyzer (tool that provides visual representation of audio stereo positioning), Waves Tune LT (pitch correction)
As you can see, everything from basic effects to dynamics processing is included, and in many cases, there are multiple plug-ins to choose from, each with a sound of its own.
Usability
Studio tools need to be efficient in their operation—for example, you shouldn't have to dig through multiple levels or screens to make the changes you need, and ideally they should be easy to operate. In general, the plug-ins found in the Waves Gold collection succeed admirably on both fronts.
Consistency is one of the key things that makes Waves plug-ins so useful. They all feature nearly identical interface features, so in any plug-in, shift-clicking or dragging around the interface with our mouse enabled us to select multiple controls at the same time, and double-clicking on buttons or knobs brings up a small window in which we could type the specific value for various settings.
The Renaissance plug-ins are especially notable for quick and painless operation, and the Renaissance Equalizer and Compressor are exceptional plug-ins for operational ease-of-use. As you can see from the EQ plug-in below, you've got instant access to visually adjust six EQ points across frequencies, with precise controls and band bypass buttons directly below the visual interface.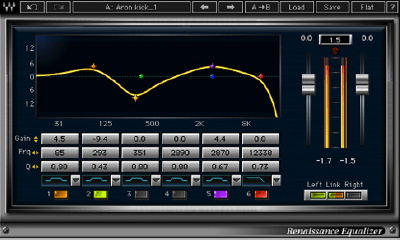 When it comes to compressors, some engineers love the Renaissance Compressor's modern, intuitive interface, while others prefer the vibe from vintage knobs as found elsewhere in this collection, like with V-Comp. Both approaches are easy to operate, and we love that these plug-ins take advantage of one of Pro Tools's most significant improvements since version 11: you can now see the impact of your compressors at work in real-time on meters that run alongside your channel faders in the Pro Tools Mix window!
For more complex dynamics processing, we loved the C4 Multiband Compressor, which made it easy to apply up to four individual bands of compression to an audio source.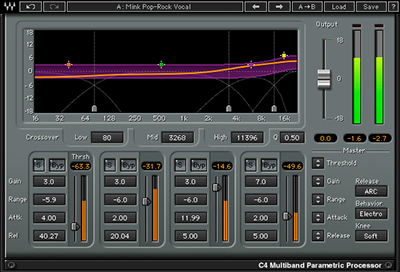 With so many plug-ins included in these collections, it would take forever to go into details about all of the operations, but assuming you have experience using the kinds of tools included in the Waves Gold and Silver collections, you should have no trouble using these plug-ins.
Besides having very usable interfaces, the plug-ins are highly automatable, too. With some of the more "effect-ish" plug-ins (like modulation effects), it was easy for us to manipulate flangers, phasers, reverbs, and delays over time, and also to sync delays to our session tempo markers.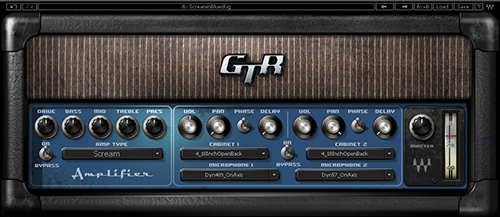 We liked the Waves approach to virtual guitar rigs in GTR3, with separate plug-ins for amps, pedals, and overall rig assemblies. It made it very easy to record our real guitar tube amps dry and then add guitar-optimized effects to our tracks. It was also nice getting tempo-matched effects where many of our physical pedals might not have been so perfectly locked to our tracks. Some users may lament the lack of flexibility when it comes to selecting mics and their placement (basically, in GTR3, you can't), but we think this makes the plug-ins more immediately useful. Just focus on the sound of the amps, and don't needlessly complicate things by introducing another layer of modeling technology that will delay you from getting an optimal modeled guitar tone.
In the past (we've used various Waves plug-ins for at least ten years), Waves plug-ins were notorious resource hogs performance-wise when running on Pro Tools Native systems, but those days are long gone. The 64-bit AAX plug-ins we tested had no greater impact on system performance than any other plug-ins used in our studio. We easily loaded up as many tracks as we wanted with a variety of dynamics, EQ, and effect plug-ins while running Pro Tools 11 on a 2011 Apple Mac Pro.
Plug-in authorization is managed via a Waves utility that we installed with the downloaded software plug-in package.
Sound
The bottom line is this: everyone mixes with Waves plug-ins because they sound as good as any other quality studio processing gear (and are super easy to use), but obtaining this variety of great sounding gear in the hardware realm would cost easily tens of thousands of dollars. If you want to mix in the box, these plug-ins will give you out-of-the-box sound quality in spades. Following are some comments and observations about some of the numerous plug-ins on tap:
The dynamics and EQ processing plug-ins are the bread and butter tools that you will use every day on every session. We're huge fans of the Renaissance Compressor and EQs — super transparent and highly musical, you'll find them used repeatedly throughout session files of ours because they sound great on everything from our drums to our guitars to our vocals.
The L1 Limiter and L1 Ultramaximizer are great sounding stereo dynamics processors, with the L1 Ultramaximizer adding quantization and dithering features. Placing this on our master bus adds some final glue to the mix that brings out overall punchiness and clarity.
MaxxBass is widely used for beefing up less-than-robust bass guitar tones, and it does so by introducing additional harmonic content to your signal calculated off of your source. With minimal messing around, MaxxBass definitely helped us to improve the presence of some otherwise "thin" bass tones.
To breathe life into otherwise static parts, we found MondoMod to be an extremely useful modulation effect. When placed on a sustained synth pad, for example, we were able to add some subtle motion to the sound that took it from rhythm track filler to rhythm track enhancer.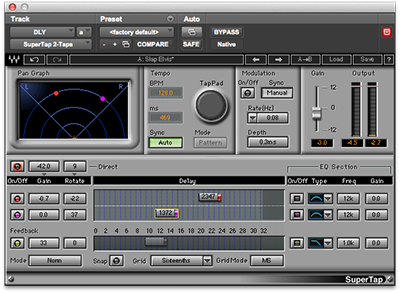 The SuperTap delays are other plug-ins sure to get plenty of use on everything from vocals to guitars. Even using the six-tap plug-in, our vocals didn't degrade in quality, and the effect retained clean character with lots of crazy repeats (though we found more practical vocal treatment with the dual-tap plug-in).
The GTR3 virtual guitar amps sound very good, too, and we noticed that a lot of care went into designing out how the tones clean up when you roll off the volume on your guitar. But, the GTR3 plug-ins are just "bonus" items in our book as Waves Gold is primarily a collection filled with essential tools for recording and mixing. Thus, we aren't going to pursue an in-depth evaluation of the amp models and guitar effects, which easily merit an in-depth look on their own.
So, the reason you need the Waves Gold package is for all the recording and mixing stuff, but if you haven't invested in an amp modeling package, you're going to find plenty of great sounding amps and effects here to keep you busy for quite some time.
Documentation and Product Support
All Waves plug-ins have easy-to-follow, complete documentation available in PDF form from the Waves website. The website also contains useful video tutorials on the use of many of the plug-ins.
Price
The Waves Gold bundle usually sells for $800, but Waves routinely runs sales on their plug-ins that can bring the price down significantly (during the 2014-15 holiday season, this package sold for more than a 50% discount, and we've seen sales throughout the year).
Even at full price, however, the usefulness and quality of the plug-ins in this collection make it worth purchasing. This is pro studio sounding gear, delivered in a software format, and you will use these tools on every session.
As a mix engineer, you can save some cash and purchase the Silver bundle (regularly $600), but unless you have no need for the GTR plug-ins, that might be pennywise and pound foolish, as there's quite a bit more value delivered in the Gold package. Here's a comparison of the two packages:
Waves Plug-In
Gold
Silver
AudioTrack

•

C1 Compressor

•

•

C4 Multiband Compressor

•

DeEsser

•

•

Doppler

•

Doubler

•

•

Enigma

•

•

GTR3 Amps

•

GTR3 Stomps

•

GTR3 ToolRack

•

GTR3 Tuner

•

H-Comp Hybrid Compressor

•

H-Delay Hybrid Delay

•

IR-L Convolution Reverb

•

•

L1 Ultramaximizer

•

•

MaxxBass

•

•

MetaFlanger

•

MondoMod

•

•

MV2

•

PAZ Analyzer

•

•

PS22 Stereo Maker

•

Q10 Equalizer

•

•

Renaissance Axx

•

•

Renaissance Compressor

•

•

Renaissance Equalizer

•

•

Renaissance Reverb

•

S1 Stereo Imager

•

•

SuperTap

•

•

TrueVerb

•

•

UltraPitch

•

V-Comp

•

V-EQ3

•

V-EQ4

•

Vitamin Sonic Enhancer

•

Waves Tune LT

•
The Silver package will be fine for many engineers, though, as it does include the most essential (and our favorite) mix plug-ins, but the Gold bundle just delivers a noticeably better value, with many additional plug-ins that will most certainly get put to use in your studio.
Contact Information
Waves
www.waves.com
Evaluation Short List:
Universal Audio UAD-2
Slate Digital Virtual Mix Rack
iZotope Alloy 2
FabFilter Mixing Plug-In Bundle