BULLET FOR MY VALENTINE GRAVITY RELEASE WEEK NEWS!
WE CAME AS ROMANS + BAD OMENS CONFIRMED AS SUPPORT FOR FALL 2018 U.S. TOUR
TWITTER Q&A SESSION WITH FANS PLANNED FOR RELEASE DAY, FACEBOOK LIVE Q&A SESSION PLANNED FOR NEXT WEEK
EXPERIENCE AN ENTIRE BFMV SHOW ONLINE THIS WEEKEND
ALBUM SIGNING SESSIONS CONFIRMED AT FOUR UK HMV STORES, INCLUDING LIVE PERFORMANCE AT HMV OXFORD STREET IN LONDON
"Gravity is an album of rage and recrimination, counterbalanced with specks of hope and reflection." — Kerrang!
"Gravity sees Bullet once again boldly eyeing up the world's biggest stages with rejuvenated determination." — Metal Hammer
"Gravity is littered with huge rock songs that could fill a galaxy twice over." — Rock Sound
BULLET FOR MY VALENTINE will release their new studio album, Gravity, via Search & Destroy/Spinefarm Records on Friday, June 29.
Following over 13 million pre-release streams of singles, "Over It, "Piece of Me," and "Letting You Go," plus 12 million official video streams, Gravity will finally be available digitally and physically.
Ahead of the album's eagerly awaited release, the band has confirmed the support acts for their Fall 2018 North American headline tour, as well as a slew of activities leading into Friday.
BFMV will be joined by We Came As Romans and Bad Omens on the September and October dates, which runs from September 13 through October 16. The band will also appear at two premiere fall festivals — RiotFest in September in Chicago and Aftershock on October in Sacramento.
Every ticket purchased online for any of the U.S. dates on the upcoming fall tour will include a copy of Gravity. Go here for additional details and to buy tickets.
BFMV will be connecting directly with their faithful fanbase on release date and beyond. They will participate in a Q&A session with fans on Twitter on Friday, June 29. A Facebook Live Q&A session is planned for next week.
Fans can tune in and watch the band's performance at Vainstream in Germany on Saturday, June 30, as it will be livestreamed via Facebook.
Also, the band will be meeting fans and signing copies of their new album Gravity at four UK-based HMV stores. Access to all events will be restricted to customers who order a Gravity + event bundle here.
Please note that photography restrictions may apply and that the band will only be signing copies of their new album.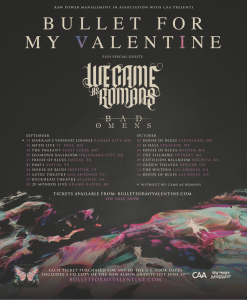 HMV SIGNING EVENTS:
JUL 02 HMV 363 London, Oxford Street @ 6PM (Doors open: 5:30PM)
JUL 03 HMV Newcastle @ 5:30PM
JUL 04 HMV Birmingham bullring @ 5:30PM
JUL 05 HMV Cardiff @ 5:30PM
BFMV will also perform ­live at the London, Oxford Street event at 6PM sharp. Please arrive in good time to collect your bundle order.
BULLET FOR MY VALENTINE ON TOUR:
WITH WE CAME AS ROMANS + BAD OMENS
9/13: Kansas City, MO @ Harrah's*
9/14 — 9/16: Chicago, IL @ RiotFest**
9/15: St. Paul, MN @ The Myth
9/18: St. Louis, MO @ The Pageant
9/20: Oklahoma City, OK @ Diamond Ballroo­m
9/21: Dallas, TX @ House of Blues
9/22: Austin, TX @ Emo's
9/24: San Antonio, TX @ Aztec Theater
9/25: Houston, TX @ House of Blues
9/27: Atlanta, GA @ Buckhead Theatre
9/30: Grand Rapids, MI @ 20 Monroe Live
10/2: Cleveland, OH @ House of Blues
10/3: Syracuse, NY @ SI Hall at NYS Fairgrounds
10/4: Boston, MA @ House of Blues
10/7: Detroit, MI @ Fillmore Detroit
10/9: Wichita, KS @ Cotillion Ballroom
10/10: Denver, CO @ Ogden Theatre
10/12: Los Angeles, CA @ The Wiltern
10/14: Sacramento, CA @ Aftershock Festival**
10/16: Las Vegas, NV @ House of Blues
*NO WE CAME AS ROMANS
**FESTIVAL
ICYMI:
Watch the video for "Letting You Go" here.
Watch the video for "Over It" here.