London, UK (September 6, 2018) – Drumsound & Bassline Smith proudly presents PARALLAX, a brand new and revolutionary bass engine for use with Native Instruments KONTAKT v5.7
Now, Native Instruments Kontakt users have access to a wealth of brand new bassline design and manipulation tools created by the Technique Recordings bosses themselves.
PARALLAX has the name "Drumsound & Bassline Smith" on the packaging because this project was personally conceived, coded, and crafted by the drum 'n' bass vets themselves. Having previously worked on plug-ins and presets for Sugar Bytes, Waves, and Loopmasters, creating something from the ground up was the next step. And with more than two decades at the top table of bass-heavy music production, Kontakt users can now benefit from their hard-won experience.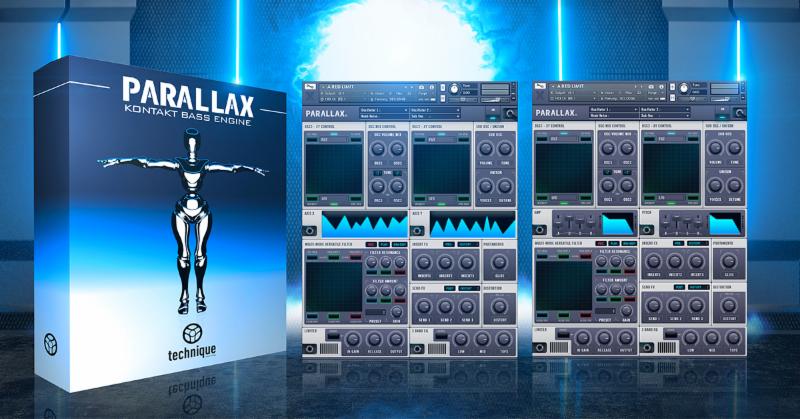 Features:
Powerful three-oscillator synth with 24 filters and 9 LFO settings
Flexible XY pad on each oscillator (new feature for Kontakt 5.7)
Expertly-curated toolbox of 8 insert effects and 5 send effects
Ultimate control using Kontakt's multi-mode filter in combo with an XYZ pad
Quick Envelope feature to let you free-draw and edit custom envelopes
Drumsound & Bassline Smith have spent years developing this synth to satisfy beatmakers' hunger for making heavy, rave-shaking basslines. With 50 presets to spark the imagination, the capability to combine original samples with the ones provided, and with near-infinite control and automation possibilities, PARALLAX is a new perspective on bass synths.
Price & Availability
Available now from techniquerecordings.co.uk at a special introductory price of £50 (RRP £75) - approximately $65 (MSRP $99)
About Drumsound & Bassline Smith
Drumsound & Bassline Smith have got pedigree. They've occupied a top-tier position in the drum 'n' bass scene for the last two decades and have made an indelible mark on drum 'n' bass, and dance music in general. Scouring the globe for talent, their label, Technique Recordings, helped turn artists like Tantrum Desire, Document One, L Plus, and No Concept into household names among DnB cognoscenti.
And their own output has been equally impressive. Regularly playlisted on national radio stations, their 2012 Essential Mix for BBC Radio 1 is still a fan-favorite, chalking up hundreds of thousands of plays. Championed by tastemakers like Annie Nightingale, Mistajam, Zane Lowe, and Annie Mac, their huge "Wall of Sound" album garnered them two UK Top 40 hits with Utah Saints collab "What Can You Do for Me?" and "Through the Night". Drumsound & Bassline Smith is one of the premier acts in bass-heavy music today.