Winter NAMM Show 2019 In-Depth Gear Reports:

Another NAMM Show in the bag, and I have to say, this was a fun show! Granted, we find every NAMM Show to be fun, but this year was just, well… more fun than usual! The overall vibe across the industry was extremely positive, and you could really feel that positive energy everywhere you went.
The show continues to grow—to an almost maddening size—and thanks to a healthy economy, manufacturers expanded many of their exhibits and introduced a staggering number of new products to market. If you live in an area where your only exposure to gear comes from just a handful of stores, even one of the big box retailers, you simply can't comprehend just how many companies are building guitars, basses, keyboards, and recording and pro audio gear. It is truly overwhelming.
But when asking our usual question, was this year evolutionary or revolutionary, this year was firmly entrenched in the evolution of products. There were a handful of innovations to be sure, but few that had us re-thinking any upcoming purchases for our studios and our live performance rigs. Most exciting new products, though? Down below, you'll find our Best of NAMM picks for each product category, along with some fun video highlights from this year's show, but look above and below for our in-depth reports on all of the gear that impressed us this year.
—Scott Kahn, Editor in Chief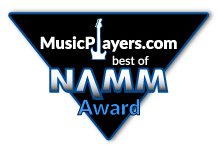 Following are our editors' and reviewers' top picks for stand-out products that we saw at the Winter NAMM Show. But be sure to read our in-depth reports to see all of the cool gear that left an impression on us (and more details about the highlighted gear below).


Guitar: Fender Acoustasonic. Looks like a Tele, feels like a Strat, sounds like an acoustic. Definitely more than just "another Fender." And, also in the sounds-like-something-it's-not category, we really liked the Hughes & Kettner Black Spirit 200 amplifier. All the classic H&K tube amp sound you want—without the tubes! But if you do love your tubes, get ready for the BOSS WAZA Tube Amp Expander. It's a power attenuator and audio interface containing a huge assortment of modeled microphones, speaker cabinets, and guitar effects. Plus, it lets you store your own impulse responses! The feature set is quite robust, and it's sure to heat up the competition in this rapidly expanding product category.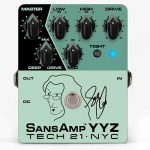 Bass: From across a crowded exhibit, the re-introduced Ibanez Affirma series basses were simply stunning (and a pleasure to play). And to hear these basses sounding their best, you can't go wrong with the Tech 21 SansAmp YYZ or EBS MicroBass 3 preamp pedals.

Keys: An easy pick this year, players can't go wrong with the new Yamaha CP-series stage pianos. It wasn't a crowded field, to be fair… not a lot of truly pro keyboards this year. But these boards play great, sound great, and have a fantastic user interface, something we don't often say about Yamaha keyboards.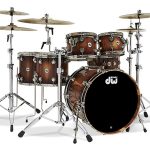 Drums: You can't go wrong with the kit you'd contemplate eating, but Drum Workshop is only creating fifty of the Collector's Series Pure Almond kits. This wood has not previously been used by builders, and we'll be looking forward to hearing records made with this intriguing wood choice. If you need something to expand your sonic palette, the new Alesis Strike MultiPad is fantastic! You're going to see this added to a lot of drum kits! Or, just plug in a couple of external pads and make it your kit!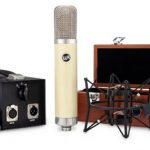 Recording: Flock Audio's PATCH System just might be the mother of all studio patchbays. Patch everything in once and enjoy a cable-free experience. All analog signal routing is handled internally through relay switching, controlled via software on your computer or tablet. We were also excited about Warm Audio's 251, a re-creation of the classic Telefunken 251 microphone.
Winter NAMM Show 2019 In-Depth Gear Reports:

Video Highlights from The NAMM Show

At this year's Yamaha All-Star Concert on the Grand, one of the many fantastic performers was legendary singer/songwriter, Sarah McLachlan. Here, she's performing "Building a Mystery."

Carlos Santana talking about his love for guitar and more...

Larry Mitchell performs the Star Spangled Banner, Jimi style, from the rooftop at The NAMM Show.

Eddie Trunk talks with Def Leppard's Vivian Campbell about the band's Rock n' Roll Hall of Fame nomination for 2019.

Let's wrap up this collection of videos with a real "Celebration," courtesy of James "J.T." Taylor from Kool & the Gang, also featured during Yamaha's All-Star Concert.