THE 6TH ANNUAL ROCKGODZ HALL OF FAME AWARDS 2018
THE CANYON CLUB, AGOURA HILLS, CA
NOVEMBER 18TH 2018
THE BIGGEST STARS IN ROCK AND ROLL WILL HONOR THEIR OWN LUMINARIES: DEREK ST. HOLMES, DAVID ELLEFSON, NUNO BETTENCOURT, JEFF SCOTT SOTO, TIM PIERCE, AMONG OTHERS TO BE INDUCTED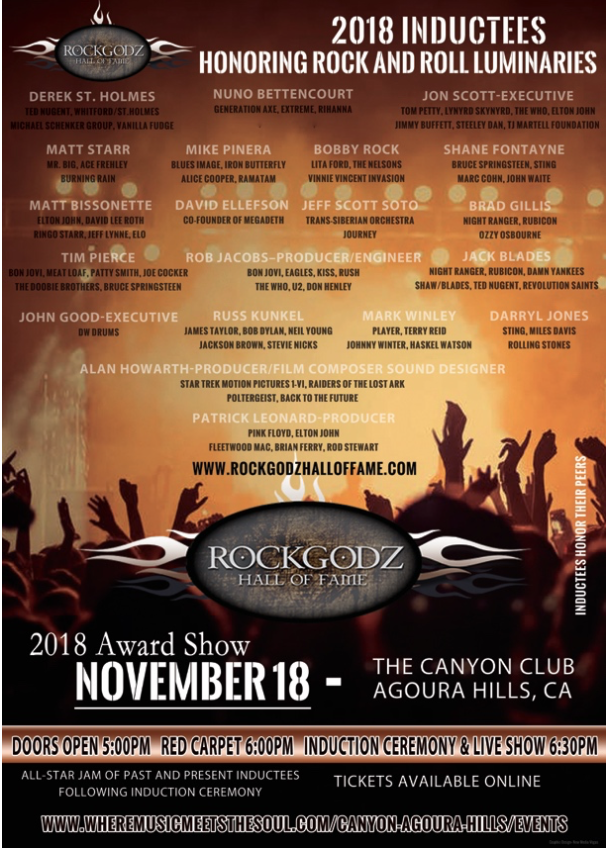 Agoura Hills, CA: The 6th annual RockGodz Hall of Fame Awards www.rockgodzhalloffame.com will take place on Sunday November 18th at The Canyon Club, Agoura Hills, celebrating the unsung heroes behind the Rock and Roll's most legendary musicians and most famous instrumentation on chart-topping albums.  Rock and roll legends will honor their own during a celebration of music with passion and talent at its core, bringing recognition to the lesser-known musicians who built the legacy of rock music.
Inductees this year include: Derek St. Holmes (Ted Nugent, Whitford/St. Holmes, Michael Schenker Group, Vanilla Fudge), Matt Starr (Mr. Big, Ace Frehley, Burning Rain), Mike Pinera (Blues Image, Iron Butterfly, Alice Cooper, Ramatam), Russ Kunkel (James Taylor, Jackson Browne, Carly Simon, The Section), Bobby Rock (Lita Ford, The Nelsons, Vinnie Vincent Invasion), Shane Fontayne (Bruce Springsteen, Sting, Marc Cohn, John Waite), Nuno Bettencourt(Generation Axe, Extreme, Rihanna), Matt Bissonette (Elton John, David Lee Roth, Jeff Lynne and ELO, Ringo Starr), David Ellefson (Co-founder of Megadeth), Jeff Scott Soto (Trans-Siberian Orchestra, Journey), Darryl Jones (Sting, Miles Davis, Electric Band, Rolling Stones), Tim Pierce (Bon Jovi, Meat Loaf, Patty Smith, Joe Cocker, the Doobie Brothers, Bruce Springsteen), Mark Winley (Player, Terry Reid, Johnny Winter, Haskel Watson), Rob Jacobs(Producer/Engineer - Bon Jovi, Eagles, KISS, U2, Don Henley) John Good (Executive - DW Drums), Patrick Leonard, (Producer - Pink Floyd, Elton John, Fleetwood Mac, Brian Ferry, Rod Stewart), Jon Scott (Executive - Tom Petty, Lynyrd Skynyrd, The Who, Elton John, Steely Dan, TJ Martell Foundation), Alan Howarth (Producer/Film Composer/ Sound Designer - All Star Trek: The Motion Pictures from the first through VI, Raiders of the Lost Ark, Poltergeist, Back to the Future).
All RockGodz Hall of Fame inductees are selected by inductee alumni, their peers, which continues to make the organization highly respected by the music community. This year's Awards Show will be opened with live musical performances and throughout the evening inductees will perform tributes to their biggest hits. The evening will also feature appearances from current alumni, special guests, surprise performances and a one-of-a-kind all-star jam of past and present inductees will close the event.
RockGodz Hall of Fame was founded by Cindy Landeen and Steve Rosen. The board members are Sandy Rizzo, Francis "Buster" Akrey, Kevin "Duggie" Dugan, Steve Eggleston, Daniel Margasa, Tony Franklin, Rory Kaplan andMarquetta Nickols.
 Founder Cindy Landeen says: "Our mission is to acknowledge the contributions of a group of stunningly gifted musicians and professionals who flew under the radar while delivering to the world music that has orchestrated the soundtrack of many lives. We believe that these virtuosos, maestros and those working in the trenches behind the scenes need not wait any longer to be recognized and acknowledged for their part.   In the day they may have been relatively unknown to the music world and fans at large but RockGodz Hall of Fame has purposely taken on the challenge and goal of celebrating their achievements. RockGodz Hall of Fame and the Canyon Club acknowledge those touched by the recent tragic events and those who risked their lives to serve and save lives during this time. We would like to invite all the firefighters, emergency responders and volunteers to attend the show as our complimentary guests and donate a portion of the proceeds from the show to benefit the victims of the recent fires and shootings in the area."
Join us in our celebration of incredible musical talent and the contributions that this year's selected inductees have made to rock and roll. All RockGodz Hall of Fame events and initiatives are funded by ticket sales, sponsorships, volunteers and those who choose to support the mission.  We accept financial contributions to help us move forward.
Tickets are available for purchase at: https://bit.ly/2JlHTB2
The Canyon Club, 28912 Roadside Drive, Agoura Hills CA, 91301.
Sunday November 18th, 2018.
$25 / $45 / $75* + applicable fees. The $75.00 ticket includes a VIP Meet & Greet with the inductees.