Drew Bently, Bold Horizon
Genre:
Instrumental Guitar, Rock, Blues, Fusion
Musicianship:
Songwriting:
Production & Engineering:
Vibe:
Overall Rating:
3.13
Few records are capable of defying a specific genre while retaining an ongoing cohesiveness to the album.  But guitarist Drew Bentley's self-produced, Bold Horizon, is aptly named due to each track taking on its own vibe best described as "thoughtful arrangements unto themselves," yet cohesive enough to form a solid collection of work. Fans of instrumental guitar in the vein of Eric Johnson/Andy Timmons/Prashant Aswani/Steve Morse will find something to like in each of these tunes.
Bentley employed the help of Brian Edwards on drums, George Elliot on bass, and Scott Anderson on keys. The Fuchs and CARR amps Drew uses throughout (and numerous guitars) are well mannered, recorded traditionally with a great mic into a great preamp. This translates beautifully in the recordings.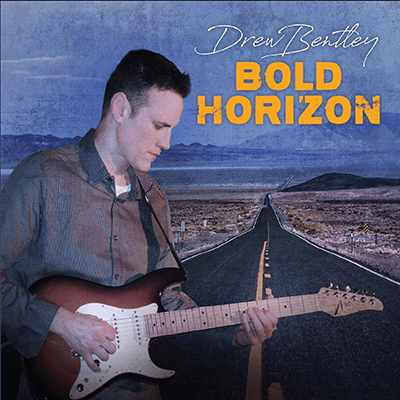 Showing off a keen sense of melody, there is an underlying mastery of the guitar that is apparent in each track. Never too over the top, you will not find any licks or tricks here that are impossible to execute without three hands. The record is approached with thought to the song, as opposed to something to prove and dazzle an attention defunct listener. Bluesy, hard rock and smooth jazz type melodic themes do not struggle for space, but coexist harmoniously—often in the same song. The songs are allowed to breathe and the parts are well thought out to flow nicely into one another.
This is a great sounding recording, with excellent balance, depth and polish, and the drum sounds are particularly impressive, sitting a bit forward in the mix (in a nice way). At times, we wished the guitar was a bit more up front, though. This record is a solid effort, though, and well worth a listen. Thoroughly enjoyable.
For additional information, please visit www.drewbentley.com.