ANAHEIM, CA, January 24, 2019 – Casio America, Inc., a leading manufacturer of electronic musical instruments, is hitting a high note with music enthusiasts and professional musicians alike with the introduction of two new, revolutionary digital pianos – the PRIVIA PX-S1000 and PX-S3000. These new additions are set to transform industry standards as they offer a distinctive, sleek design, on top of a comprehensive and enhanced feature-set that is sure to inspire players of all types. Casio's extensive lineup of digital pianos and keyboards including the new PRIVIA PX-S1000 and PX-S3000, are on display in the Company's booth (#9502) during Winter NAMM at the Anaheim Convention Center, from January 24-27, 2019.
"At Casio, our goal is to provide electronic musical instruments that help guide both beginners and professionals to musical success," said Stephen Schmidt, Vice President of Casio's Electronic Musical Instrument Division. "Our newest evolution of the PRIVIA line offers a plethora of useful features in addition to a sleek, compact design that helps musicians express their passion for music and performance."
Privia PX-S1000 and PX-S3000
The new PRIVIA PX-S1000 and PX-S3000 come equipped with the Company's proprietary, next-generation technology – AiR Sound Source – which accurately reproduces the complex tone, mechanical sounds, and atmospheric qualities of a grand piano. They are also outfitted with Casio's improved scaled hammer action keyboard, which enables even more delicate expression to facilitate any style of piano playing.
Designed with a glossy top panel that evokes a luxurious acoustic grand, a slim unibody chassis and ebony and ivory textured keys, the PRIVIA PX-S1000 and PX-S3000 are ideal for use at home or on the go. Both units offer a touch panel control surface, 192-note polyphony, six types of key simulators, Bluetooth audio, Chordana Play for Piano app compatibility, optional AA battery power and an included AC adaptor. Additionally, the PX-S3000 boasts a graphic LCD display, two-track MIDI recorder, 700 tones, 200 rhythms, two assignable knobs and more.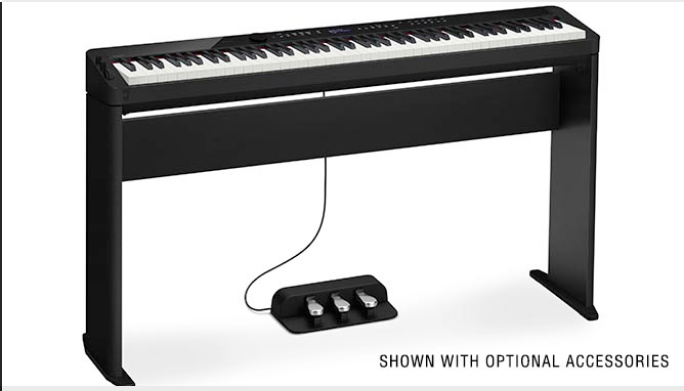 Additionally, musicians can choose optional items for both the PX-S1000 and PX-S3000 which include a new three pedal unit and a compact bag that is designed to hold the piano and all of its accessories. The PRIVIA PX-S1000 (MSRP: $899.99) and PX-S3000 (MSRP: $1199.99) digital pianos will be available this spring at select music dealers nationwide.
To learn more about Casio's full portfolio of electronic musical instruments, please visit www.CasioMusicGear.com.
About Casio America, Inc.
Casio America, Inc., Dover, N.J., is the U.S. subsidiary of Casio Computer Co., Ltd., Tokyo, Japan, one of the world's leading manufacturers of consumer electronics and business equipment solutions. Established in 1957, Casio America, Inc. markets calculators, keyboards, digital cameras, mobile presentation devices, disc title and label printers, watches, cash registers and other consumer electronic products. Casio has strived to fulfill its corporate creed of "creativity and contribution" through the introduction of innovative and imaginative products. For more information, visit www.casiousa.com.