Canopus
Canopus is a relatively small, lesser-known drum company compared to behemoths like DW and Yamaha, but they manufacture seriously high-end products with jaw-dropping quality and sound. We were again amazed this year at what was displayed in their relatively modest booth, even though some stunning pieces of art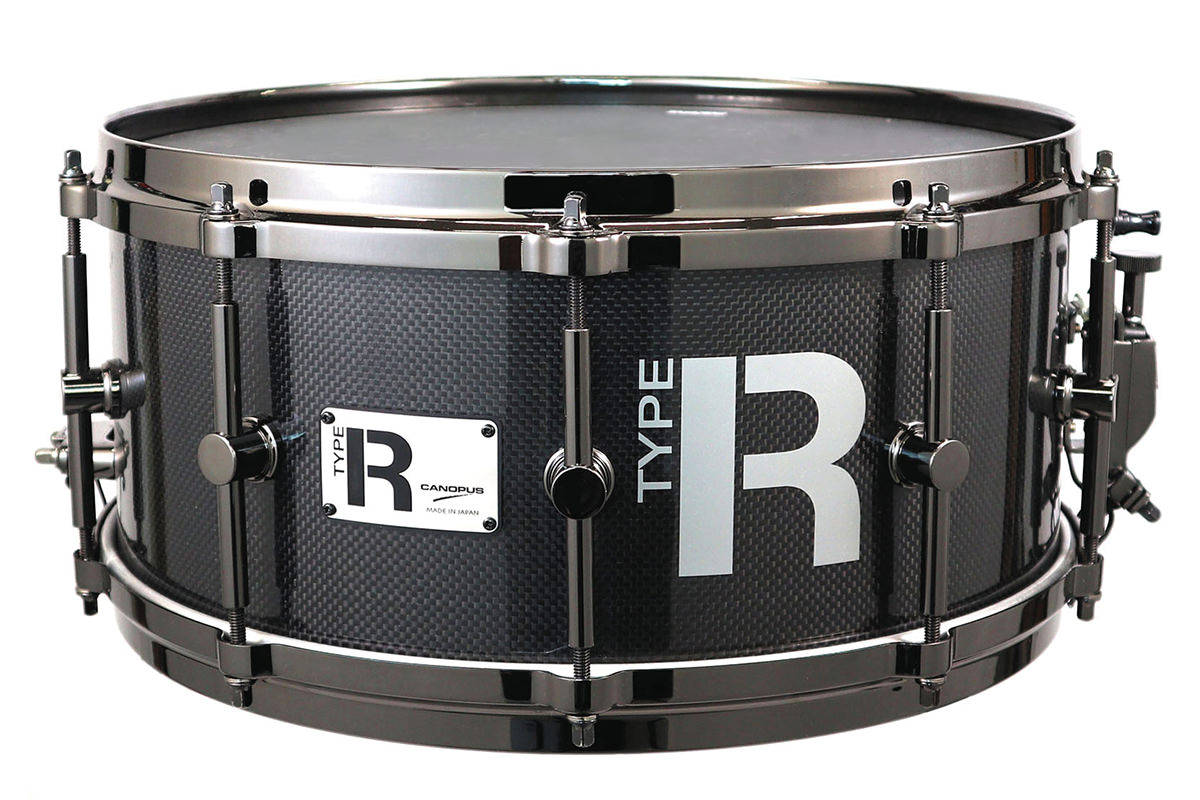 were on display, along with massive, head-turning sounds, which clearly stood out above the crowd. New this year included their advanced Type-R Cannon snare drum consisting of a very thin 2mm carbon fiber shell, borrowing from the rest of that series' commanding and powerful sound. It possesses its own unique flavor of intense, focused attack with short sustain and a relatively low fundamental tone.
---
Gretsch
New from Gretsch is a single-lug configuration now available on three lines: Heritage, USA, and Broadcaster series. It's an old school design where the lug is mounted mid-way on the shell utilizing relatively longer tension rods. Also reminiscent of years past is mounting the hardware directly to the shell, as well as incorporating a modern take on the vintage rail mount attached directly to the top of the bass drum, providing a different degree of adjustment possibilities.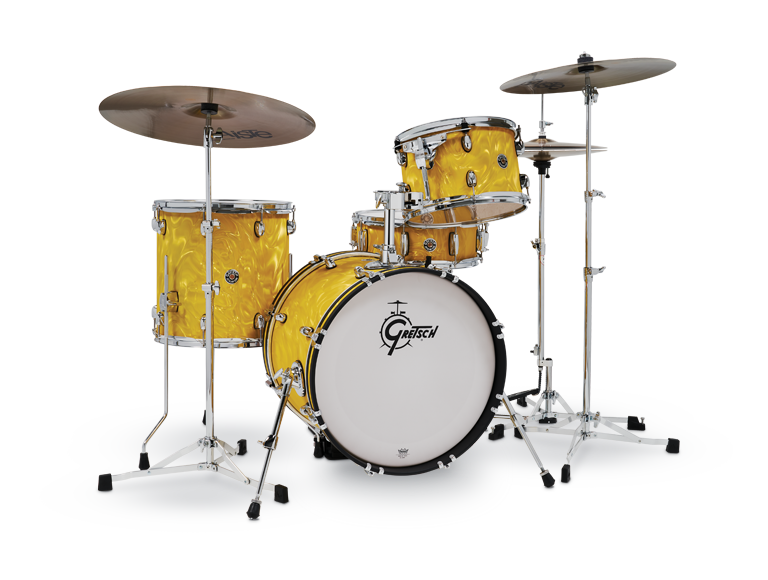 Also new for 2020 is a special edition 4-pc Catalina kit in a walnut burst finish with walnut and maple hybrid shells and wood hoops. This kit features an 8x12" rack tom, 14x14" floor tom, 14x18" kick drum, and 5x14" snare drum.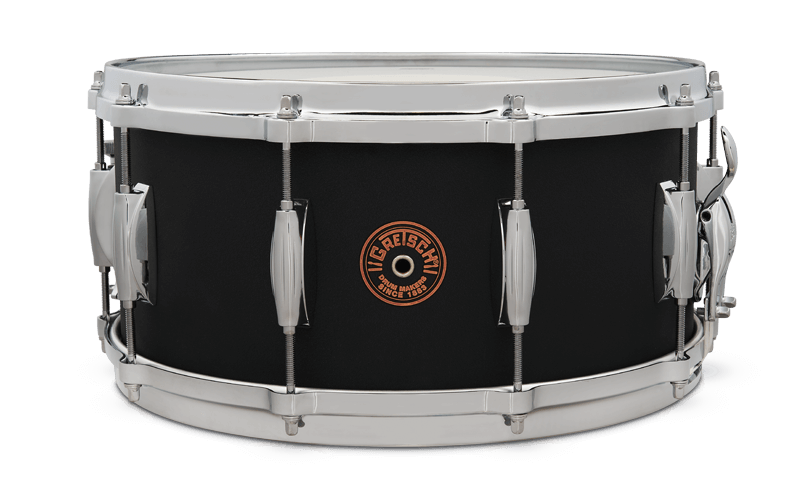 Finally, a few new finishes are available including a new antique blue burst matte finish on their Renown series, as well as a "straight satin" finish in the Brooklyn line of snare drums, where a nitro satin finish with no stain is applied to the shell. Gretsch also revealed their new USA Custom Black Copper snare drums, which features a very thin 1.2mm powder coated copper shell.
---
Paiste
Due to the renewed popularity of the 602 series, Paiste has added new models to the line including five sizes in Medium: 16, 17, 18, 19, and 20-inch, respectively. In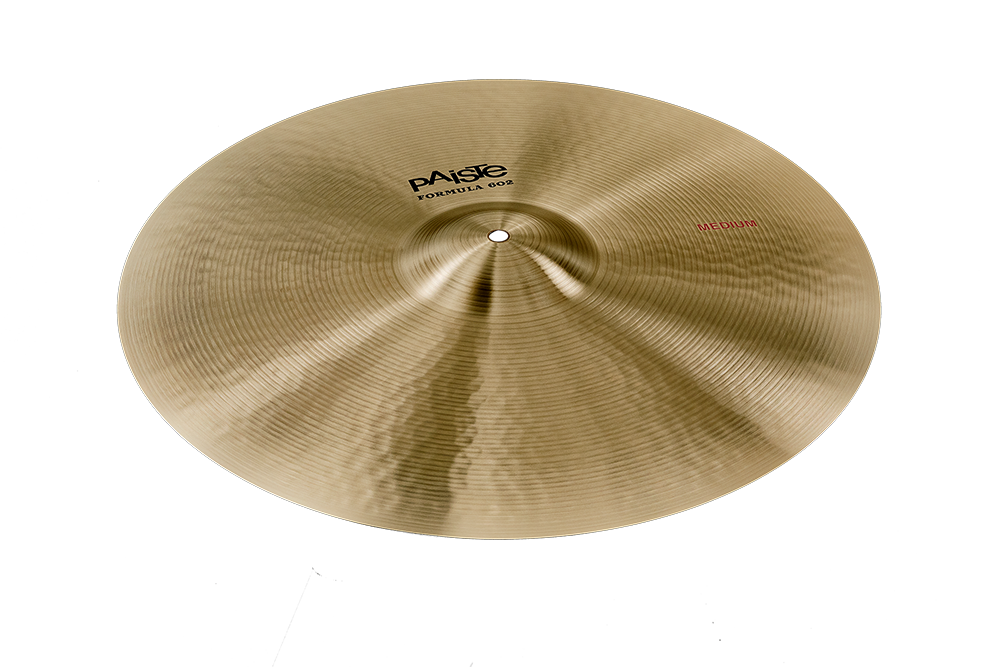 addition, three sizes have been added in Heavy: 16, 18, and 20-inch, as well as 14 and 15" Heavy, as well as 15" Sound Edge hi-hats. Two new thin crashes joining the lineup include 17 and 19" sizes, as well as a 20" paper thin crash. And finally, a 13" Heavy Bell completes the 602 series additions. These are multi-functional cymbals that can be used in a variety of musical contexts.
---
Roland
What's with the big acoustic drum kits? Settle down, drummers. It's just the new Roland V-Drums Acoustic Design family of kits that feature acoustic drum shells. The black sparkle finish looks great, while the heads are familiar, premium, multi-sensor V-Drums mesh heads. These shells are purpose-built for V-Drums mesh heads and will not generate any useful sound should you attempt to put acoustic heads on them, which begs the question, just who are these drums made for?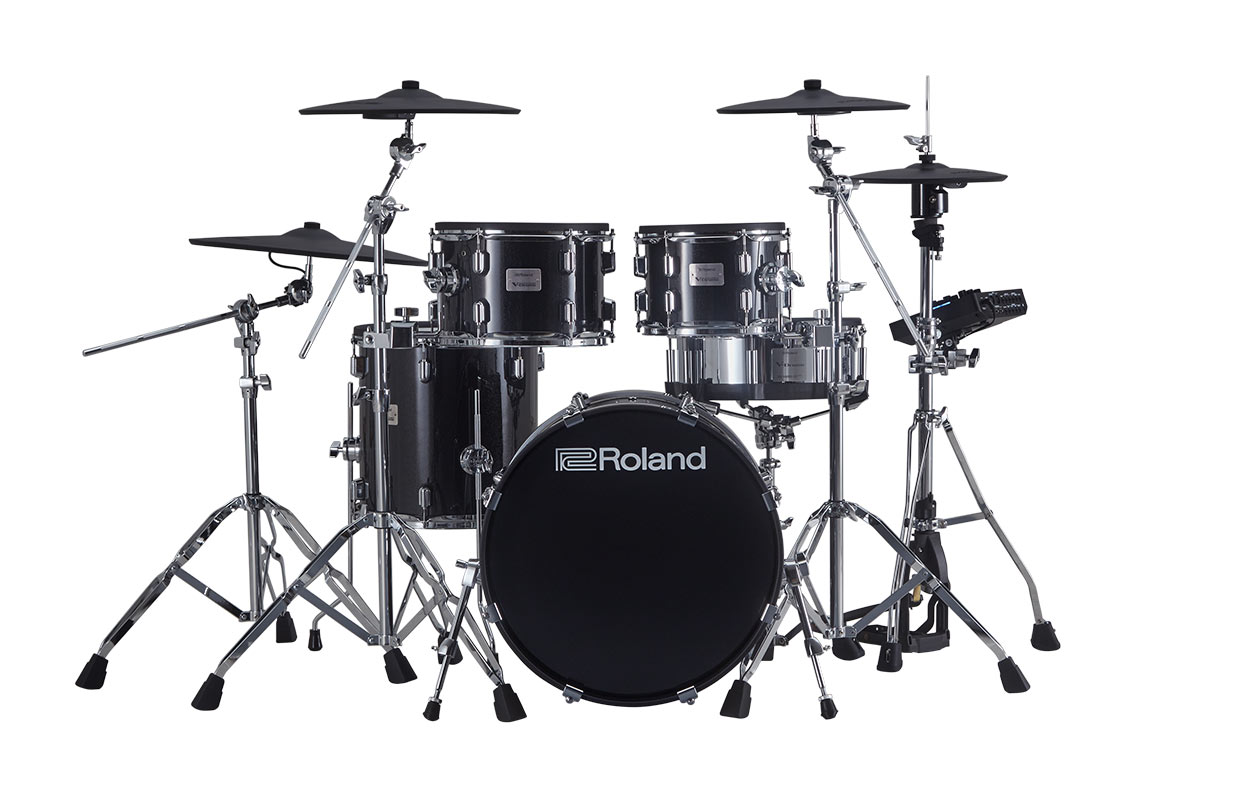 Well, just like you wouldn't enjoy watching a rock band playing along with a drum machine, some music is just delivered with a different vibe when you see a big acoustic kit on stage with the band. Drummers in metal bands can now finally enjoy the numerous benefits of electronic percussion and sound effects without being laughed off the stage, and we've heard that a lot of worship bands prefer the presence of an acoustic kit on stage. Now, they can have the look without needing a plexiglass wall separating their drummer from the action. Of course, full-sized shells means you're back to transporting big drum gear, but for certain drummers, this is exactly what they've been waiting for. The deep-shell VAD506 and VAD503 kits include a TD-27 drum module, while the VAD306 kit features shallower familiar shells and the less costly TD-17 module.
---
Tama
Tama is renowned for their premium drums hardware, and with so many new drums in hot finishes all over the show, it would be easy to overlook one of the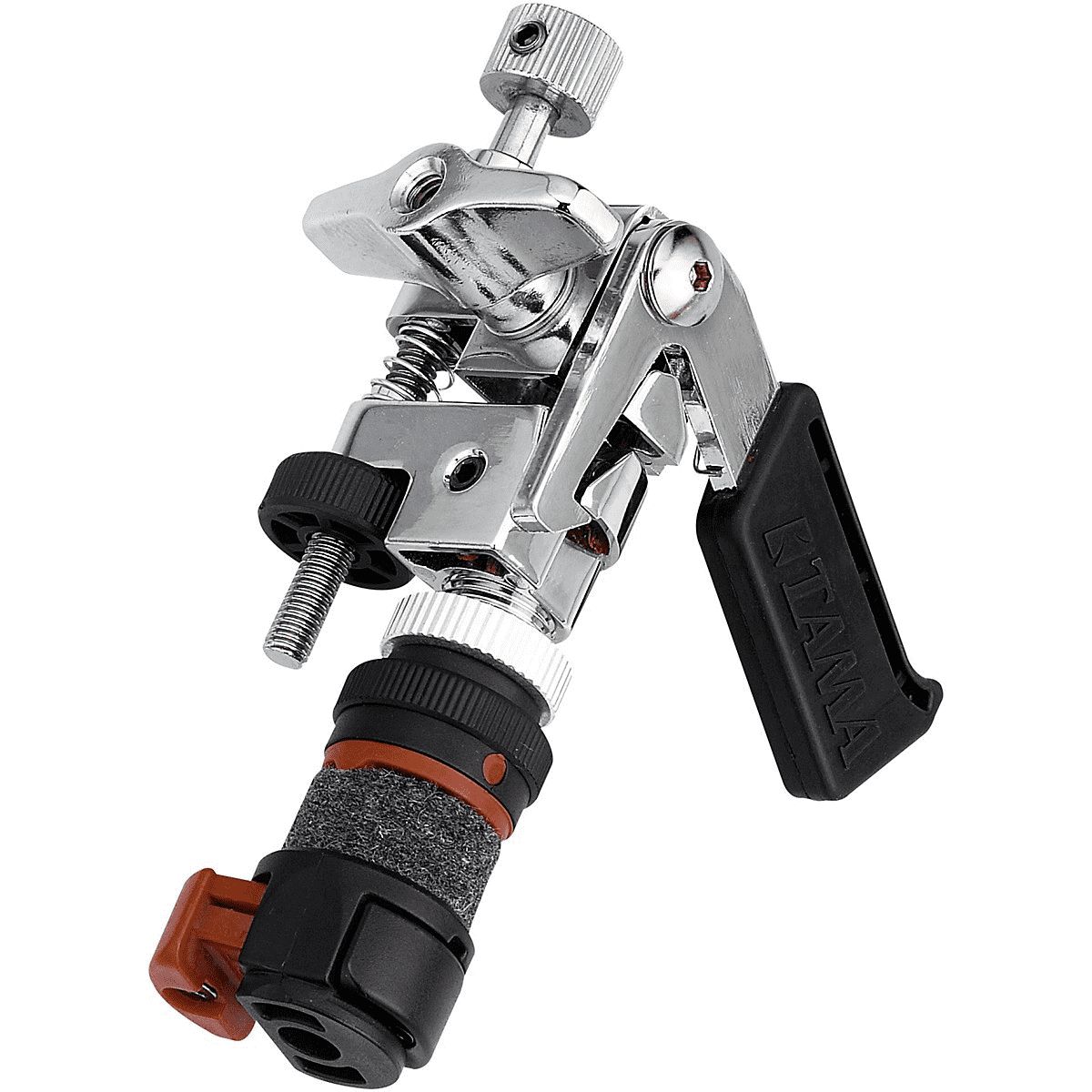 smallest innovations that every rock drummer should race out to purchase: the Sizzle Touch Drop Clutch STDC7. If you play a double-kick pedal setup, you need this without question, while single kick players may just want it for the simple ease of operation. When you need to make a fast transition off of your hi-hat pedal onto kick pedal #2, you just hit the coated drop clutch with your stick and your hat closes. When you're ready to resume full hi-hat operation, you simply step on your hi-hat pedal once and your high-hat springs back to the open position. There have been similar types of products before, but this one works better than any solution we've tried.
We also loved the new Dyna-Sync HHDS1 Hi-Hat Stand. It borrows from Tama's kick pedal technology and shares the

same dual-linkage connection as the popular Dyna-Sync bass drum pedal. We were floored by just how fast and tight the response was from this hi-hat design. Throw a set of smaller hi-hats on it and you'll experience hi-hat pedal speed you never knew you had.
---
Yamaha
Always full of surprises, Yamaha's focus this year was on catering to the gigging drummer, offering a new lightweight, compact kit appropriately named the Stage Custom Hip drum kit, which borrows from the standard-sized Stage Custom Birch kit. Immediately evident are the relatively shallow depth dimensions of all the drums, especially the kick drum, which measured 20" X 8" deep; very shallow for a kick drum. However, their 6-ply birch shells provide plenty of power, volume, and punch when called for. A unique feature included with this kit is a hybrid floor tom/snare, which offers greater versatility and allows the drummer to experiment with more snare sounds.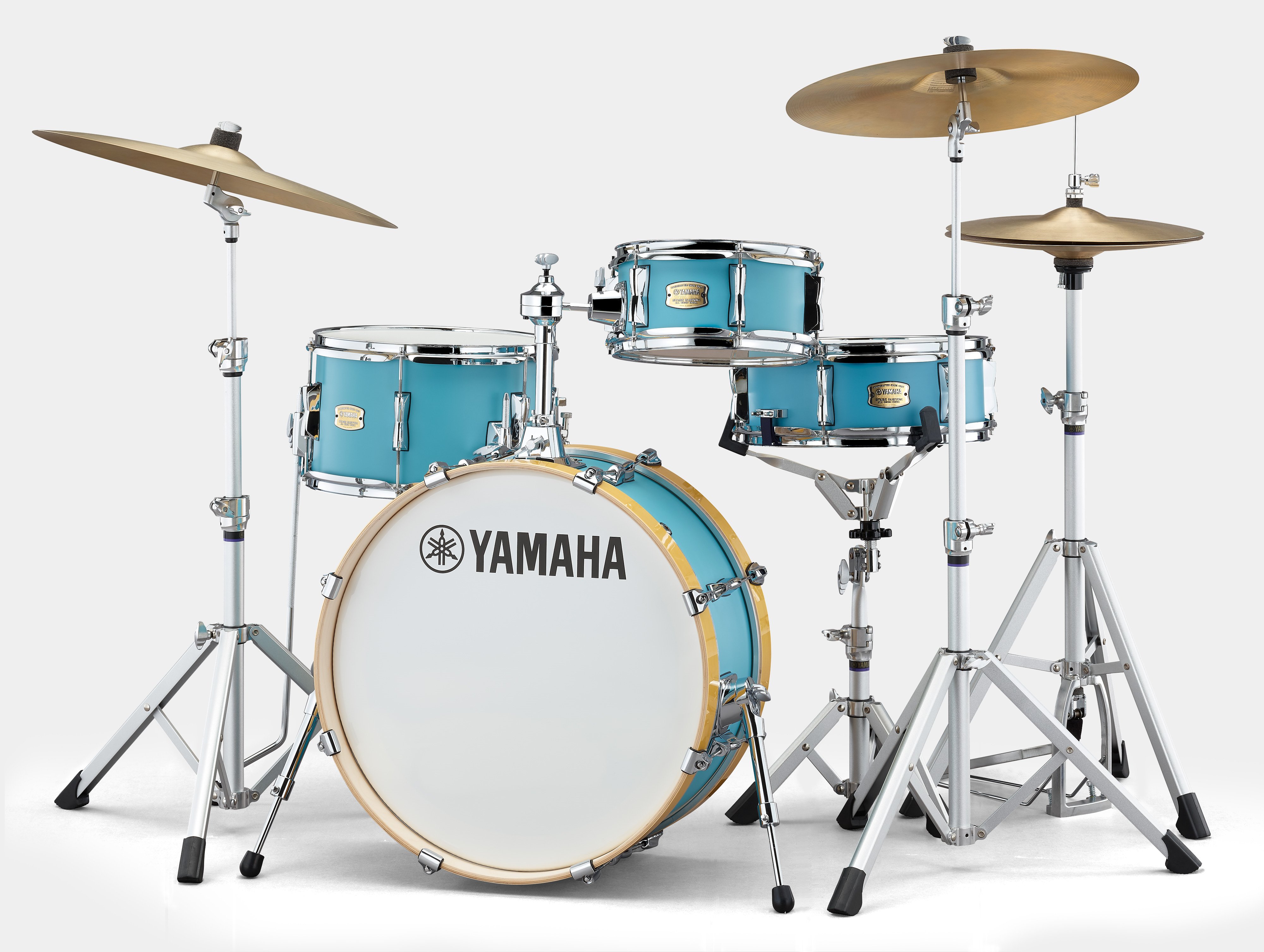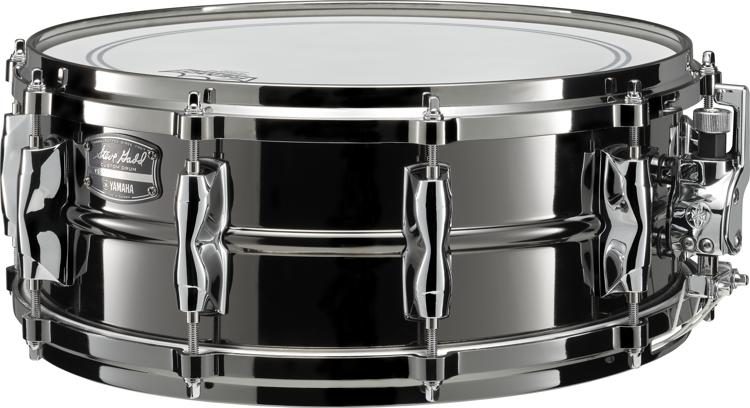 Also new from Yamaha this year is their limited edition 14" X 5.5" Steve Gadd signature snare drum, which features a nickel-plated steel shell with aluminum die-cast hoops, Remo heads, Steve Gadd 10-strand snares, custom-designed snare bed, Steve Gadd badge, and certification card.  Also included are a commemorative book and specialty black drum key. Only 200 of these snares are to be sold in the US.