El Cajon, California—Today Taylor® Guitars is excited to introduce a brand-new body shape — The Grand Pacific . Developed by master guitar designer Andy Powers and leveraging Taylor's new sonic engine, V-Class bracing, the round-shoulder dreadnought adds a dramatically different tonal personality to the Taylor line. As an alternative to what many consider to be "the Taylor sound," the Grand Pacific adds a new voice to a dreadnought category defined by traditional, legacy models. The new body shape will be available in three new models: the Builder's Edition 517 , Builder's Edition 717 and 317.
BUILDING ON SUCCESS
In 2018 Taylor launched its revolutionary bracing architecture, V-Class bracing . Guitars outfitted with V-Class produce greater volume, projection and sustain, with enhanced intonation and all-around musicality. Since then the V-Class guitars have enjoyed an overwhelmingly positive response, earning numerous awards from industry experts as well as high praise from professional musicians and amateur enthusiasts alike.
"It's been so fun to watch and hear how musicians of every style have taken to the wide range of expression that-Class guitars delivers in our introduction of these instruments last year," says Andy Powers. " I'm thrilled to hear players exploring new reaches in their musicality and making good use of these guitars."
One of the most impactful aspects of the V-Class framework is its flexibility as a voicing platform, one that has enabled Powers to shape an acoustic guitar's tonal character in unprecedented ways — opening the door for dramatic new designs such as the Grand Pacific.
BUILDING ON TRADITION
In a dreadnought category known for traditional, legacy models, the Grand Pacific introduces a voice that is both familiar and unique. It combines warm, seasoned tone with modern Taylor playability, reliability and intonation.
" I wasn't interested in building another version of an existing dreadnought, " says Powers of the design. " Those guitars already exist. This guitar makes sounds that are deeply familiar yet unattainable with any other guitar. With the help of our V-Class bracing architecture, we've captured everything we love about a venerable acoustic guitar sound and added other sonic improvements that we think will appeal to a wide array of players."
With the debut of the new body shape, Powers has delivered on the promise of V-Class bracing as a powerful tone-shaping platform. In this case, the bracing system eliminates the problematic low-end woofiness often associated with dreadnoughts. With the Grand Pacific, players will experience clear power in the low end, which means a more musical, usable tone.
A VERSATILE NEW SOUND FOR TAYLOR
Over the years, the Grand Auditorium has become Taylor's most popular body style, synonymous with what people identify as "the Taylor sound." To many, it's a modern acoustic voice — clear and vibrant, with notes that are well-defined. By contrast, the new Grand Pacific produces a sound with a different tonal character altogether — warm and seasoned, with notes that overlap and blend together smoothly. Using the V-Class voicing platform, Powers not only improved the bass response, he enhanced other frequencies to create consistently powerful notes across the tonal spectrum. This helps make the Grand Pacific a remarkably versatile guitar that will fit in among bluegrassers, singer-songwriters, and even fingerstyle players.
"This guitar isn't confined the way a dreadnought guitar can be," he says. "It has strength and power, but it also has clarity and playing comfort."
Building on the success of Taylor's Builder's Edition V-Class models from 2018, the Grand Pacific launches with two inspiring Builder's Edition models made from the classic tonewoods rosewood and mahogany, each paired with a torrefied Sitka spruce top, as well as a 300 Series model made from sapele and Sitka spruce. The new shape will be offered exclusively as a non-cutaway.
BUILDER'S EDITION 717 & BUILDER'S EDITION 517
The Builder's Edition collection showcases Taylor's envelope-pushing pursuits to create the most player-friendly guitars in both sound and feel. Distinctive features of both Builder's Edition Grand Pacific models include:
Compound carve neck profile : Designed to complement the way a player's hand position shifts as it moves up the neck, the profile subtly transitions from a slight V at the nut to a rounded C, and features a rounded, ridgeless heel.
Rolled fretboard edge : This is a subtle comfort feature that players will feel on both sides of the neck.
Chamfered body edges : The rounded body edges enhance the playing comfort and feature traditional binding.
New "curve wing" bridge shape : Rounded edges and other refined contouring update our signature aesthetic and make the bridge feel more comfortable against the pick hand.
Silent Satin finish / Wild Honey Burst top : A careful color application process allows the burst color to penetrate the wood in a unique way that heightens the aesthetic appeal, artfully showcasing both the spruce wood grain and the depth in the color. (A natural top is also available.)
New guitar case : The Taylor-manufactured case features an aesthetic upgrade to a luxurious exterior with a western floral pattern that resembles tooled leather.
"It feels like the guitar has already been played for a while; maybe refretted once or twice ," Powers says of the rolled fretboard edge treatment. " That hard edge is just gone."
The 717 and 517 will be available starting at street prices of $2,999 and $2,799 respectively. Both models will be offered with natural or burst tops as well as with or without electronics.
317e
Taylor's 300 Series offers the most approachable entry point in the Taylor line to introduce the Grand Pacific, and Powers was eager to make it happen. " You can do so much with this guitar, " he says. " You can take it to your open mic night, to the club dates and bar gigs, busk on a street corner, play with friends ." The clear sonic focus of the sound of the 317 will benefit singer-songwriters playing solo and ensemble scenarios in other ways as well. The 317 features include:
Sapele back and sides: As a tonewood, sapele's sonic characteristics live comfortably between the dry, clear, woody sound of mahogany and the complex, overtone-rich character of rosewood.
Sitka spruce top: The combination of a Sitka spruce top, Grand Pacific body, and V-Class bracing help make the 317 an incredibly dynamic and versatile guitar. Players can expect all the fundamental virtues of V-Class — power, projection sustain, consistent tonal output across the tonal spectrum, pleasing in-tuneness — along with a blend of seasoned warmth that comes from Powers' voicing of the bracing with the body dimensions.
300 Series appointments: The 317 shares the same appointment package with its sapele/spruce 300 Series siblings, including black binding, Italian acrylic Gemstone inlays — featuring a peghead inlay and black graphite nut as emblems of V-Class bracing — satin-finish back and sides with a gloss-finish top, and Taylor Expression System 2 electronics.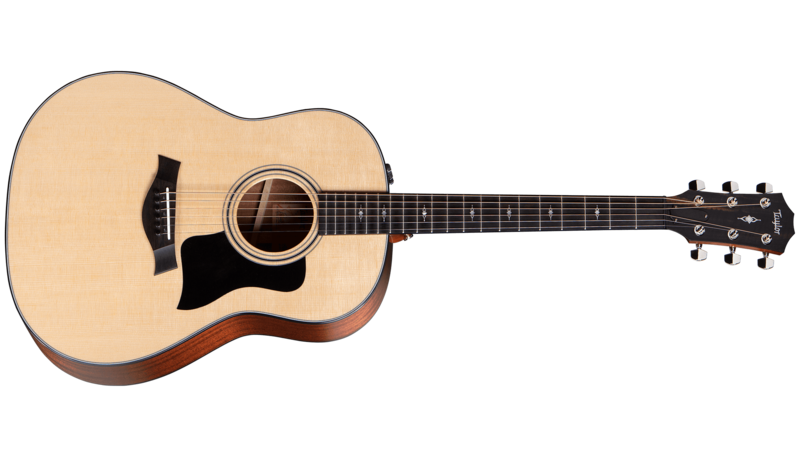 The 317 will be available starting at a street price of $1,699 and will be offered with and without electronics.