Unique and expressive animal recordings from film sound legend Ann Kroeber
Brooklyn, NY (February 6, 2019): Pro Sound Effects®, the next level sound effects library company, has released Ann's Animals – the fifth exclusive library from their partnership with renowned recordist and film sound pioneer, Ann Kroeber. Ann's Animals features a unique variety of animal sounds and vocalizations including common, wild, and exotic creatures ranging from pigs to capuchin monkeys, tigers, caribou and more.
Animal recordings play a significant role in Kroeber's sonic legacy, and she is widely celebrated for her natural approach and incredibly expressive results. After decades of experience and material collected from projects with major directors like David Lynch, Carroll Ballard, and Peter Weir, Kroeber created Sound Mountain – an acclaimed, extensive sound effects collection which continues to provide sound for many award-winning films and games.
The Ann's Animals library features more than 100 thoughtful, powerful animal sound effects that were captured by Kroeber while working on feature films. Her sense of presence with the animals and finely tuned listening shines through in these sounds – from the gentle, subtle breaths and purrs of a cheetah to a sprawling chorus of jungle frogs.
"This collection of animals is so close to my heart," says Ann Kroeber. "I'm delighted to put these sounds out and share them with the world. I think there's something special about this library that makes it so useful because of the way that the critters truly express themselves."
ANN'S ANIMALS KEY FEATURES:
115 sound effects (1.72GB)
24-bit/48kHz broadcast .wav files
Descriptive embedded metadata
100% Royalty-Free
View Ann's Animals Library Full Features & Download Free Sampler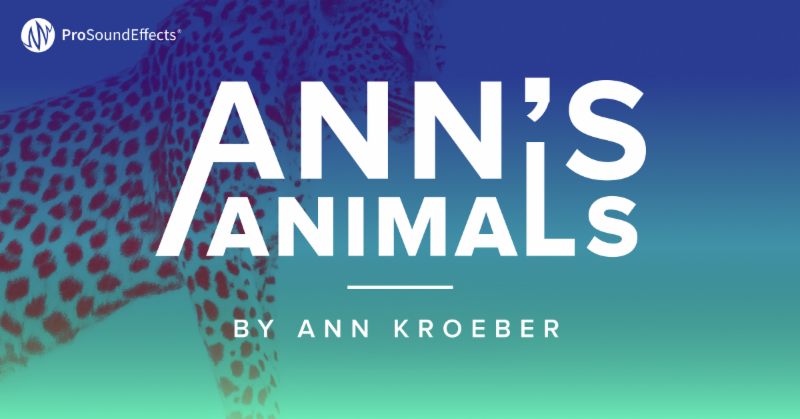 PRICING AND AVAILABILITY
The Ann's Animals sound effects library is available now at $149 for a one-user lifetime license. A free sampler including two WAV files selected from the library is available for immediate download at prosoundeffects.com/anns-animals.

ABOUT PRO SOUND EFFECTS®:

Pro Sound Effects® develops the most useful sound effects libraries for next level media production. Audio professionals in post, games, film and television rely on PSE libraries to fuel creativity, finish projects faster, and produce better sound. PSE libraries span the sonic spectrum, are continually updated and accessible 24/7 online, on drive, and from any computer. Based in Brooklyn since 2004, PSE continues to push the industry forward with the Hybrid Sound Effects Library™, Freelancer Program, flexible multi-user licensing and client-driven library development.
Learn more about Pro Sound Effects at https://www.prosoundeffects.com/