Slash ft. Myles Kennedy And The Conspirators: ANNOUNCE SUMMER U.S. HEADLINING TOUR
TICKETS ON-SALE FRIDAY, FEBRUARY 8 AT 10AM PT (HERE)
NEW SINGLE "MIND YOUR MANNERS" DEBUTS AT #39 AHEAD OF OFFICIAL IMPACT DATE: TODAY, FEBRUARY 4, "MIND YOUR MANNERS" FOLLOWS "DRIVING RAIN," THE GROUP'S 5th TOP 5 SONG IN A ROW AT ACTIVE ROCK
NEW ALBUM 'LIVING THE DREAM' AVAILABLE NOW (HERE)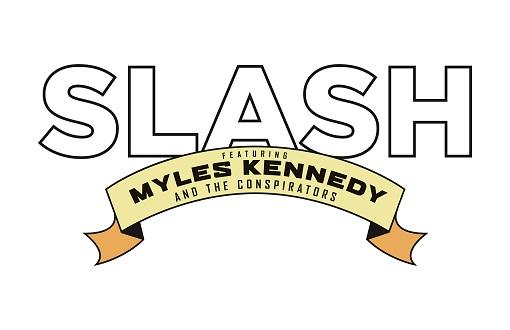 As Slash ft. Myles Kennedy And The Conspirators--Slash (guitars), Myles Kennedy (lead vocals), Todd Kerns (bass), Brent Fitz (drums) and Frank Sidoris (rhythm guitar) are currently on their worldwide tour through Asia, New Zealand, Australia, Europe and the U.K., the group has announced they'll kick off a headlining U.S. tour this summer. The U.S. trek will launch on July 15 in San Francisco and wrap-up August 13 in Orlando.
Tickets will go on-sale this Friday, February 8 at 10AM local time and are available at http://www.slashonline.com.
The iconic, GRAMMY-winning guitarist Slash and his band, Slash ft. Myles Kennedy And The Conspirators are touring worldwide in support of their acclaimed third album LIVING THE DREAM and will release the new single "Mind Your Manners"--which Rolling Stone hailed "a menacing blues-rocker"--to radio starting today, February 4. The song--which already debuted at #39 ahead of its official radio impact date--follows the first single "Driving Rain"--Slash's fastest rising single to date—which recently became the band's 5th Top 5 hit in a row at Rock Radio.
"I wrote 'Mind Your Manners' on the spot to help the band get up and running once we got back in the studio," explains Slash. "It's just a go-for-it type of rock song. Straightforward and fun to play."
"'Mind Your Manners' was something I didn't even hear until the guys had already started jamming together in the studio," adds Myles Kennedy. "I listened to the final rough arrangement, and I thought it was a really cool, up-tempo sort of thing.' Lyrically, it's about how when things are going well there always tends to be someone who tries to rain on your parade and knock you down. You have to keep people like that in check and not let them get to you."
Loudwire hailed "Mind Your Manners" as "the album's most infectious rock single" while Rolling Stone added "The guitarist alternates between ragged power chords and squealing solos throughout the song; on the chorus, Kennedy layers his voice into stacked harmonies." Elsewhere, The Guardian described the riff-rocker, "slithers and slides, with a dirty boogie."
The group called-out to fans who created a live music video of their electrifying two hour show on the final date of their sold-out, U.S. headlining tour last fall; watch the "Mind Your Manners" fan clip HERE:
LIVING THE DREAM (Snakepit Records/RoadRunner Records) is the third full-length offering from Slash ft. Myles Kennedy And The Conspirators. The Los Angeles Times described the album as, "his best work since the demise of Velvet Revolver. …full of "unexpected funk, boogie, blues and garage rock influences." While Rolling Stone declared the album, "a biting blues filigree at the end of a riff, weeping solos full of long notes, boogie-woogie riffs." Elsewhere, Classic Rock hailed, "the bands third and Best Album, 'The Great Pretender' is the album's masterpiece and one of the best things Slash has ever done." Fans can purchase or stream LIVING THE DREAM HERE. Fueled by the Top 5rock song "Driving Rain," its live-action, animated video as well as the best critical acclaim of their career, LIVING THE DREAM debuted with 10, Top 10 chart placements around the world. The first single "Driving Rain" which jumped to the Top #5--marks the band's 6th consecutive, Top 10 single at radio and Slash's fastest-rising single ever in his solo career.
Watch the official music video for "Driving Rain" HERE:
Slash Ft Myles Kennedy And The Conspirators are:
SLASH (guitars),
MYLES KENNEDY (vocals)
TODD KERNS (bass)
BRENT FITZ (drums)
FRANK SIDORIS (rhythm guitars)
Catch Slash ft. Myles Kennedy And The Conspirators on the LIVING THE DREAM WORLD TOUR 2019. Expect more U.S. dates to be announced soon.
SUMMER U.S. TOUR: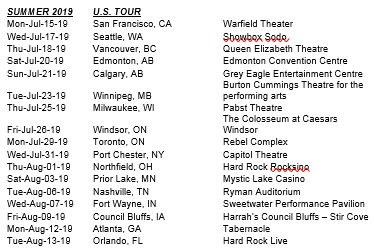 *Non-festival show.
Slash Ft. Myles Kennedy and The Conspirators assets:
Critical soundbites for 'LIVING THE DREAM': HERE.
Listen to 'LIVING THE DREAM': HERE.
Slash's interview with Marc Maron: HERE.
Watch SMKC on Jimmy Kimmel Live!:
About Slash Ft. Myles Kennedy & The Conspirators:
SLASH--the iconic, GRAMMY-winning, American rock guitarist, songwriter and film producer--has amassed album sales of over 100 million copies, garnered a GRAMMY Award and seven GRAMMY nominations and was inducted into the Rock and Roll Hall of Fame. SLASH landed on the top of the charts with his first solo album, Slash (2010) which featured Ozzy Osbourne, Fergie, Myles Kennedyand more. Shortly after, he formed his current band SLASH FT. MYLES KENNEDY & THE CONSPIRATORS--which features MYLES KENNEDY (lead vocals), BRENT FITZ (drums), TODD KERNS (bass/vocals) and FRANK SIDORIS (rhythm guitar)--who've been touring worldwide and making music for over four years. SLASH FT. MYLES KENNEDY & THE CONSPIRATORS released the critically acclaimed Apocalyptic Love (2012) which stormed the Billboard Top 200 Albums Chart debuting at #4 as the top rock album. Apocalyptic Love has the added distinction of spawning SLASH's first-ever #1 rock radio solo hits: "You're A Lie" and "Standing In The Sun." SLASHreleased Nothing Left To Fear (2013) the first-ever motion picture he co-produced from SLASHfiction, his film/TV production company specializing in the horror genre. He is currently working on a new film project. SLASH FT. MYLES KENNEDY & THE CONSPIRATORS unleashed their second album World On Fire to worldwide praise. The album's title track, first single "World On Fire" ascended to #1 at U.S. Rock Radio. In 2016, Guns N' Roses re-united and SLASH joined Axl Rose and Duff McKagan for the ongoing "Not In This Lifetime Tour" which Billboard now ranks as the fourth-highest grossing tour of all time.