Paris, France 2019/03/12: Blue Cat Audio ( http://www.bluecataudio.com ) has released Blue Cat's Re-Guitar, a new guitar tone modeling plug-in capable of emulating an infinite number of guitars out of a single instrument.
Re-Guitar can simulate many kinds of guitar tones (electric or acoustic), regardless of the solid body guitar model used for recording: you can change the pickups, dig the body or emulate an acoustic guitar, all inside the box, without modifying the original instrument.
"Re-guitaring" can be used to enhance or completely modify the guitar tone while playing your own instrument, or to virtually switch guitars after recording - just like we already do with guitar amp simulations.
The plug-in is included as a built-in plug-in inside Blue Cat's Axiom 1.2, the company's multi effects processor for guitar and bass that was updated today. It is also available separately as an independent plug-in, alone or within the Axe Pack guitar software bundle.
A special introduction offer is available for Re-Guitar, Axiom and the Axe Pack bundle until April 5th (details below). For more details about this new plug-in, demo versions and videos can be found on bluecataudio.com.
Blue Cat's Re-Guitar Main Features:
- Guitar tone modeler, with electric pickups, acoustic guitars and hollow body emulations.
- Built-in single coil pickups: single hot, vintage, modern, active, tele, neck+mid, bridge+mid, P90, P90J.
- Built-in humbucker pickups: vintage, classic, ricky, modern, rails, bright, wide, wide(jazz), jazz box.
- Built-in piezo & acoustic guitars: solid body piezo, acoustic sim pedals, modern & dreadnought, jumbo, mini jumbo, 000, small.
- Create your own electric pickups or acoustic guitar emulations with the custom electric and custom acoustic models.
- Adjust hollow body thickness and amount.
- Adjust simulations brightness and gain.
- Built-in virtual volume and tone pots.
- No latency.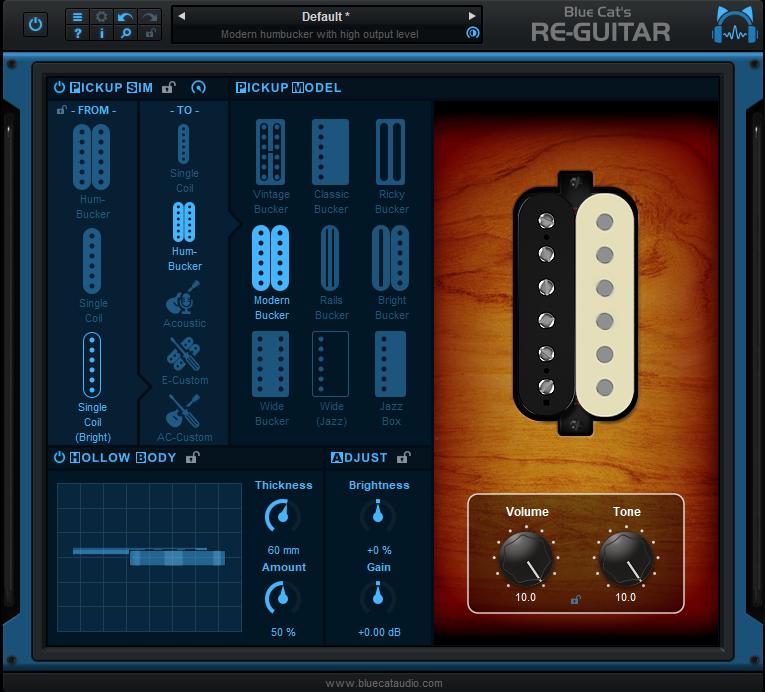 What's New in Blue Cat's Axiom 1.2:
- New Re-Guitar built-in plug-in.
- New "Re-Guitaring" presets using the new plug-in.
- Fixed issues with Pitch Shifter, Harmonizer and Pitch Bender plug-ins when changing mode (there could be an audible delay).
System requirements:
- Intel Mac running Mac OS 10.7 or newer.
- PC running Windows Vista or newer.
Introduction Pricing until April 5th:
- Blue Cat's Axiom: 159 USD/EUR (instead of 199)
- Blue Cat's Re-Guitar: 69 USD/EUR (instead of 99)
- Blue Cat's Axe Pack: 248 USD/EUR (instead of 299)
- Blue Cat's Axiom for Customers: 139 USD/EUR (instead of 199)
- Blue Cat's Re-Guitar for Customers: 49 USD/EUR (instead of 99)
For more product information and purchases, visit:
http://www.bluecataudio.com/Products/Product_ReGuitar/
http://www.bluecataudio.com/Products/Product_Axiom/
http://www.bluecataudio.com/Products/Bundle_AxePack/
For more Re-Guitar videos, check out Blue Cat's Re-Guitar Videos playlist on YouTube:
https://www.youtube.com/playlist?list=PLbLfuefKkpR2aK9nsPa383fAHKNdnM0ap