Experience a Totally Different Kind of Orchestra with 20% Off Intro Discount until April 30th
Harking back to the epic cinematic sound of their popular first DRONAR 'Hybrid' module, Gothic Instruments Distorchestra for the Native Instruments Kontakt sampler features orchestral samples including Strings, Brass and Woodwinds from leading professional session players.
All sounds have been processed by sound design genius Alessandro Camnasio (Aquaman, Us, Fantastic Beasts) to create an infinity of complex, organic pad textures. The sounds range from beautiful and emotional to tense and horrific, but they are always expressive, cinematic and the highest possible quality. In DRONAR's glorious engine, 8 separate sound sources are animated and brought to life by independent arpeggiators and modulations to conjure an otherworldly, evolving synth engine.
Key Features
200+ premium presets hand-crafted by experienced sound designers
5GB core library
Powered by the award-winning updated DRONAR Engine
A one of a kind, processed orchestra at your fingertips
Sound library includes brass, string and woodwind performances from leading professional session players
6 pages of simple controls deliver infinite creative potential
Save time on creating complex soundscapes which would normally take hours to create
Super low loading times with new snapshots system
Loyalty discount for existing DRONAR users
The DRONAR line of atmosphere and soundscape creation tools now stands at 13 modules – each one offering surprisingly huge opportunities to easily craft and manipulate sounds to suit your style of project or mood.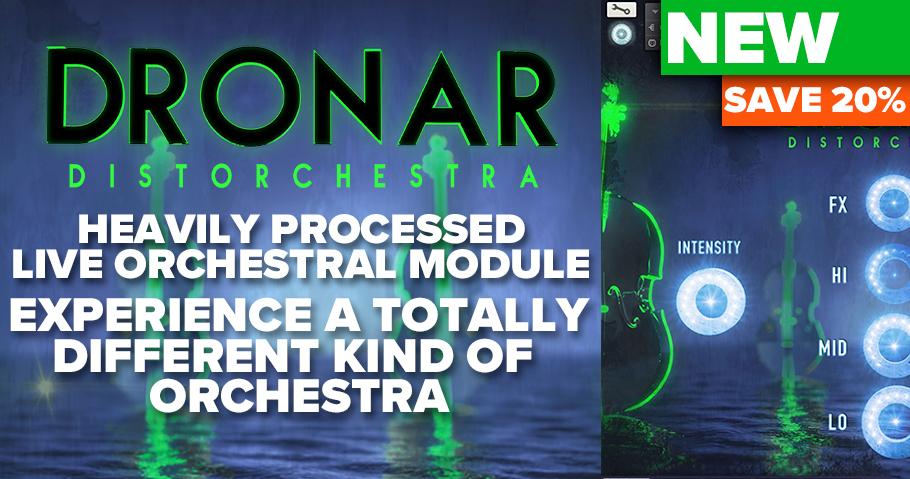 The full version of Kontakt is required.  This library willnotwork with the FREE version of Kontakt.
To celebrate the launch there will be a 20% introductory discount PLUS existing Gothic Instrument users can take advantage of their 20% off loyalty discount on top!!