Eventide Audio is pleased to introduce the 51
st 
algorithm for the popular H9 Harmonizer® pedal for guitar, bass, and keyboard players, called "Harmadillo". Harmadillo is a flexible harmonic tremolo algorithm, offering everything from lush, soulful tremolos to psychedelic, mind-bending weirdness. Complete with a player-centric feature set that allows musicians to sculpt sound in powerful ways, the Harmadillo algorithm offers a wide variety of LFO shapes, drive and tone, and three controls that respond to your playing dynamics.

Harmadillo is now available as a free update for H9 Max users, and for $19.99 as in-app purchase for H9 and H9 Core users on iPhone, iPad, Mac, PC and Android. This update also includes new presets for H9's SpaceTime, Sculpt, PitchFuzz and HotSawz algorithms.

"Harmadillo draws inspiration from classic tube-amplifier harmonic tremolo circuits and analog harmonic tremolo pedals. We noticed that the harmonic tremolo circuit on one of our vintage tube amps has a 'scoop' in the midrange at the crossover.  It's imperfect as a crossover, yet it also happens to sound great, and we've seen similar scoops in other harmonic tremolo circuits.  To bring these nuances to the digital world, we designed controls in Harmadillo that allow musicians to model these types of variations — and a whole lot more.  The result is an algorithm that is instantly playable and has a powerful feature set which rewards experimentation."  - 
Peter McCulloch, Eventide
Harmadillo for H9 features three ENV (envelope follower) controls that use the player's dynamics to affect the tremolo's rate, depth, and crossover frequency to create psychedelic and stimulating sounds. Musicians and producers can adjust not only the frequency of the crossover, but also the amount of overlap between the low and high bands, creating the flexibility to adjust the character of the tremolo in subtle or dramatic ways, great for auto-wah or phaser effects. Harmadillo features a drive control so players can add a little extra warmth, as well as a tone control to shape the low or high end. Harmadillo also includes a custom user interface for the desktop and tablet versions of H9 Control that provides animated feedback. 
Features of Harmadillo, the H9's 51
st
Algorithm:
-Three ENVELOPE Follower controls:  
DEPTH– Positive values increase the depth of the tremolo at the attack of a note, negative values make sustained notes more expressive over time. Use large negative values to create tremolos that only appear when the input is soft.

RATE– Set the modulation rate of the tremolo or, in tap tempo mode, multiply the tapped BPM value. 
SHAPE– Multiple waveform shapes can be chosen to produce morphing effects as the crossover frequency changes to create subtle, smoothed, fattened, lumped, plucked, ramped, sloped or pulsed sounds with: Sine, Fat Sine, Phat Sine, Triangle, Ramp Up, Ramp Down, and PulsX.
-X-OVER
– Sets crossover frequency of the low and high bands. Modulate X-OVER for sweeping filter effects similar to auto-wah and phaser.
-X-OVERLAP -
 Amount of overlap between the high and low bands. Negative values produce a cut at the crossover frequency while positive values produce a boost – great for dialing in classic sounds.
-DRIVE
Adds warmth to the signal by mimicking the behavior of a tube amplifier's harmonic tremolo.
-TONE
Shape the output's high or low-end. Negative values roll off high frequencies (HICUT), positive values roll off low frequencies (LOCUT).
Harmadillo is a free update for H9 Max pedal registered users, and also available for H9 and H9 Core users as an in-app purchase for iPad, iPhone, Mac/PC and Android for just $19.99. 
Customers may also demo Harmadillo for free by downloading the latest version of the H9 Control app for iPhone, iPad, Mac/PC and Android devices.
For more information on Harmadillo, the 51
st
 

algorithm for the H9 please visit:
https://etide.io/Harmadillo

Eventide Releases VSig 3.0 as a Public Beta - A Free Visual Editor for Creating H9000 Algorithms 
Eventide is also proud to announce the public beta of its 
visual editor app, VSig, that enables the creation of custom algorithms and presets for the Eventide H9000 Harmonizer®. This tool, the very tool that we use, is now available to sound designers as a public beta, giving them free reign to explore their sonic imagination by creating new algorithms. Not for the faint of heart but gratifying for any H9000 user with an understanding of basic digital audio techniques and a dream. 
VSig is a Visual Editor. It was the app that Eventide first built as a way to create new effects for the DSP4000, DSP7000, H8000. VSig lets the sound designer create new effects using Eventide's library of building blocks. Users can add and connect these building blocks (EQs, delays, compressors, reverb, pitch shifters, etc.).
This public beta release is the version of VSig that Eventide is currently using in house for algorithm development for the H9, H9000, etc.. It is available now as a free download for H9000 owners. For system compatibility and support information, please visit:

 
https://etide.io/VSig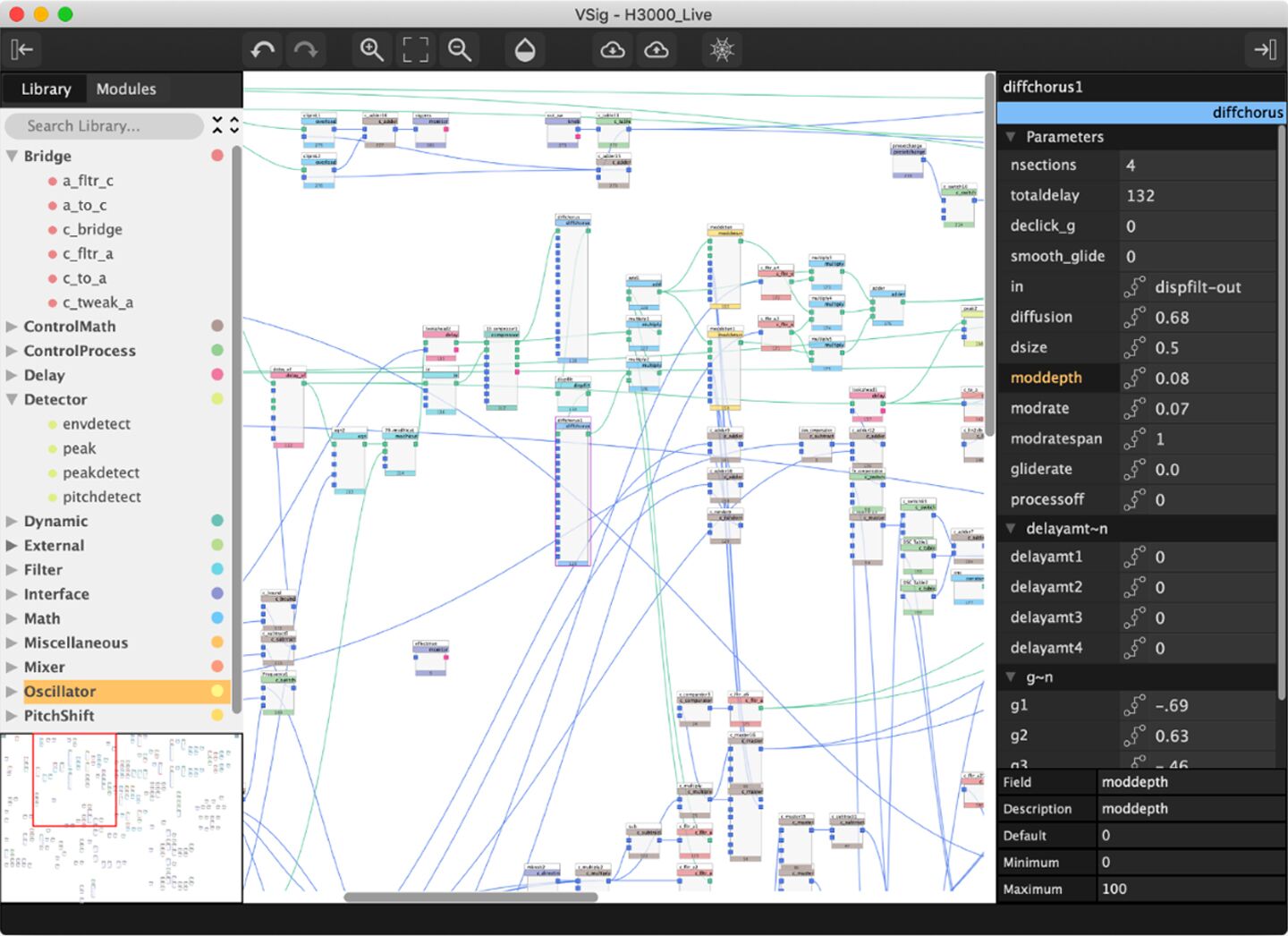 Eventide Releases Rose

®

 

Software Update: More presets, more control, more sounds 
Third and finally, Eventide is proud to announce a public beta of updated Rose software. Rose is Eventide's latest stompbox for guitarists, bassists, producers and musicians of all genres. 
New features include: more presets, enhanced MIDI control, additional tap tempo features, and new detune effects.
-Increased number of presets to 25 (5 banks of 5 presets)
-New tap tempo divisions: 8th, dotted-8th, triplet
-AUX switch bypass control
-New detune effects in Envelope mode 

Price and Availability:
The beta release is available as a free update for registered Rose pedal owners. 
Rose is available from EventideAudio.com or from your favorite music retailer for just $349. For more information, please visit the Rose product page: https://etide.io/Rose