Announcing a brand new synth for cutting-edge bass sounds and incredibly-creative sound design, from the makers of the multi-award-winning Evolution and Revolution drum machines.

Welcome to the future of bass production! Wave Alchemy's new Bassynth is a powerful bass instrument aimed at anyone after the best in bass: from deep, down and dirty analogue tones, to organic and evolving basslines for creative sound design. At its heart, Bassynth has a powerful hybrid engine fuelled by a pristine 10GB library of lovingly-recorded, multi-sampled sound sources, oscillators and rich and diverse wavetables.

Bassynth will deliver all your bass sounds – whether they be filthy analogue, gritty digital, massive modular, or authentic acoustic – all by way of a fantastically easy-to-use and modern interface. The synth features three main sections to create, perform and sequence amazing bass sounds.

CREATE
Bassynth's sounds are created with up to four voices. Choose from 800 pristinely-recorded sources (with everything including the deepest 808s, epic live brass sections, designed bass guitars and tortured percussion), oscillators, or over 200 wavetables (including analogue, digital, complex and aggressive types). Each of the four voices has its own filter (six types), resonance, envelope and mix controls. There's full access to different source parameters to help create huge, rich and analogue tones, or explore vast and deep wavetable sound design thanks to 14 wavetable distortion shaping algorithms.
 
PERFORM
An incredibly hands-on Performance page allows you to audition the 290 factory presets, and mix between or change the four sources. Bassynth also has a powerful drag n drop macro system where up to eight macros – each with up to eight parameters assigned to it – can be created. Control these in Bassynth's Performance page, morph between the synth parameters or modulations in real time using the main X-Y sliders control, and record or automate everything using your host DAW.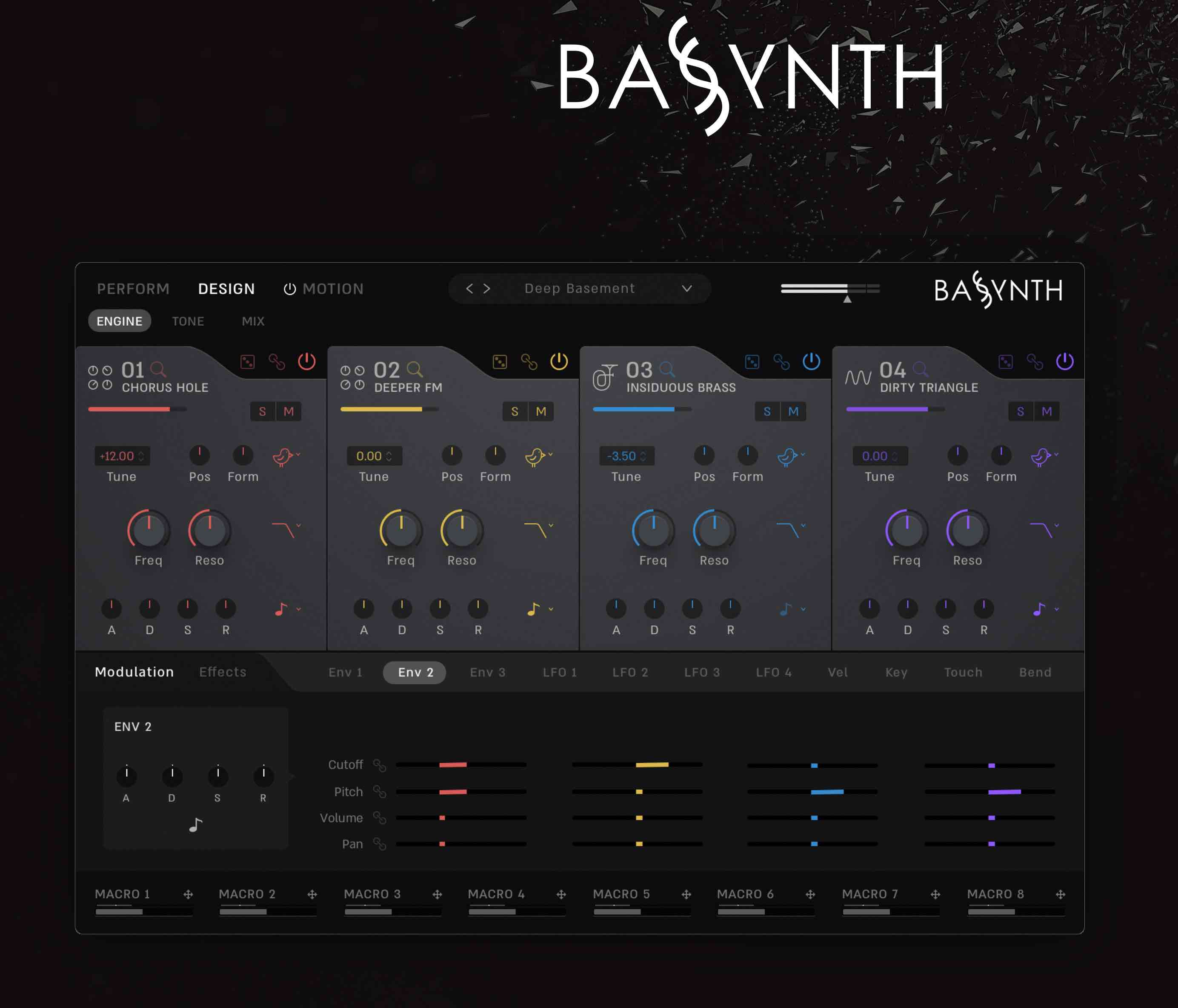 SEQUENCE
The eight macros can also be sequenced and controlled using Bassynth's very flexible Polystep Motion Designer. Draw in changes, choose from 36 different sequences or simply randomise each lane. Create gradually evolving sweeps, dramatic stuttering effects, or complex polyrhythms with a huge range of options – including changing lane lengths and time signatures – to give your bass tones an unrivaled dynamic and sonic interest.

Finally, add a fully-featured modulation section, six insert effects per voice, plus a further six master effects, and Bassynth really does offer everything you need for powerful and creative bass, in any genre.

Dan Byers from Wave Alchemy says: "Bass plays a very important role in modern music production, and our goal with Bassynth was to create something that inspires and sparks creativity, while at the same time delivering a very organic sound – something we feel is missing in other software instruments. With Bassynth, not only do you get access the most diverse and high-quality bass sounds ever committed to tape, but you also get to manipulate, sequence and perform with them like never before. How many synths do you know of that allow you to easily layer, for example, a huge live epic brass section with a modular synth, dirty 808 sub and amped vinyl noise, and all in one patch?!"



Wave Alchemy Bassynth Main Features
• Layer up to four sound sources, oscillators or wavetables per Bassynth sound
• 800+ beautifully crafted multi-sampled sound sources
• 290 factory presets
• Dynamic Preset Browser and Sound Source Browser, each with three levels of Tag filtering to make finding sounds quick and easy (and Favourites list)
• Clever XY Pad for morphing between macros and parameters to create complex movements and changes to the sound
• Six unique filter types available per voice / layer, each with multiple slope and pole settings, plus a dedicated high-pass filter per voice
• Seven Analogue modes that utilize up to 8 round robins per sound source
• Eight voices of Unison, per voice / layer, with detune, randomize, stereo spread and mix controls
• Dedicated Wavetable engine with 200+ scannable custom built wavetables, including multiple warp modes
• Polyrhythmic Motion Designer - Sequence anything via the macros for complex modulation. Each lane can have its own length and time signature, as well as randomization and much more
• Modular effects system. - Each of Bassynth's 4 voices / layers has a customizable effects section, each with 6 inserts per voice, plus master and send effects.
• Powerful Drag and Drop macro system. Any 8 parameters can be assigned to each macro, and and up to 8 macros
• Mix page with send effects, visual volume meters and stereo widening effects
• Tone page with smart EQ (another XY Pad), saturation and Lo-Fi.

MSRP: £149.95 (INTRO OFFER! 20% off for first 4 weeks, so £119.95)
Available: Now
Formats:  Kontakt Instrument (runs in free player)

FURTHER INFO
More information on Bassynth here

VIDEOS
Video highlighting several Bassynth presets here
Videos demonstrating Bassynth's main features here
Behind the scenes on the creation of Bassynth here