MIA Laboratories and Plugivery Distribution proudly announce the upcoming availability of MIA Lab's 413 Tape Saturator plug-in.
Available through pro audio resellers worldwide from June 30th, 2020, in AAX / AU / VST2 / VST3 format, Windows and macOS, at the intro price of $49, 413 Tape Saturator offers 3 different types of Analog Tape, as well as 3 different types of distortion.
The 413 reproduces the non-linear characteristics that would result when over-driving analog tape, as magnetic saturation occurs with increasing amplitude of the 'recorded' signal...
For the saturation process, the signal gets dynamically changed, especially high frequency information, in response to its amplitude. The resulting effect simulates the saturation of analog tape, in a controllable environment which can be adjusted according to your preference.
The user can choose among 3 different types of Analog Tape, each corresponding to the noise and saturation characteristics of 3 different well known tape brands. 3 distortion types are also available, enabling the user to produce the harmonic content/distortion one would get by over-driving certain Tube or Transistor circuits.
"The 413 is another great plug-in from friends MIA Labs. The subtle saturation-to-increased-drive can really breath life into an otherwise dull mix or individual instrument, and focus elements upfront."- Ashley Smith -Mix Engineer / Producer(Brad Whitford, Derek St. Holmes, Various Artists)
Features :
Advanced Tape Saturation algorithm
Tube, Transistor and Soft Clipping Distortion
Real tape-hiss
'IEC on NAB' playback equalization mode
Pricing & Availability : 413 Tape Saturator
List Price: $89
MAP: $69
Introductory Promo: $49
An introductory promotion shall be available from June 30th, through July 12th, 2020, at the highlighted price above.
MIA Laboratories' plug-ins are available through all reputable pro audio resellers worldwide via Plugivery Distribution: plugivery.com/about/dealers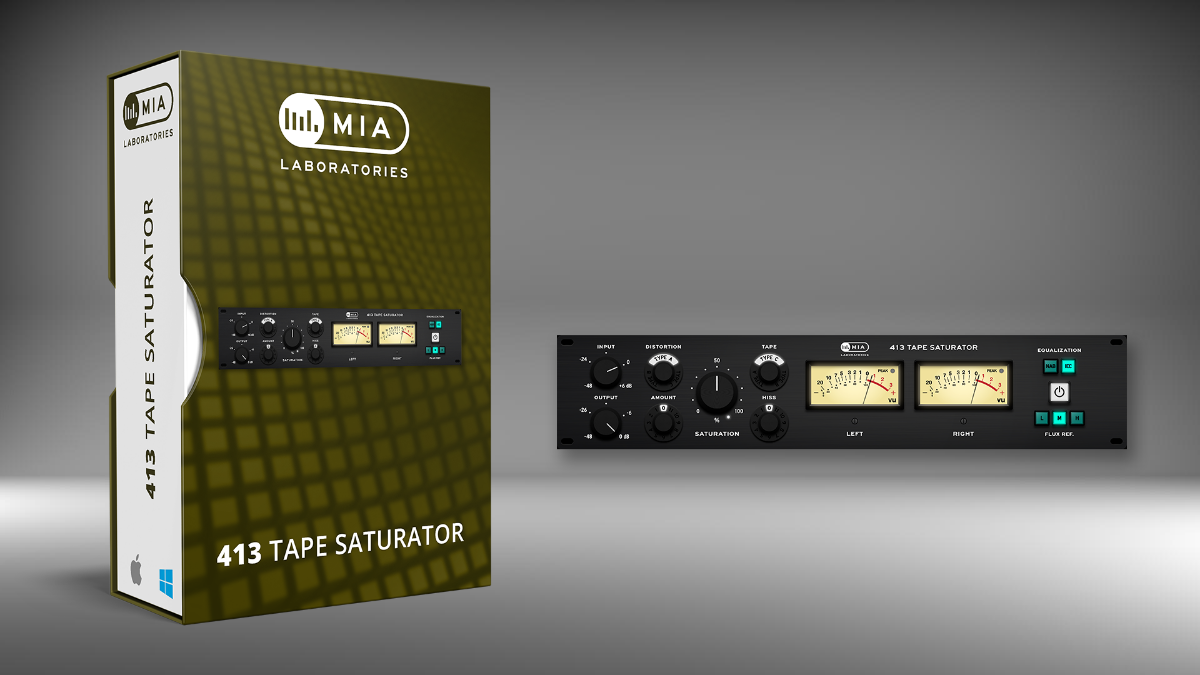 About MIA Laboratories (https://www.mialaboratories.com)
MIA Laboratories aim is to deliver virtual audio engineering products that actually emulate traditional recording studio hardware equipment. Akis Golfidis, the main founder, coordinator and inspiring figure behind MIA Laboratories has had a distinguished career in the field of mixing and music production for almost four decades and has been the driving force behind the development of their products.
The MIA Labs team guarantee their plug-ins will leave even the most demanding 'analogue enthusiast' more than satisfied.
About Plugivery (https://www.plugivery.com)
Plugivery is a B2B (business to business) distribution service whose purpose is to introduce audio software products into hundreds of music stores all around the world carefully considering every need of a truly professional distribution service based on electronic delivery. The name Plugivery comes from the combination of the words "Plug-in" and "Delivery".