MPC-inspired production essentials, a Gen 2 enhanced dynamic keybed and tight integration with any music production app makes MPK mini mk3 the ultimate go anywhere beat making tool.
Ft Lauderdale, FL USA (August 4, 2020) — Akai Professional, a leading manufacturer of music equipment for performers and producers, today announced the immediate availability of the 3rd generation of the world's best-selling USB MIDI keyboard controller, MPK mini.
For the beginner, MPK mini is a complete package with every tool needed to create hit songs from the start. For the working professional, MPK mini is the ultimate musical Swiss Army knife, packed with all the features to deliver on any musical task. From its inception, the MPK mini inspired a generation of producers, redefining how creators make music. MPK mini mk3 refines the tried and tested design of its predecessors with an updated feature spec that leaves any roadblocks by the wayside and places creativity firmly in the driver's seat. Your hit song starts here!
Universal Compatibility
Featuring driverless plug-and-play connectivity, MPK mini is primed for immediate performance and production capability right out the box. MPK mini's new OLED display places must-have visual feedback of velocity, CC and even DAW mode selection, offering seamless capability with all industry standard music production apps.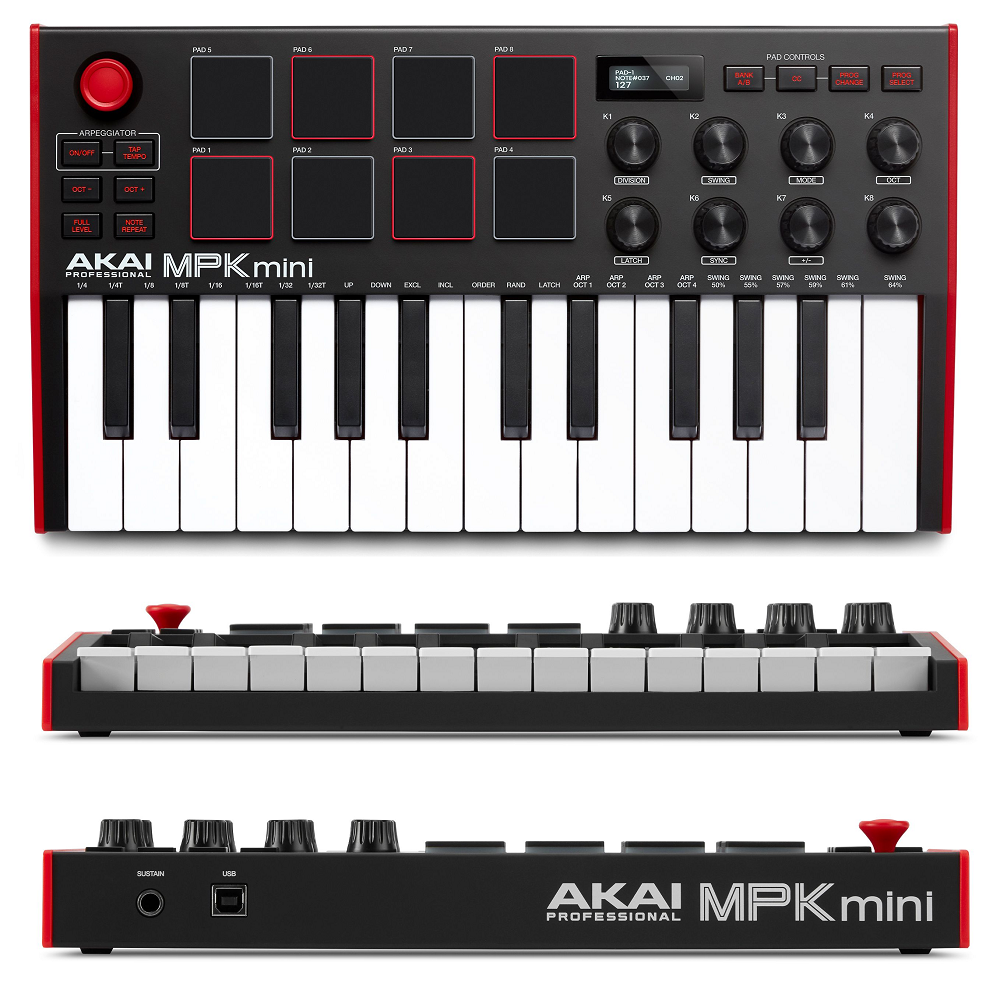 Complete Music Production Starter Kit
MPK mini includes everything needed to immediately start making music right out the box. Featuring MPC Beats, a professional DAW based on the legendary MPC workflow, sample content from assorted MPC Expansion packs and a collection of the most versatile virtual plugin instruments available today (AIR Hybrid, Mini Grand, Velvet), the creative possibilities with the Music Production Starter Kit are endless.
New Gen 2 Keybed
Designed from the ground up, MPK mini's all-new, reimagined Gen 2 enhanced dynamic keybed delivers a natural and responsive key performance. From grand pianos to searing synth leads and lush electric  pianos, the Gen 2 keybed guarantees the best from any playing style and virtual instrument.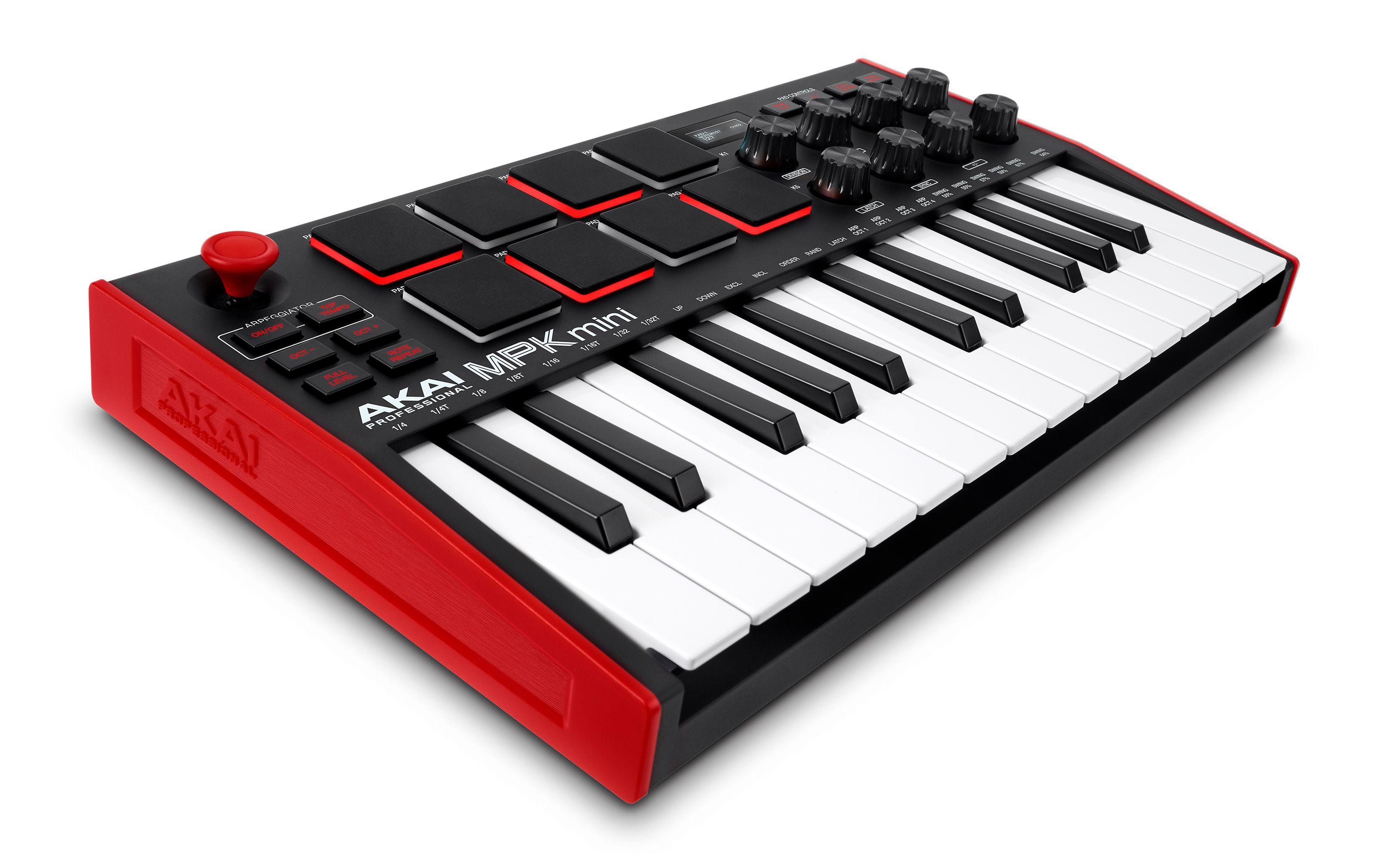 MPC Pad Power
No Akai Professional keyboard controller would be complete without the legendary MPC pads – MPK mini is no exception with 8 pads pulled right from the flagship MPC series. These bankable, velocity sensitive backlit MPC pads deliver the perfect touch for precise drumming and melodic sample playback that even the most demanding performers will find unmatched.
Complete Command of Your Production
MPK mini's rotary knobs give producers and performers immediate control of any assignable parameter  in their music application. Designed to assign to synth, mixer and effects plugins, users will love the  hands-on control of all key parameters for an immersive, music making experience.
Note repeat, arpeggiator and the omni-directional joystick are trusted features no MPK mini would be complete without, and it's all here in MPK mini mk3. Whether it's sparking that initial idea or capturing every subtle inflection of an expressive performance, MPK mini gives users compete flexibility to truly make their performance your own.
MPC Beats Software
MPK mini mk3 comes with everything you need to start creating the hit music of today, including a fully functioning DAW, MPC Beats. Incorporating the finest parts of the legendary MPC workflow, MPC Beats features all the essential tools for pro production. Edit samples, mixdown tracks with world-class audio effects, find any sound with the same synth engines found in the legendary MPCs, record audio and much more. MPC Beats also hosts AU/VST plugins, offering complete compatibility with industry standard virtual studio technology. Plus, MPC Beats opens as a plugin in any DAW for effortless integration into existing setups. With the same iconic workflow from the critically acclaimed MPC Series, fused with a super-intuitive UI, MPC Beats guarantees to take your music wherever you want it to go.
•
25 Mini Keys, Featuring Redesigned Keybed for Incredible Dynamic Expression & Precise
Articulation
•
Brilliant OLED Display for Immediate Parameter Feedback
•
8 Bankable MPC Performance Pads with Legendary Note Repeat and Full Level Functions
•
4-Way Joystick for Pitch & Modulation Control
•
Class-Compliant USB Connectivity
•
Sustain Pedal Input Jack

• Superior, Sturdy Design & Build

• Complete Music Production Starter Kit, including: MPC Beats, AIR Hybrid, Mini Grand and Velvet,
as well as assorted MPC Beats versions of MPC Expansion packs.
Check out how easy it is to get connected with MPK mini mk3 here:
"Whether it's an entry point to the exciting world of music production, or a must-have tool for the  seasoned professional on the move, MPK mini won't disappoint," said Dan Gill, Senior Product Manager  for Akai Professional. "For years, MPK mini has graced studios and stages internationally with a feature set geared toward maximum creativity, whatever your next project demands. Our third iteration takes the best parts of its predecessors while adding new features directly from our critically acclaimed MPC line and universal capability with any music making app, making it easier than ever to integrate into any setup. We can't wait to see how MPK mini mk3 inspires the next generation of creators."

Pricing and Availability:
MPK mini mk3 is immediately available in three colorways with a US retail price of $99. For more information visit https://www.akaipro.com/mpk-mini-mk3
To make sure new users can start creating music quickly, Akai Professional has also created the MPC Beats Academy – a series of videos that walk you through the process of creating different styles of music using MPC Beats and the MPK mini. Find the MPC Beats Academy here: https://www.akaipro.com/mpc-beats-academy
Please visit akaipro.com for further information.