Overloud, the developers behind the critically acclaimed guitar amp and FX software – TH-U – and other leading effects plug-ins, have announced a new addition to their popular Gem series.
Gem VOICE is an all-in-one vocal production plug-in with modules based on world-class analog DSP modelling delivering everything you need for your vocal mixing projects while streamlining your workflow.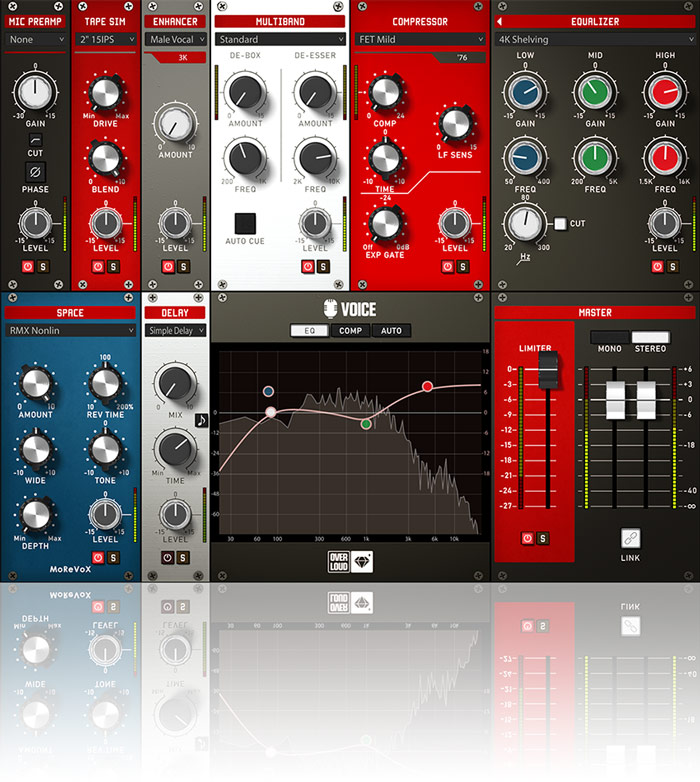 Create a full vocal sound chain with a few clicks or select the setup of your preferred sound engineer to replicate his tone. All the parameters are accessible with a single click on the main panel, for a quick and streamlined operation – no creativity-crushing submenu navigation!

Overloud VOICE offers a comprehensive and streamlined vocal production workflow based on essential analogue based modules including:
Mic Preamplifier (4 models)
Tape Simulator (3 tapes + 3 special modes)
Vocal Enhancer
De-Boxer and De-Esser
Dynamic Processor with compressors (5 models) and an expander-gate
Equalizer (5 models)
Space Processor / Reverb Unit
Analog Delay
Master Section with optional Limiter
Interactive Dynamic Graph
Interactive EQ Graph
You'll also find presets created by award winning engineers and producers including Joe Barresi, John Paterno, Michele Canova. These presets are  designed for male and female, lead and background vocals as well as spoken voice.

Gem VOICE is available now from Overloud's exclusive UK and European distributor Time+Space and selected resellers with 37% off until 22nd September – download the free demo today!