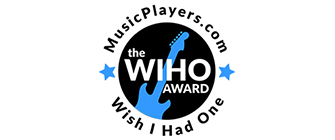 We recently reviewed East West's Voices of Soul and were quite impressed with it. Next up is East West's Hollywood Pop Brass (HPB). Aimed at catching the sound of explosive, energetic horn sections from pop and latin music (think Bruno Mars, Earth Wind and Fire, and Chicago, just to name a few), HPB features multi-sampled articulations from four and five-piece horn sections recorded in East West's Studio 1 and Studio 2 with producers Doug Rogers, Nick Phoenix, and Grammy-winning engineer, Moogie Canazio. Like Voices of Soul, this is a library that utilizes East West's Play plug-in, and despite the pop name, it is actually very useful across many other genres. Utilizing "tight, bombastic" brass sounds (to quote EW), HPB includes not only the expected short and sustained sounds, but a great selection of licks and phrases. We were impressed by how lively this collection really is!
Category

Value

Rating

Features

20%

Usability

25%

Sound

25%

Documentation & Support

10%

Price

20%

OVERALL RATING = 3.6 Stars, which earns it a
WIHO Award!


3.6 stars or better: Outstanding, WIHO Award




3 stars or better: Worth considering




2 stars or better: Suited to specific needs




1 star or less: Not recommended 
Features
HPB is a 23GB sample library (sampled at 24-bit/44.1kHz) that runs as a plug-in (VST, AAX, AU) or standalone, but always through EastWest's own Play sample player app/plug-in.  While it can be purchased as a single virtual instrument, it is also part of East West's Composer Cloud, which is a subscription service for all of their plug-ins. Of note, you must use version 6 (or higher) of Play to use this library.
HBP features a four-piece brass ensemble for all multi-sampled articulations that includes two trumpets, a trombone, and a saxophone that alternates between a baritone, tenor, and alto saxophone depending on the note range; it also features a five-piece ensemble for all phrases and licks that includes two trumpets, a trombone and two saxophones that alternate between a baritone, tenor, and alto saxophone depending on the instrument voicing. Although you can theoretically turn off individual horns in the mixer section, HBP was really meant to deliver "Tower of Power" voicing and not solo runs. Indeed, it sounds best a full strength.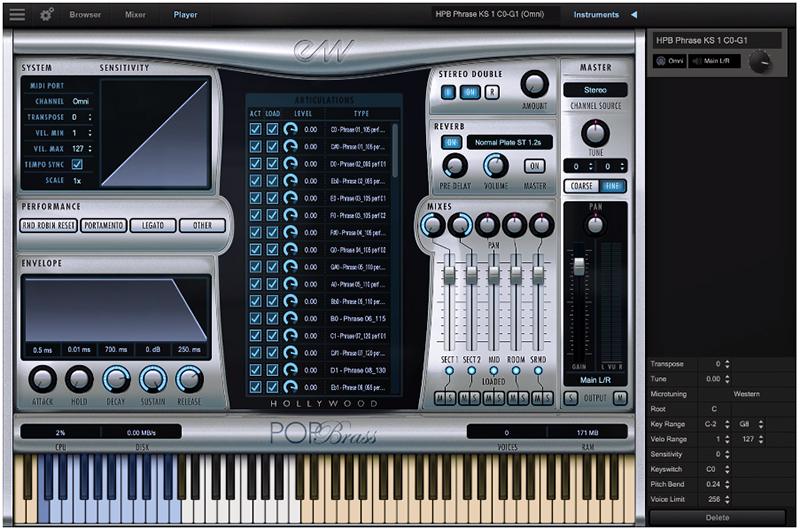 Like Voices of Soul, sounds/articulations are divided into categories.  As per East West, these are:
Sustain: Contains different types of sustained articulations: fast, medium and long crescendos, sustain accent, crescendo and diminuendo, and "xfde" versions of instruments that use Mod Wheel (CC1) to cross-fade between dynamics. Each contain two dynamic layers, and use Expression (CC 11) to control loudness.
Short: Contains a variety of articulations that have a short duration, including marcato, stabs, staccato, and staccato repetitions. Each include round robin variations, use velocity-sensitivity to control dynamics and Expression (CC 11) to control overall loudness.
Effects: Contains instruments that feature special articulation techniques like falls and rips in various durations, as well as growls and trills. All but growls contain multiple round robin variations.
Legato: Contains an instrument that will play back true legato intervals when two notes are played in a connected fashion (legato), for every interval up to and including an octave in either direction. When playing disconnected (non-legato), a sustain layer will playback.
MOD Combo: Contains instruments that combine multiple articulations and uses the Mod Wheel (CC 1) to select between them. A 'VS' (velocity-sensitive) instrument named HPB Shorts VS MOD.ewi alternatively uses velocity to select between articulations and Mod Wheel (CC 1) to determine dynamics.
Phrases: Contains instruments that feature phrases and sub-phrases in various tempos that fit perfectly in the world of pop brass. Each was recorded with multiple transpositions, and are mapped across the virtual keyboard on their respective root note positions for use in a variety of key signatures.
Licks: Contains instruments that feature short licks (or "motifs") performed at 120 bpm that fall into one of six chord types. The position of the Mod Wheel determines which of the chord types will playback. Each lick has two round robin variations and is mapped to the key that corresponds to the respective root note position of each chord type.
Keyswitch: Keyswitch contains instruments that combine multiple articulations into a single instrument and uses keyswitches to activate the desired articulation.
As the HPB interface is via Play, a sample player conceptually similar to Native Instruments' Kontakt, operation is (unsurprisingly) similar to Voices of Soul, which also uses Play. The meat of what you'll use includes the browser, mixer, and player screens, each accessible via a labeled tab towards the top of the window. The browser tab gets you the above-mentioned choices (and their associated sample sets). The Mixer tab brings you, not surprisingly, to the mixer screen, with the expected faders, mute, and solo controls.
The Player tab presents the preset's patch-building blocks (among other things), enabling you to turn on or off articulation layers. A keyboard at the bottom graphically shows the range of notes available to play, as well as which keyswitches are on or off, by having the keys turn darker blue when activated. Besides sonic tailoring, this feature is useful because it allows you to turn off samples you might not be using in a given preset, allowing for a smaller memory and CPU footprint. This screen also enables you to tailor the blend of mic mixes. Coarse/fine tuning, stereo doubling, reverb effects, and envelope controls are also available from this screen.
Usability
We found Play pretty easy to get around. Starting from the browser screen, the presets are divided into eight categories with varying numbers in each group. Not surprisingly, these are labeled as sustain, short, and effects (like falls and growls) but HPB goes beyond these expected types with their phrases and licks sections. These were a lot of fun to try out, and most were inspiring to put into a song. The presets that involve the mod wheel were also cool—and easy to use.
Presets that use key switching are similar to other programs that utilize key switching: a graphical keyboard shows keys in blue that represent the possible key switches, while white keys are playable notes. Beige notes are out of range and will have no effect or sound.
The mixer was very straightforward, though our one small gripe, again, is that the "FX" button is rather easy to miss when you're looking to get into the full page of effects (it's on the mixer screen, by the way).
Finally, the Player section gives you a nice overview of most parameters at once. The presets are very good, so tweaking them wasn't usually necessary, but we were able to make most of our adjustments as needed without any fuss. A nice touch is seeing the CPU and disk use percentages, letting you know what kind of drain you are currently putting on your computer's system resources. Although the phrase and lick presets have the tempo they were recorded at as part of their titles, on the player page is a box you can click to tempo sync to your DAW (and a nearby scale option to have the phrase play twice as fast or half as fast). It took us a minute to find this, so we are saving you the time!
Sound
It always boils down to, "How does the darn thing sound?" and HPB does not disappoint. This isn't about emulating the brass section in a classical orchestra, rather it's about "bringing it!"  And HPB certainly does. Right from the first preset, we were impressed with the aggressive, lively sound. This is not your '80s-sounding synth brass either. These sound quite realistic (they were played and recorded well).
There's an impressive amount of realism to all the sounds, and the round robin and modulation controls provide an even greater amount of control. While the "regular" sounds are impressive, and we thought the crescendos/rise/falls were well done—as were the velocity sensitive and modulation-based presets, we had the most fun with the phrases and licks. These were all useful, and definitely got us thinking about using them in our own compositions.
A cool feature is that in the "Licks" folder there is a "singles" folder which has different single chord hits, adding to the numerous ways you can incorporate HPB into your own work. Whether your tastes lie in pop, funk, jazz, or R n' B, you'll find plenty of great sounds here sure to toot your own horn!
Documentation and Product Support
A manual is downloadable, but like their other products, East West has a great walk-through video that is informative and fairly encompassing. It breaks down how to put together a very convincing brass section in your DAW, showing how the different articulations can be layered. It had us ready to write songs using HPB in no time. Most users should be up and running pretty quickly with this plug-in, especially if you have used other Play-based plug-ins.
Price
EastWest Holloywood Pop Brass sells for $399. It is also available as part of East West's ComposerCloud, which gives you access to basically everything they make for $19.99/month. It's a bit pricey by itself, but as part of the ComposerCloud universe (which, as per East West, gives you access to 40,000 instruments) it is a very good deal. These horn sections sound great, and with a little time spent layering articulations, it can deliver the secret sauce that your studio otherwise lacks, unless you've got ready access to a group of horn players and the means to properly record them.
Contact Information
EastWest
www.soundsonline.com