ANAHEIM, CA, USA: Audio technologies developer Sound Magic is proud to announce availability of Supreme Drums Orange — its latest hybrid modelling virtual instrument for Windows (VST 2/VST3 64-bit), combine the power of AI with revolutionary Fusion Effect — As of Aug 19th, 2022.
Supreme Drums is made using a completely different approach known as Hybrid Modeling, which is a combination of modeling and sampling. This will not only cost less resources, but also give more freedom on usages and sounds. Supreme Drums Orange has 27GB uncompressed original sample data, but after the modeling, it reduces to an amazingly small size – 800MB, which is only 3% of the sample size, while keeping the same sound quality. Also, the RAM usages are much smaller than sample libraries. This leaves more resources for other plugins when you need a drum in a huge project.
After researching modern drum sample libraries, we found out they were all very detailed and with many professional settings. However, the main drawback is that they require their users to have vast professional sound-mixing knowledge. Thus, it always takes a lot of time to achieve a good result. In light of this, the primary design philosophy of Supreme Drums makes it easy to use; it requires minimum professionalism.
Modern drum sample libraries usually have full-feature mixers with EQ, compression, limiter reverb, transient design and more effect types. This gives users great freedom, but also requires vast professional sound-mixing knowledge. However, not everyone can gain enough mixing experience in just a few years, so we decided to develop something easier to use.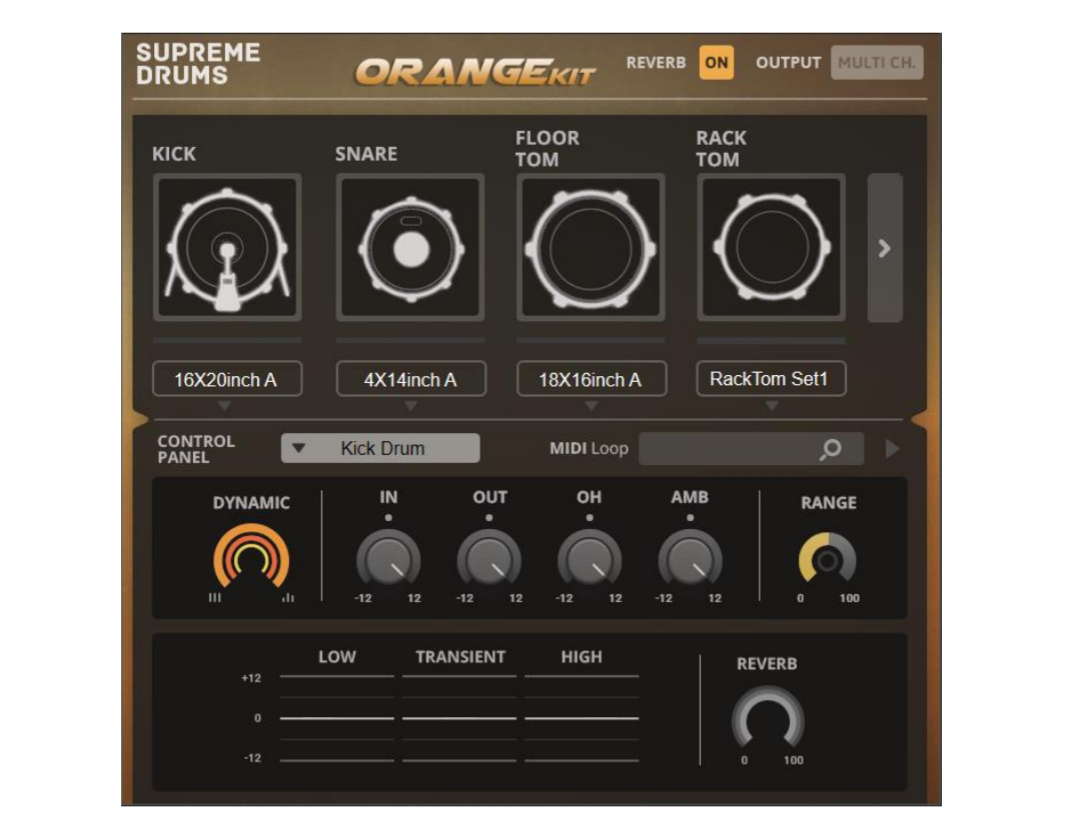 Here comes our fusion effects; with groundbreaking AI technology, we are able to combine EQ, dynamic processing and transient designer into only three easy-to-understand controls. This effect can make an effective change in sound on the fly without the need for vast professional knowledge to carry out the operation.
The routing of different microphone perspectives on a mixer is always the labyrinth for any musician without enough sound-mixing knowledge. Supreme Drums changes this by offering separate microphone perspectives for each drum piece. You will not see a beautiful but complex mixer; instead, just a few volume knobs to control different microphone perspectives for each drum piece. However, the level of professionalism has not been lowered; each drum piece has 2-4 different microphone perspectives (Kick Drum has 4, while Snare, Hi-Hat and Tom have three). All these settings make the whole process clear, direct and easy to understand.
Translator is a unique feature in Supreme Drums. As we know, many drum sample library often has its own groove resources. Some of them are very huge in quantity and vast in details. Translator will enable you to use the groove design for other drums in Supreme Drums, and the AI inside this tool will translate the MIDI into a format that Supreme Drum can play the same as on other drums library. Translator is compatible with the major groove MIDI packs on the market, including Superior Drummer, EZdrummer, Additive Drums and UJAM Virtual Drummer. In this way, you can get an unlimited groove source for Supreme Drums by using other groove library.
Pricing and Availability:
Supreme Drums Orange has a MSRP as $129, now has introduction offer as $99 until November 19th, 2022.
Supreme Drums Orange is available to purchase online directly via Sound Magic Co., Ltd for $99.00 USD from here: