TAMPA, FL — ddrum unveils the upgraded Dominion Birch Series, with reimagined shell-pack configurations, new hardware, and eye-catching finishes. The Dominion Birch Series unites the tonal dynamics of classic birch shells with cutting-edge design, and a splash of sophistication, to bring this popular drum series to a new level of performance and appearance. Featuring 4-piece, 5-piece, and 6-piece sets, the Dominion Birch Series offers players of any genre a strong foundation for sound quality and the utmost style to let their drumming personality shine. 
ddrum's 2005 release of the first Dominion Series effectively shattered the perception of price versus quality. That tradition continues today, as ddrum's 100 percent birch shells are still front and center of the upgraded series, delivering a balanced brightness with full-range overtones and plenty of attack. Three shell-pack configurations are available: the 4-piece DM B 420, the 5-piece DM B 522, and the 6-piece DM B 622. 
The newly added 420 offers an 8x12 rack tom, 14x14 floor tom, 16x20 bass drum, and 5x14 snare drum. The reimagined 522 packages up 8x10 and 9x12 rack toms, 16x16 floor tom, 18x22 bass drum, and 6.5x14 snare drum. The 622 offers a nearly identical configuration as the 5-piece, with the addition of a 14x14 floor tom. 
The high-quality sound of the Dominion birch shells is complemented by three stunning finishes, each with their own unique appeal and character. New to the Series is Satin Bubinga, a stunning finish that replicates the natural gorgeous appearance of this African hardwood complete with reddish brown hues. Not to be outshined, the Brushed Olive Metallic finish offers a modern oyster wrap that comes to life with highlights of olive metallic running throughout. The third finish, Paper White Birch, offers a classy satin wrap with a soft textured wood grain and premium look.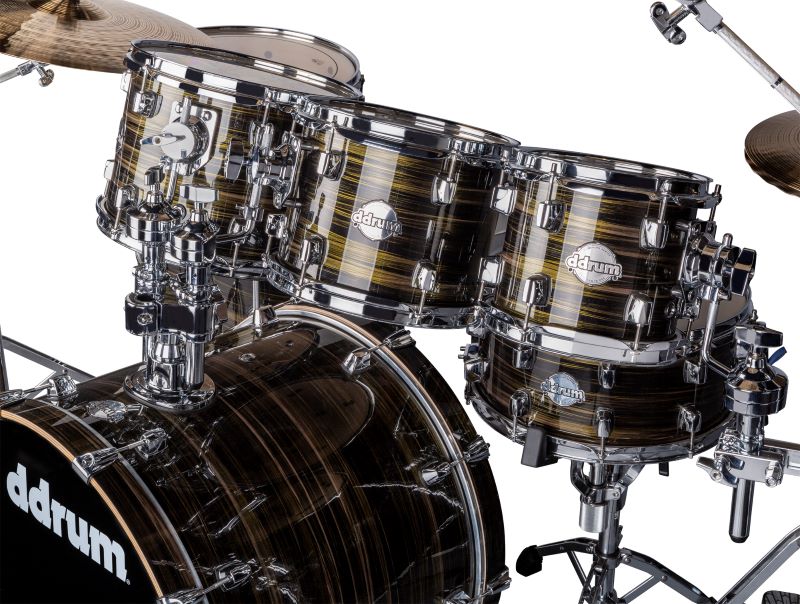 As part of the hardware upgrades for the Dominion Birch Series, ddrum includes a redesigned double tom holder as well as memory locks for the floor tom legs, facilitating easier and faster setup. All Dominion Birch drums are crafted with a 45-degree bearing edge and 2.6 mm triple flanged hoops, as well as an integrated suspension mount and classic Dominion lugs. Each configuration includes tom arm and floor tom legs, with cymbals and additional hardware sold separately.
                          MAP starting at $599 for the 420 configuration; $659 for the 522; and $799 for the 622.
Drummers looking for a classic playing experience with modern upgrades and stylish flair will find ample options in ddrum's upgraded Dominion Birch Series. 
Learn more and get a closer look at www.ddrum.com.