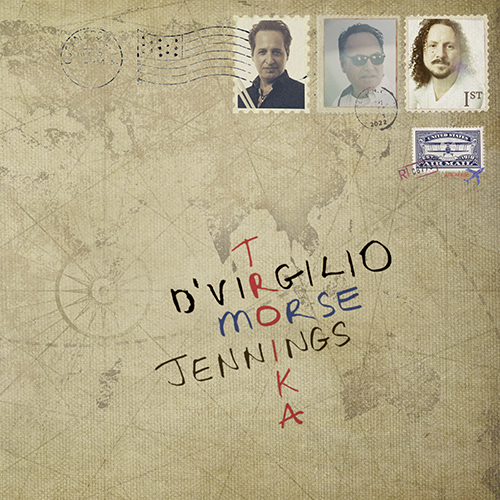 Are you a fan of acoustic rock from the '70s with a touch of classic rock thrown in? If so, you're going to absolutely love the new album, Troika, from the super-group trio, D'Virgilio, Morse & Jennings. This mostly-acoustic rock offering spends the first half bathing you in Crosby, Stills, and Nash-like acoustic pop rock full of fabulous multi-part lead vocal harmonies while the second half throws in some Hendrix-meets-Styx-meets-Foreigner classic rock to up the attitude.
Troika serves as a fitting follow-up to Neal Morse's stunning 2017 singer-songwriter album, Life and Times. Although we would never want to take anything away from Morse's outstanding collaborators, former Spock's Beard bandmate, Nick D'Virgilio, and Haken vocalist Ross Jennings, my only complaint regarding this refreshing masterpiece is that they didn't simply call this band another Neal Morse record. It's such a fine record that the masses need to hear, and while the supergroup last name approach will work fine for prog rock diehards, it just doesn't roll off the tongue for the people who will really enjoy this record the most—regular lovers of vocal harmony-rich classic rock. Heck, even calling the band Troika would have been simpler.
D'Virgilio, Morse & Jennings, Troika

Genre:
Acoustic Rock,
Classic Rock
Musicianship:
Songwriting:
Production & Engineering:
Vibe:
Overall Rating:




Morse came up with the concept for this album while writing during lockdown. Once he began thinking about good vocalists to sing with, he expanded his concept to include vocalists who were also songwriters and multi-instrumentalists like himself. As a result, all three artists contributed songwriting to the album, and between the three of them, they played all of the instruments: acoustic and electric guitars, bass, keyboards, and drums. If you're familiar with these prog rock luminaries, then you know they're all exceptional musicians, and their skills extend well beyond the writing and singing to the performances.
This is one of those delightful albums that has soothing melodic wonders and ripping, '70s-vibe classic rock tunes, and there truly isn't a weak link in the eleven-song collection. If you're one of those people complaining that they just aren't making great rock albums like they used to, you'll want to grab a copy of this CD as soon as it's released later this February 2022.
Check out a few videos from the new album here: