24 Date Headline Tour With Special Guests TesseracT and Astronoid
Tuesday October 30th 2018 - Critically acclaimed progressive metal pioneers, Between The Buried And Me are thrilled to announce that they will be hitting the road in early 2019 for the 24 date 'Automata II' North American Tour. Joining them on the headline run will be TesseracT and Astronoid. Tickets go on sale at Friday November 2nd at 10am local time from betweentheburiedandme.com
The tour comes in support of 'Automata II' the second part of the double concept album the band released earlier this year via Sumerian Records. Automata I and Automata II see the band continue to break boundaries and explore visionary new ground, posing the question - What if dreams could be broadcast for the purpose of entertainment?
The 2-part conceptual opus saw Between The Buried And Me venture into new territory, expanding their ever-evolving style whilst upholding a tradition of progression. Speaking on the process, Paul Waggoner says
"We never want to repeat ourselves. We're always trying to do something different, and this album fell right into that sort of pattern. We push ourselves into new places, while retaining our basic sound."
Tommy Giles Rogers agrees
"This many years into our career, we want to continue doing things differently. Lyrically, I wanted to write something that I treated as a puzzle until it comes together at the end. For as deep and dark as it is, there's a positive outcome, which we've never had. The story follow a protagonist whose dreams are used as entertainment broadcasted by a company called Voice of Trespass. Most of the record takes place within that dream. The character thinks it's all real."
The Automata II North America Tour kicks off in Athens, Georgia on February 8th and works it's way across the country ending in Greenville, South Carolina on March 9th. Full dates are below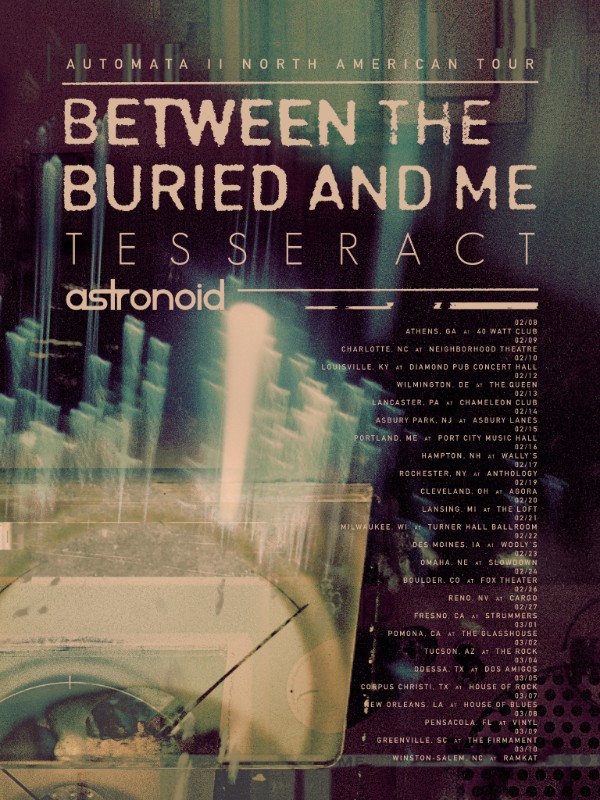 Between The Buried And Me - Automata II North American Tour 2019
W/ Special Guests - TesseracT and Astronoid
Fri, Feb 8 Athens, GA @ 40 Watt Club
Sat, Feb 9 Charlotte, NC @ Neighborhood Theatre
Sun, Feb 10 Louisville, KY @ Diamond Pub Concert Hall
Tue, Feb 12 Wilmington, DE @The Queen
Wed, Feb 13 Lancaster, PA @ Chameleon Club
Thu, Feb 14 Asbury Park, NJ @ Asbury Lanes
Fri, Feb 15 Portland, ME @ Port City Music Hall
Sat, Feb 16 Hampton, NH @ Wally's
Sun, Feb 17 Rochester, NY @ Anthology
Tue, Feb 19 Cleveland, OH @ Agora
Wed, Feb 20 Lansing, Michigan @ The Loft
Thu, Feb 21 Milwaukee, WI @ Turner Hall Ballroom
Fri, Feb 22 Des Moines, IA @ Wooly's
Sat, Feb 23 Omaha, NE @ Slowdown
Sun, Feb 24 Boulder, CO @ Fox Theater
Tue, Feb 26 Reno, NV @ Cargo
Wed, Feb 27 Fresno, Ca @ Strummers
Fri, Mar 1 Pomona, California @ The Glasshouse
Sat, Mar 2 Tucson, AZ @ The Rock
Mon, Mar 4 Odessa, TX @ Dos Amigos
Tue, Mar 5 Corpus Christi, TX @ House of Rock
Thu, Mar 7 New Orleans, LA @ House of Blues
Fri, Mar 8 Pensacola, FL @ Vinyl
Sat, Mar 9 Greenville, SC @The Firmament
Sun, Mar 10 Winston-Salem, NC @ RamKat
Tickets go on sale at 10am local time on Friday November 2nd from betweentheburiedandme.com