KNOXVILLE, TN, November 22, 2018 — Waves Audio, a leading provider of digital signal processing solutions, introduces the Waves Sibilance plugin. Powered by Waves' innovative Organic ReSynthesis® technology, this transparent vocal de-esser removes harsh vocal "s" sounds faster than ever before, with exceptional quality – allowing you to make your vocals sound brighter without harshness. Thanks to its Organic ReSynthesis engine, Sibilance allows precise identification of unwanted sibilant sounds such as "s" and "sh," resulting in smooth, glitch-free, effective de-essing that maintains the timbre, duration and natural resonance of the original vocal sound.
Unlike most de-essers, which act like narrow-band compressors, the Waves Sibilance plugin uses Organic ReSynthesis spectral filters to identify undesirable bursts of sibilant energy, then completely separates the nuances of sibilance from the vocal signal, leaving the rest of the signal untouched.
Once applied, Sibilance's unique method of separating sibilant parts from the raw vocal signal allows for what would otherwise be extreme processing on the vocal track, such as aggressive EQing to drastically brighten a vocal.
With simple yet powerful controls, Sibilance takes only seconds to set up: Insert it on a vocal or voiceover track, and simply set the threshold and range controls to dial in the perfect amount of "s" reduction.
Whether tracking or mixing, on vocals or voiceovers – get an ideal vocal sound fast, reliably and effortlessly.
Waves Sibilance features:
Clever, fast, powerful de-esser specifically designed for vocals and voiceovers
Smooth, glitch-free removal of harsh "s" sounds like never before
Treats sibilant parts of the signal without affecting the color of the vocal track
Easy-to-use threshold and sensitivity controls
Innovative sibilance detector powered by Waves' Organic ReSynthesis® technology
Sibilance detection graph to help you visualize the amount of "s" reduction
Variable range modes: from wide to split-band processing
To learn more: https://www.waves.com/plugins/sibilance
Video: "Introducing Waves Sibilance: A New Kind of Vocal DeEsser": https://youtu.be/sV1BE3wiA2I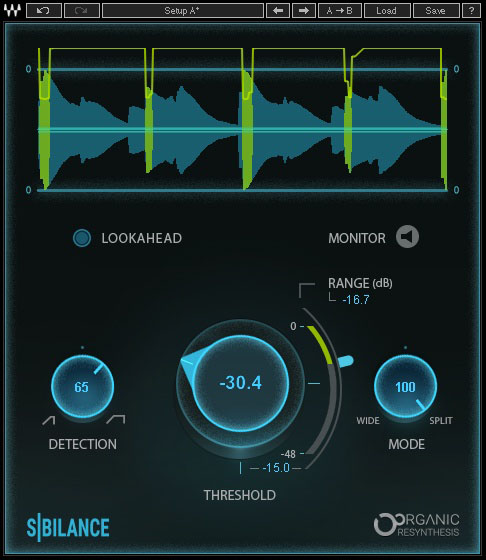 About Waves Audio Ltd.:
Waves is the world's leading developer of audio DSP solutions for the professional, broadcast, and consumer electronics audio markets. Since its start in the early '90s with the introduction of the Q10 equalizer plugin, Waves has gone on to develop a comprehensive line of over 150 audio plugins, including industry standards like the L1 and L2 Ultramaximizers, popular vintage console models, and innovative mixing tools like Vocal Rider and the Artist Signature Series. For its accomplishments, Waves received a Technical GRAMMY® Award in 2011, and the Q10 was selected as an inductee into the TECnology Hall of Fame. In 2016, Waves released the eMotion LV1 mixer, a revolutionary live digital mixing console that provides real-time audio mixing for front-of-house, monitor, studio and broadcast engineers. Waves technologies are now used to improve sound quality in virtually every sector of the audio market, from recording, mixing, mastering and post-production to broadcast, live sound, and consumer electronics. Waves has over 25 years of expertise in the development of psycho-acoustic signal processing algorithms that leverage knowledge of human auditory perception to radically improve perceived sound quality. Waves' award-winning processors are utilized to improve sound quality in the creation of hit records, major motion pictures, and top-selling video games worldwide. Waves offers computer software and hardware-plus-software solutions for the professional and broadcast markets. The company's WavesLive division is a market leader in all live sound sectors, spearheading the development of solutions for all live platforms. Under its Maxx brand, Waves offers semiconductor and licensable algorithms for consumer electronics applications. Waves technologies dramatically enhance audio performance and are used by industry leaders such as Dell, Google, Fitbit, Acer, Asus, Hisense and more.