You may remember, but even if you don't, the prog rock scene that rose during of the 1960s and continued well into the late '70s, bands like Emerson, Lake & Palmer, Kansas, Rush, Pink Floyd, Yes, King Crimson, Jethro Tull, Genesis and Styx were in the vanguard of a musical shift in rock.  Suddenly, uncommon time signatures, long solos, technical passages, dragged-out instrumental parts and lyrical themes out of this world not only became common but largely accepted even on a commercial scale. Even to this day, the timeless chops of Neil Peart, Phil Collins, Bill Bruford, Alan White and many others continue to inspire and set the bar.
Looking for your next challenge…..
Seventies Prog Groves literally covers the entire gamut from 3/4 all the way up to 11/8, this MIDI pack offers an enormously broad foundation of grooves for anyone looking to spice up their song writing with some basic, tight and classy drumming. May be that it's delivered in a somewhat challenging format time signature-wise, but change is often what brings out the best of new ideas. Up for it? Start writing!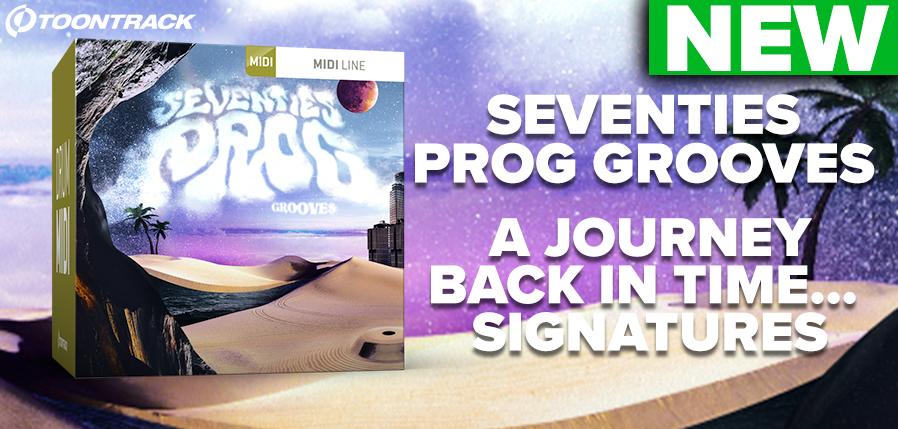 Drums grooves and fills inspired by the vivid 1970s prog rock scene
Featuring unusual time signatures, but performed to keep a basic and easy-to-understand feel throughout.
3/4, 4/4, 5/4, 5/8, 6/8, 7/4, 7/8, 9/8, 11/8 in straight and/or swing
Bands used for inspiration and reference: Kansas, Rush, Pink Floyd, Yes, King Crimson, Jethro Tull, Genesis and Styx (to name a few)
Journey back in time signatures - basic rock grooves in close to any time signature imaginable!