ANAHEIM, CA (December 23, 2019)— Hartke, an industry leader in bass amplification, announces two new lightweight powerhouses, the LX8500 and the LX5500 Bass Amplifiers, at NAMM 2020. These Class D amplifiers weigh under nine pounds, produce 800-watts and 500-watts of real continuous power and are paired with a rich sounding, tube-driven preamp with Hartke tone stack EQ. The LX8500 ($599.99) and LX5500 ($449.99) will be available inQ1at major MI retailers.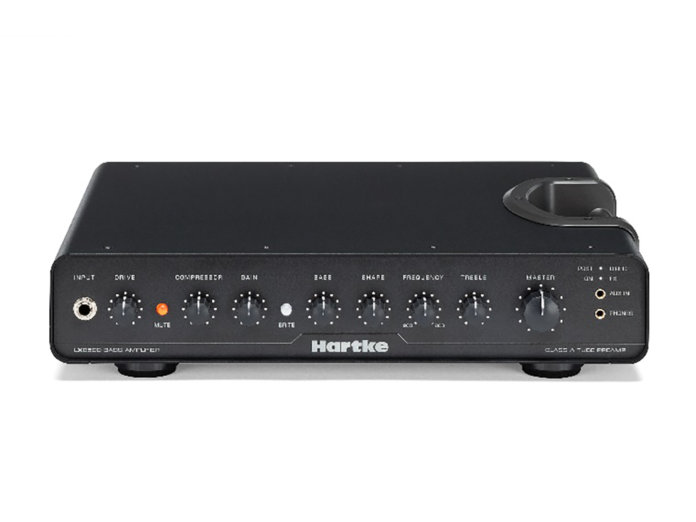 Class A Tube Tone
Supported by an extraordinary amount of power, the LX series amps feature a Class A tube preamp that responds dynamically to any playing technique or instrument. The Hartke Tone Stack EQ section is tailored to the bass guitar and provides players the ability to dial in a variety of tones for any genre. Shape and Frequency knobs provide detailed control of critical midrange frequencies and familiar Bass and Treble controls allow players to sculpt a distinctive modern or vintage tone. The Brite button boosts high frequencies to bring out the top-end shimmer of the bass and highlight natural harmonic overtones.
LX series amplifiers include an all new integrated Drive control that can be adjusted to add a touch of grit to cut through or maxed out for an authentic fuzz tone. A variable Compressor knob can be used to smooth out transients and balance dynamics for players that employ slapping, tapping and thumb-picking techniques. An 1/8" Aux input and headphone output make the LX series ideal for the practice room, stage, and studio.

Product Features
800-watt continuous Class-D amplifier

Weighs 8.5 lb.

Classic 12AX7 Class A tube preamp circuitry

Hartke tone stack EQ, including Shape, Frequency, Bass and Treble control

Compressor knob controls bass dynamics

Drive control for extra grit

Brite button for high-frequency boost.

¼" input

1/8" Aux input

1/8" headphone output

TRS foot switch outputs for Drive & FX and Brite & Frequency

¼" Tuner output

Output mute switch
Product Features
500-watt continuous Class-D amplifier

Weighs 8 lb.

Classic 12AX7 Class A tube preamp circuitry

Hartke tone stack EQ, including Shape, Frequency, Bass and Treble control

Compressor knob controls bass dynamics

Drive control for extra grit

Brite button for high-frequency boost.

¼" input

1/8" Aux input

1/8" headphone output

¼" Tuner output

Output mute switch