Asheville, NC, August 11, 2020 — In March of this year, when social distancing became the norm and creatives around the globe found themselves seeking an outlet for expression, Moog Music delivered a glimmer of hope in the form of its Minimoog Model D mobile app— a tool that has been available to iOS users since early 2018.
The Model D app, usually $14.99 in the App Store, has now been free to download for more than five months as a gesture to encourage positivity and inspiration, the Asheville-based synthesizer company shared as part of its initial announcement on social media.
"The idea to offer this app for free came naturally for us," Moog Music President Mike Adams shared. "Our mission is, and has always been, to support artists and foster their creativity with our instruments. Doing that in a way that is accessible to so many was the right thing to do during this difficult time."
Originally introduced by Moog in 1971, the Minimoog Model D synthesizer forever changed the way we hear the world around us. The pioneering electronic instrument has been used by everyone from Herbie Hancock and Bob Marley to Dr. Dre and Trent Reznor. The mobile version of this legendary synthesizer makes it possible for any iOS user to explore the Model D's classic sound at their fingertips.
As of this summer, the Minimoog Model D app has now brought the joy of electronic sound into the lives of more than one million users worldwide.
Joe Richardson, Moog Music's Chief Marketing Officer, reflected on what this milestone means to the organization: "It has been truly inspiring to see and hear how our community has embraced the app — from individual explorations of the power of sound design to remote collaborations as artists work together on songs. Users have shown us just how possible it is to stay creative and expand how we express ourselves during this time of social distancing, even as the rooms we live in feel smaller than once before. This imagination and ingenuity exemplify exactly what Bob [Moog] embodied and wished for when he founded this company 66 years ago." 
"To be human, to be fully human, is to need music and to derive nourishment from the music you hear. What you do with our instruments helps us to be more human too, and I want to thank you all for that." - Bob Moog
When it was introduced almost 50 years ago, the Minimoog Model D synthesizer served as the archetype for all electronic keyboards that followed. The Minimoog's portability, accessibility, and sound design capabilities made it the go-to instrument for musicians looking to expand beyond the traditional sounds of the time.
Bernie Worrell used the Minimoog Model D to establish Parliament Funkadelic's futuristic funk sound. Kraftwerk employed the Minimoog Model D on the successful concept album Autobahn, sparking an entirely new genre. Gary Numan replaced his live band's guitars with Minimoog Model D synthesizers, creating the prototype for industrial music. The classic sound of the Minimoog Model D can be heard on albums such as Bob Marley's Catch A Fire, Michael Jackson's Thriller and Dr. Dre's The Chronic, as detailed in Moog's mini-doc series "A Brief History Of The Minimoog."
The Minimoog Model D app is a mobile transmutation of the world's first portable synthesizer, the Minimoog Model D. No matter what your synthesizer experience, anyone can jump in and play with over 160 included presets or lay fingers to the controls and begin exploring vast magical realms of creative potential.
Taking full advantage of the iOS platform, the Minimoog Model D app incorporates a number of inspiring sound creation tools and capabilities not present on its analog antecedent.
Along with exploring the Minimoog Model D app's preset packs and Moog's additional iOS apps available in the App Store, the organization encourages users to keep sharing their creations via Instagram, Twitter, and Facebook to continue inspiring others and uplifting the music community through the power of sound.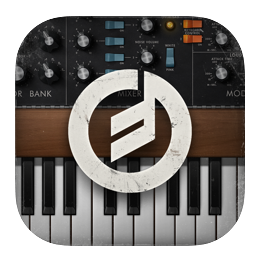 More about Moog Music
Moog Music is the world's leading producer of analog synthesizers. The employee-owned company and its customers carry on the legacy of its founder, electronic musical instrument pioneer Dr. Bob Moog. All of Moog's instruments are made with love in its factory in downtown Asheville, North Carolina. Learn more here.