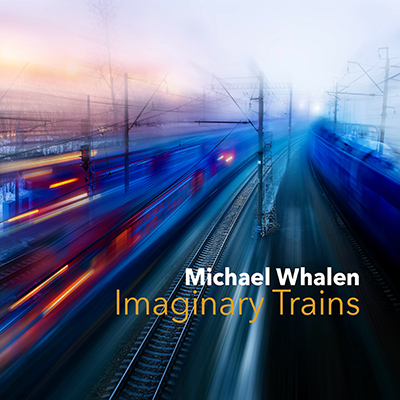 The warm analog sound of the Minimoog lead wafts gently above soothing digital textures in the familiar way that ambient, new age master composer and synthesist, Michael Whalen, routinely delivers.
Fresh on the heels of his fabulous jazz fusion record, Future Shock, Whalen returns to his ethereal dreamworld of lush soundscapes and enchanting melodies on Imaginary Trains. We could almost copy and paste our review of Whalen's 2020 release, Sacred Spaces, as the vibe is quite similar, though perhaps a bit more upbeat overall in a less new age-y way.
Michael Whalen, Future Shock

Genre:
Ambient, Electronic
Musicianship:
Songwriting:
Production & Engineering:
Vibe:
Overall Rating:


3.75
There are certain hallmarks to Whalen's sound, like the way he creates gorgeous arpeggiated and sequenced patterns that provide ambient rhythms behind his song structures. The influence of Jean-Michel Jarre and Jan Hammer will be obvious to fans of those electronic music masters, but then Whalen brings in a range of influences from his love of rock and progressive music that lend his music a vibe of its own. It wasn't lost on us that many of Whalen's lead synth melodies and tones harkened back to early Gary Numan works, albeit in the context of an entirely different genre of songwriting.
Whalen is something of a gear fanatic, and the electronic music/synth fan will certainly note the presence of some new toys in the keyboard collection on this record.  The sonic palette has expanded, and the music here leans a bit more in the soundtrack and film score direction than the new wave leanings of Sacred Spaces.
Having heard Whalen's fantastic chops on Future Shock, it was a treat to have drummer extraordinaire Simon Phillips show up once again for a guest remix of one of the album's key tracks, "Across the World." Although most of Imaginary Trains lacks drumming, Whalen unabashedly shares his Paich/Porcaro love during a great jam session with Phillips.
Imaginary Trains provides a great back drop against which to chill out or simply lose yourself in a hypnotic, aural Fantasyland. The sounds are sublime, and the mix is worthy. Imaginary Trains doesn't deviate too much from Whalen's trademark vibe, but at the same time brings something fresh to his vast catalog of work.