NATICK, MA, August 30, 2018 — Immersive audio is one of the most exciting developments in pro and consumer audio, thanks to its ability to place listeners in the middle of a remarkably realistic 3D audio environment. To aid in the understanding of this growing segment, Genelec now offers its free "Immersive Solutions 2018" guidebook, which provides a practical overview of principles, formats and technical considerations involved in immersive audio reproduction along with recommended Genelec speakers, system configurations and software utilities. The guidebook can be downloaded at https://www.genelec.com/immersive.
"Immersive audio is astonishing in its ability to add heightened 3D realism to movies, games, music, virtual reality and other media," said Will Eggleston, Genelec Inc. Marketing Manager. "However, it's still not fully understood by consumers and even some industry professionals. Also, immersive audio systems are more complicated to configure and install. We created the Genelec 'Immersive Solutions 2018' guidebook to explain what's involved and provide solutions for ensuring that immersive audio loudspeaker systems are deployed correctly."
The guidebook covers a number of topics related to immersive audio, beginning with an overview of how the ear perceives and localizes sound and how a properly-aligned loudspeaker system can deliver immersive audio. It explains how immersive audio loudspeaker systems are configured and covers the various available formats including Dolby Atmos, Auro-3D, DTS:X, 22.2 and others.
The guidebook offers a number of Genelec immersive room solutions for compact, small, medium and large rooms and explains how Genelec's GLM (Genelec Loudspeaker Manager) software can be used to precisely set up an immersive loudspeaker system. The guidebook concludes with an overview of Genelec monitor speakers and subwoofers that can provide a professional solution for any type of immersive audio application.
For more information visit www.genelec.com.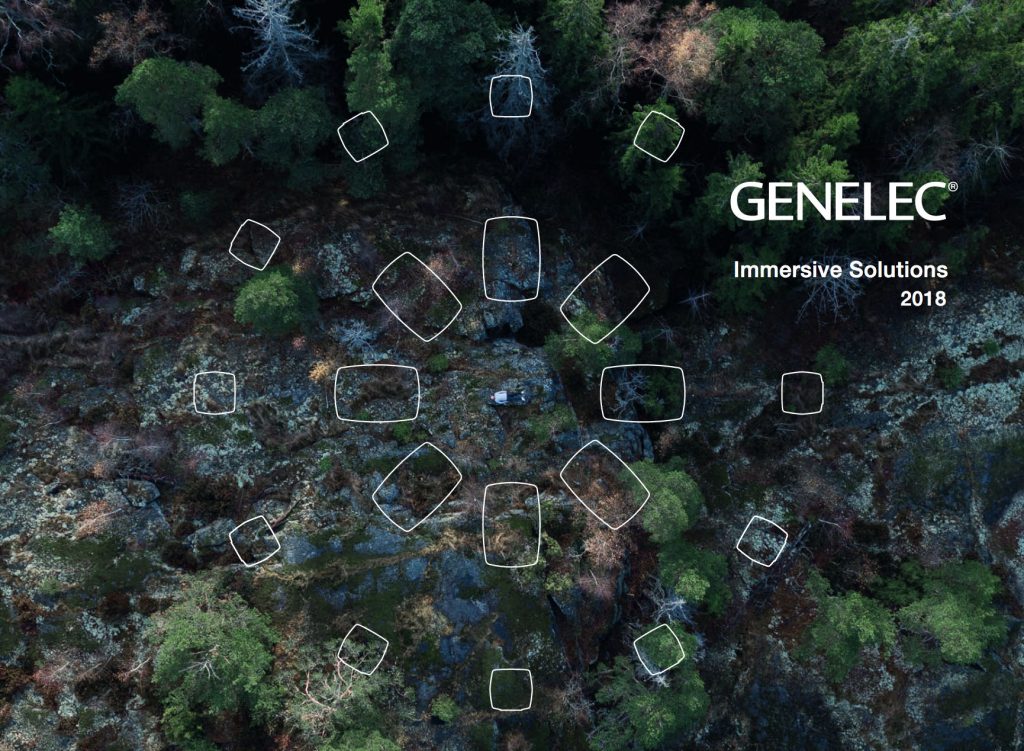 About Genelec
Genelec, the pioneer in Active Monitoring technology, is celebrating 40 years of designing and manufacturing active loudspeakers for true and accurate sound reproduction. Genelec is credited with promoting the concept of active transducer technology. Since its inception in 1978, Genelec has concentrated its efforts and resources into creating active monitors with unparalleled sonic integrity. The result is an active speaker system that has earned global acclaim for its accurate imaging, extremely high acoustic output from small enclosures, true high-fidelity with low distortion, and deep, rich bass.
Genelec is also celebrating over 10 years of its Smart Active Monitoring™ technology, which allows studio monitors to be networked, configured and calibrated for the user's specific acoustic environment. Each Smart Active Monitor or subwoofer is equipped with advanced internal DSP circuitry, which tightly integrates with the GLM (Genelec Loudspeaker Manager) software application, running on Mac or PC. GLM's reference microphone kit allows the user's acoustic environment to be analyzed, after which GLM's AutoCal feature optimizes each Smart Active Monitor for level, distance delay, subwoofer crossover phase and room response equalization, with the option of further fine tuning by the user. By minimizing the room's influence on the sound, Smart Active Monitors deliver an unrivaled reference, with excellent translation between rooms.