Living the Dream is an outstanding work, arguably their strongest release since 2008's Wake the Sleeper, and an easy contender for best album of 2018. Pick yourself up a copy and hear how this group of old veterans can still kick your ass in a big way.
-Sea Of Tranquility-
Living The Dream is not the sound of old men sitting around telling war stories. It is the sound of a wonderful hard rock band playing some magnificent songs. There'll be some kid, somewhere who's never heard of the band who finds this and loves it. That, right there, is why Uriah Heep - and other bands of similar vintage - are still vital.
-Maximum Volume Music-
They should have called this album "Living Legends" because that's just what these guys are 'cept they're very 'umble.
-Battle Helm-
British Classic Rock Icons Uriah Heep have released their 25thstudio album "Living the Dream" today via Frontiers Music Srl. For this album, the band teamed up with famed Canadian producer Jay Ruston. The band is beyond excited with the new album, which includes some epic additions to the band's huge catalog of rock staples and looks forward to sharing it with their fans around the world.
Stream and purchase "Living The Dream" here:http://radi.al/LivingTheDream
Watch the latest videos from "Living The Dream" below:
The band has announced a full World Tour which will last until the whole first quarter of 2019. "The mighty Heep are proudly able to tour in over 61 countries and we look forward to a packed touring schedule in 2018 and 2019. Touring is in our blood and what we have a passion to do, and so 2018 is no exception," concludes Box.
View all official tour dates HERE.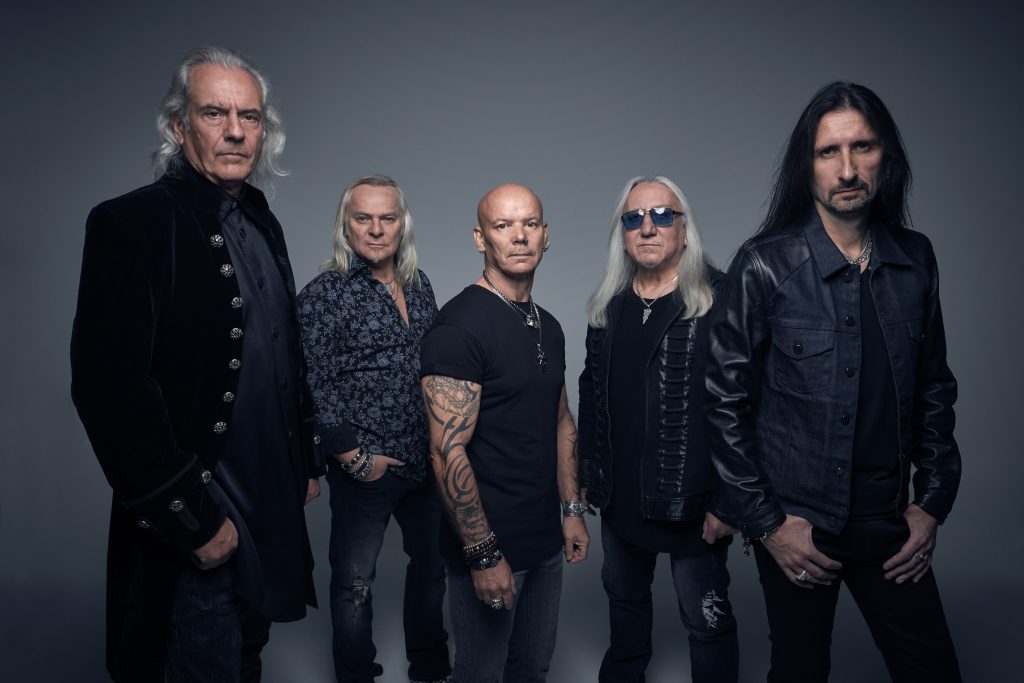 Uriah Heep Lineup:
Mick Box - Lead Guitar/Vocals
Phil Lanzon - Keyboards/Vocals
Bernie Shaw - Lead Vocals
Dave Rimmer - Bass Guitar/Vocals
Russell Gilbrook - Drums & Percussion
For More Info Visit:
http://www.uriah-heep.com
https://www.facebook.com/uriahheepofficial/
https://twitter.com/uriah_heep
ABOUT FRONTIERS MUSIC SRL
Originally founded in Naples, Italy in 1996 by Serafino Perugino as a distribution company, Frontiers has developed into one of the premier independent rock labels in the world. Synonymous with quality music across a broad spectrum, the company has worked with genre heavyweights such as DEF LEPPARD, WHITESNAKE, JOURNEY, YES, ELECTRIC LIGHT ORCHESTRA, RICK SPRINGFIELD, STRYPER, WINGER, MR. BIG, NIGHT RANGER and more. Aside from providing a home for classic artists, Frontiers also boasts a wealth of young, upcoming talent that, coupled with a savvy and forward-thinking A&R and marketing approach, will be developed into the future of rock 'n roll. With millions of records sold and multiple Top 10 album chart entries around the world, the label has also expanded with offices in the USA (Nashville) and UK (London). With a deep commitment to and passion for music and the artists who create it and with massive global distribution, sales and marketing channels, Frontiers is the premier home for both established and emerging rock acts.