Buena Park, California—Yamaha today announced a radical reinvention of the digital stage piano with the new 73-key CP73 and 88-key CP88. Designed from the ground up for working keyboard players, these instruments feature the very best Voices Yamaha has to offer plus a completely reimagined user interface, representing a new gold standard for the centerpiece of any gig rig and punching well above their mid-range price class.
The new CP series features three main sections that can quickly be split or combined as desired: Piano, Electric Piano, and Sub. With Voices sampled from two of the finest concert grand pianos in the world — the Yamaha CFX and Bösendorfer Imperial — plus a Yamaha U1 upright and the vaunted CP80 electric grand, the Piano section lets the player shine in any musical style. Selectable damper resonance adds even more realism to piano Voices for solo passages.
The Electric Piano section is a map of soulful musical roads, rendering three 1970s models of the classic tine piano and ranging from delicate sparkle to barky attitude. Brighter and darker variants on the Wurly, as well as Clav sounds, cover all the vintage-keys bases. Stompbox-style effects such as touch wah, phaser, and more perfectly capture musical memories from Motown to prog to fusion to yacht rock.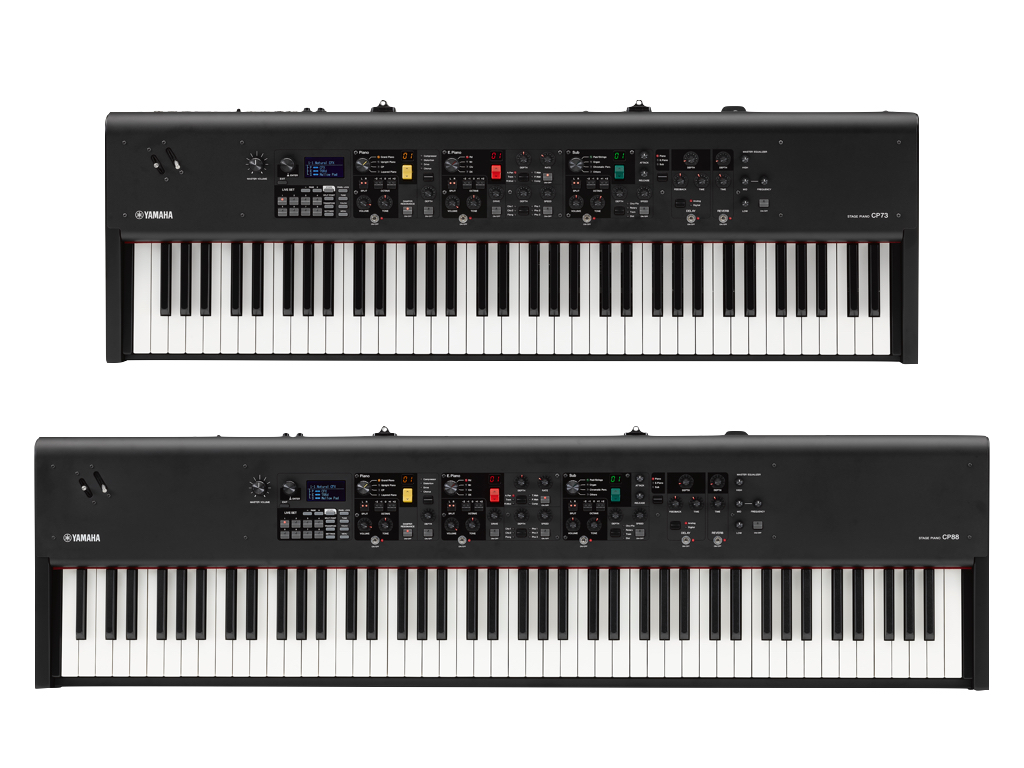 The Sub section offers strings, pads, organs, chromatic percussion, and other Voices ideal for layering. Among this section's effects is an excellent rotary speaker simulation that classic organ enthusiasts will surely appreciate. Synth-like attack and release controls provide further sonic sculpting here.
All sections are arranged into a one-to-one user interface that eliminates deep menu-diving, allowing the player to maneuver on a dime. Independent sound selection, volume, tone, on/off, split, and octave-shift controls make creating performance setups more like driving a sports car than programming a keyboard. Setups are savable as a Live Sets, instantly accessed by eight buttons. If the gig diverges from a set list, the real-time controls make adapting to the moment stress-free. Advanced Mode provides splitting and layering of whatever Voice combinations the player desires, beyond what may be quickly accessed from the panel. CP73 and 88 also features Soundmondo compatibility for sharing and discovering more free sounds.
The Balanced Hammer action of the CP73 is ideal for playing all types of Voices and sound combinations throughout a long gig without fatigue. For piano purists, the CP88 features the Natural Wood, triple sensor action as well as Synthetic Ebony and Ivory key tops to increase finger grip. Though both models boast all-aluminum construction, the CP73 weighs in at under 30 pounds.
Seamless Sound Switching ensures that sustained notes will continue to ring out even as a new Live Set is selected. This is vital for setting up the sound for a new song while a previous chord continues under another band member's singing or playing. Master effects include a tempo-syncable delay and lush reverb. For tweaking the CP to room acoustics, a three-band global master EQ offers a sweepable midrange band.
The rear panel puts the realities of gigging first. In addition to 1/4" outputs, balanced XLR outs allow connection to a mixer or stage snake without direct boxes. Left and right 1/4" inputs have their own gain control, bringing a second keyboard through the CP's main outputs without the need for a mixer.
Thanks to internal Flash memory, the CP73 and CP88 are expandable. Yamaha will add sought-after acoustic and electric piano Voices (as well as other sounds) in planned OS updates.
Whatever demands the modern gig might throw at keyboardists, the CP73 and CP88 stand ready to deliver stellar Voices, unprecedented ease of use, and flexibility — all while rewriting the rules of the sound quality and playing experience musicians might expect at even twice the price.
Pricing and Availability
The Yamaha CP73 (MSRP $2,499) and CP88 (MSRP $3,199) will begin shipping January 24, 2019.
For more information, visit the Yamaha Booth at the 2019 NAMM Show in the Anaheim Marriott Hotel, Marquis Ballroom, January 24-27, 2019, or https://yamaha.io/2KnhaUY