Standalone music production/DJ performance devices now offer users immediate wi-fi access to their own Splice library directly from the touch user interface
Cumberland, RI USA (April 4, 2019) — Akai Professional, a leading manufacturer of music equipment for performers and producers, announced today in conjunction with Splice the immediate availability of Splice integration in Force, MPC Live and MPC X; a pivotal series of updates that offer users immediate wi-fi access to their own Splice library directly from the touch user interface – perfect for ultra-fast auditioning of sounds for use within Force and MPC projects.
Splice Sounds offers artists millions of easily downloaded sounds, from Dry claps to Buzzy 808s to 747s landing to that rare Zildjian 20-inch thin China crash, and everything in between. The possibilities for layers, filters, distortion and effects are virtually endless. Millions of musicians - from Top 40 hitmakers to bedroom producers - come to Splice to get started or unstuck, move forward and make progress on their music.
To celebrate Splice integration in Akai Professional's Standalone Series, Splice Sounds is offering all Force, MPC Live and MPC X users a free 3-month subscription to Splice with access to millions of royalty-free samples, loops, and presets.
Force
Released in January 2019, Force features an 8x8 RGB clip launch matrix, a 7-inch full-color touch capacitive multitouch display, 8 touch-sensitive knobs with graphical OLED displays, two audio inputs, four audio outputs, MIDI and CV I/O. Together, this comprehensive versatility affords the user an unprecedented degree of creative freedom and expression, while remaining totally free of the constraints of being tethered to a computer.
Additional features include time stretching/pitch-shifting in real time, a comprehensive set of on-board effects by AIR Music Technology, plus the TubeSynth, Bassline and Electric synth engines. It also boasts an additional synth called Hype, a preset and macro-based synth combining several different synth engines into a single easy-to-use package. Force also has the ability to record eight stereo tracks.
Features/Details:
• Standalone - no computer required
• 8x8 clip launch matrix with RGB LEDs
• 7-inch color capacitive multitouch display
• Mic/Instrument/Line Inputs, 4 outputs
• MIDI In/Out/Thru via 1/8-inch TRS inputs (5-pin DIN adapters included)
• (4) configurable CV/Gate Outputs to integrate your modular setup
• (8) touch-sensitive knobs with graphical OLED displays
• Time stretch/pitch shift in real time
• Comprehensive set of AIR effects and Hype, TubeSynth, Bassline and Electric synth engines
• Ability to record 8 stereo tracks
• 16GB of on-board storage (over 10GB of sound content included)
• 2GB of RAM
• Full-Size SD card Slot
• User-expandable 2.5-inch SATA drive connector (SATA or HDD)
• (2) USB 3.0 slots for thumb drives or MIDI controllers
MPC X / Live
Akai Professional's MPC series offer a truly standalone production experience, providing users with an arsenal of core creative tools engineered for immediate creative expression. Fusing legendary MPC sampling with onboard synth engines, production grade mixing tools, DAW-style audio editing & capture, real-time time-stretching & pitch-shifting and much more, MPC empowers users to take command of their production without sacrificing the must-have power modern processors facilitate.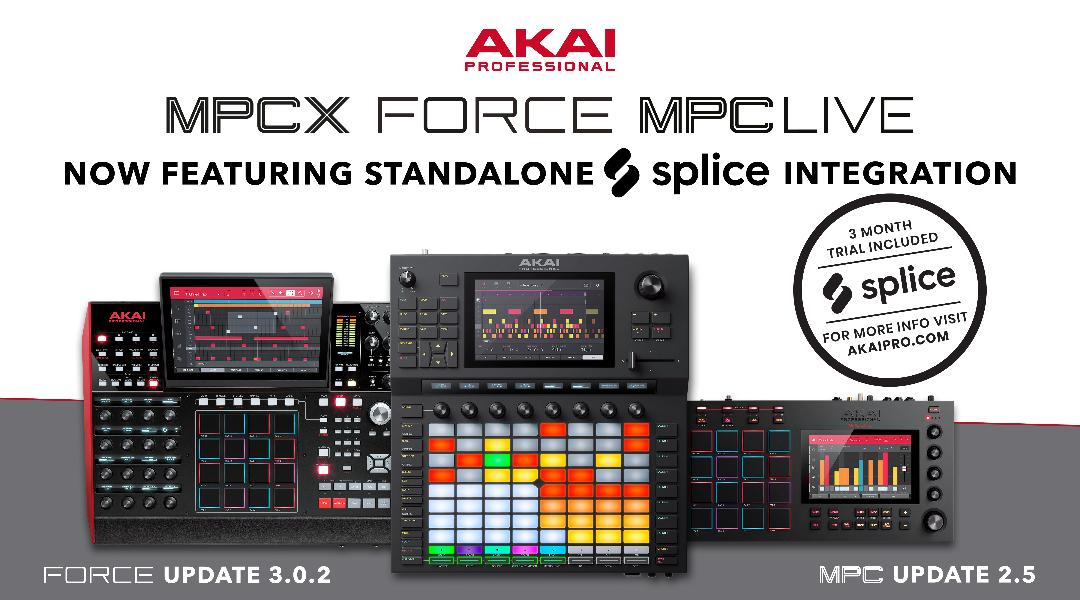 "Force and the MPC Series have taken the world by storm, offering a series of true production and performance powerhouses, creative sketchpads and modern performance essentials for the music making community," said Dan Gill, Akai Professional Product Manager. "Now with Splice integration, our Standalone Series provides immediate access to some of the most sought-after sound content available, for a degree of expanded creative potential never before seen in standalone devices – a virtually limitless world of class-leading, in-demand sound content is now quite literally at your fingertips."
"Akai Professional has engineered the next evolution in tools for immersive creative expression and it is fitting that Splice integration is included as part of MPC and Force's new feature-set" said Matt Aimonetti, Splice Co-Founder and CTO. "Splice has spearheaded the trend for on-demand sample content provision, and with immediate access to user's libraries directly from Force's and MPC's touch interface, creating something new or adding that missing piece to your latest masterpiece has never been this easy or intuitive"
Splice integration is included as part of update 3.0.2 for Force, and update 2.5 for MPC Live/X; both updates are available immediately.
For more information, visit akaipro.com