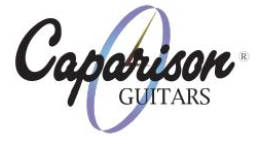 Caparison Guitars is proud to announce the release of the new Angelus-NH, Nick Hipa Signature Model.  The Caparison Angelus-NH is available to order now with a US MAP of US$ 4,199.
The Angelus-NH introduces exciting variations to the classic Caparison Angelus-M3B design. With updates including a Schaller Floyd Rose Tremolo system and Fishman Fluence Modern Humbucker Pickups, the Angelus-NH offers a stunning range of sonic potential to suit the recording and performance demands of the modern professional guitarist.
This hand-crafted guitar features a unique Mahogany-Maple-Mahogany (M3B) body with a beautiful 5A flamed maple top. The result is a warm mahogany timbre with extended brilliance, rich sustain, and tightened attack. An additional fullness and resonance is bolstered by a Set in Neck construction, with the aural nuances of the Angelus-NH extending far beyond the rock and metal genres it was designed for.

A hand selected master grade flame maple top finished in transparent white gloss adds a sophisticated artistry to this guitar's elegant aesthetic. The maple fretboard features oval inlays which are part abalone and acrylic black, a mesmerizing ornamental subtly to an element of visual function.
The Fishman Fluence Modern Ceramic (Bridge) and Alnico (Neck) pickup combination offers players a plethora of options ranging from crisp, high output crunch and tight low-end bridge voicings, to round, smooth, and articulate tones in the neck position. The Angelus-NH is the physical synergy of meticulous craft, quality components, and passionate design; sure to become a staple in the collections of serious players and enthusiasts alike.
For more information on this new siganture model from Caparison Guitars and to find authorized dealers, click HERE.
About Caparison Guitars: Founded in 1995 Caparison Guitars are hand crafted boutique instruments made in Japan and to the highest quality and specification. Their aim is to make the highest possible quality and best sounding guitars that you will ever play.