New EP Available May 1st, 2021

Los Angeles, CA (April 28, 2021) – Creativity abounds with two of the busiest session and collaborative musicians still on lockdown – Randy McStine and Marco Minnemann have announced they are set to release another independent collection of songs, an EP titled, Any Kind of Light, on May 1, 2021. This is the third musical installment from the duo, who seem determined to have a full 90-minutes' worth of original songs to perform once live music returns! The mini-collection features new and revisited tracks, "Bottom Feeder Blues," "Blessed," "Green (Version 1)," and "Any Kind of Light"(available now for streaming), along with two instrumental mixes from McStine & Minnemann II as bonus tracks – "Hello Dear Miss Swan Song" and "Old Sparky."
Fans can pre-order the EP at https://mcstineminnemann.bandcamp.com/.
Without knowing at the time, "Bottom Feeder Blues" and "Blessed" were the true beginning of McStine & Minnemann. Although both were recorded in early 2019, both tracks have been remastered for this release – "Blessed" has been re-arranged and re-mixed with new instrumentation added in January 2021. "Green (Version 1)" is an intimate McStine solo performance which will have an expanded arrangement on a future M&M release. "Any Kind of Light" was originally intended for their second album, however, Tim Palmer (Robert Plant, U2) has since come on-board as both co-producer and mix engineer, so the track hints at many elements they will be incorporating into their next record. Any Kind of Light was mastered by James Bacon and features cover art by Hajo Müller.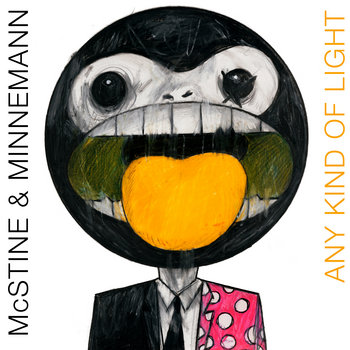 Randy McStine and Marco Minnemann joined forces in late 2019 with a common love of various rock, pop, and punk artists, crafting their unique blend of shared influences into a tuneful and engaging debut - channeling elements of Frank Zappa, Queen, Public Image Ltd, XTC, and The Police, the eponymously titled McStine & Minnemann, released in July 2020. Their sophomore release, McStine & Minnemann II, released in December 2020 to critical acclaim, "…the kind of music that delights in placing roses and thorns side by side…" – PROG.
Randy McStine (Vocals, Guitars, Bass, Keyboards, Percussion, FX) has a rich history of musical collaborations, including the rock power trio, The Fringe, with Jonas Reingold (The Flower Kings) and Nick D'Virgilio (Big Big Train), along with several solo albums, and his previous band, Lo-Fi Resistance, which featured contributions from members of Porcupine Tree, King's X, Spock's Beard, and others.
Marco Minnemann (Drums, Percussion, Guitars, Keyboards, Vocals, Bass, FX) maintains a high-profile status with an extensive discography and touring resume which includes his instrumental trio, The Aristocrats, along with artists such as Joe Satriani, Steven Wilson, Adrian Belew, The Buddy Rich Big Band, and many others. Celebrated for his unique playing style, Marco has been instrumental in developing the advanced concept of complex interdependence, a drum technique allowing him to play varying patterns with each of his feet and hands.
Follow McStine & Minnemann: