Continuing the celebration of their 20th band-anniversary, Polish rock masters RIVERSIDE will soon embark on a comprehensive tour across North America and Latin America.
Unfortunately, the band have been forced to cancel some shows and are now announcing a revised, shorter tour schedule for North America.
The band shared this message:
"Dear Friends,
We have some bad and some good news.
The bad news is, for bureaucratic and logistic reasons beyond our control we cannot go to the USA in the first half of April 🙁
Unfortunately, because of that, we have to cancel the shows from the first part of our tour:
Nashville (TN), Dallas (TX), Austin (TX), Phoenix (AZ), Pomona (CA), San Francisco (CA), Portland (OR), Seattle (WA) , Salt Lake City (UT), Boulder (CO) and St. Paul (MN). Tickets will be refunded where you purchased them.
We want to apologise to everyone who has incurred additional travel expenses in connection with those concerts 🙁 We promise to make it up to you with shows in...early 2023!
The good news is that we managed to save all shows from Chicago (IL) onwards. And, we were able to save the Atlanta (GA) date by moving the show to April 16. What's more, we were able to add a last-minute show on April 18 in Cleveland (OH) at the Beachland Ballroom (on sale in the next few days)!
Please check the amended tour dates on the updated poster.
We are truly sorry about the whole mix-up. We were very close to cancelling the whole tour, but by some miracle, we managed to save at least a part of it, and we are definitely going to be there. We hope to meet as many of you as possible.
- Riverside"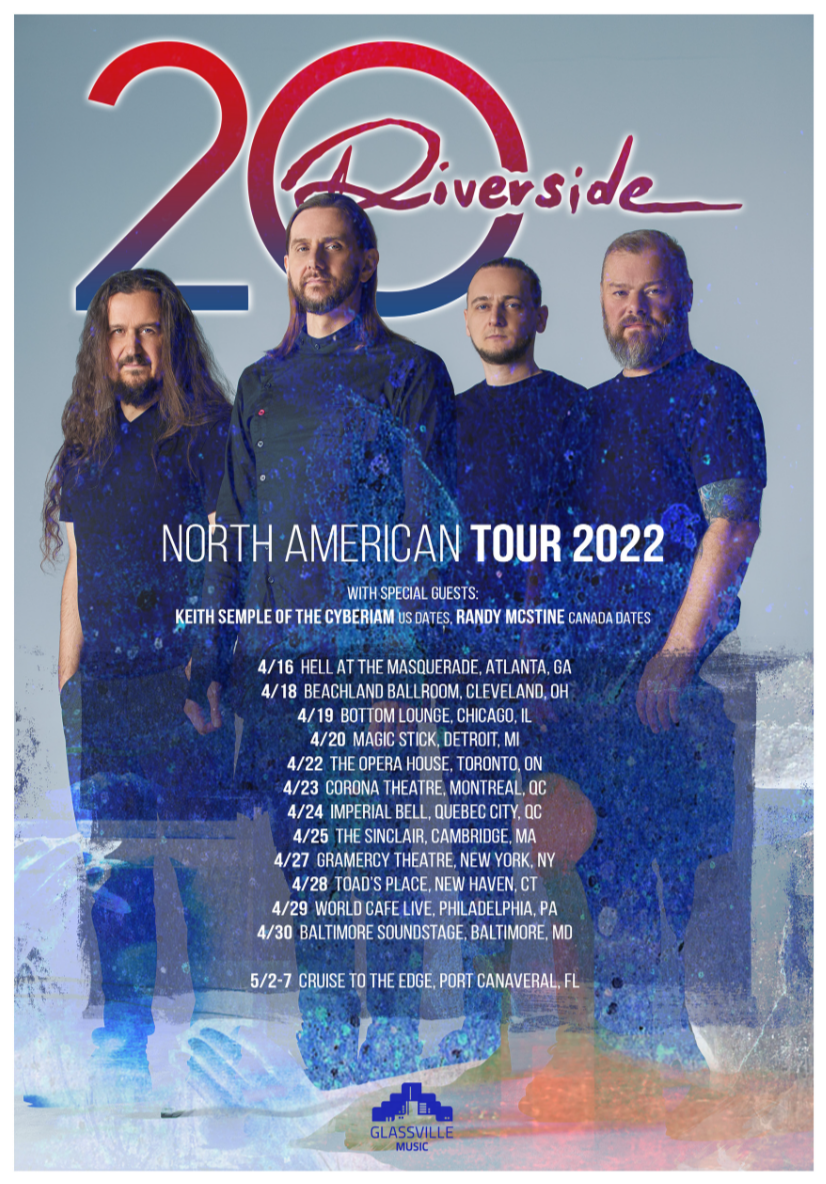 The complete list of upcoming RIVERSIDE dates announced so far reads as follows:

RIVERSIDE – North American Tour 2022
With special guests Keith Semple of The Cyberiam (for USA dates) & Randy McStine (for Canada dates)
April 16 Atlanta, GA - Hell at the Masquerade
April 18 Cleveland, OH - Beachland Ballroom
April 19 Chicago, IL - Bottom Lounge
April 20 Detroit, MI - Magic Stick
April 22 Toronto, ON - The Opera House
April 23 Montreal, QC - Corona Theatre
April 24 Quebec City, QC - Imperial Bell
April 25 Cambridge, MA - The Sinclair
April 27 New York, NY - Gramercy Theatre
April 28 New Haven, CT - Toad's Place
April 29 Philadelphia, PA - World Cafe Live
April 30 Baltimore, MD - Baltimore SoundStage
May 2-7 Port Canaveral, FL - Cruise to the Edge
RIVERSIDE – Latin American Tour 2022
May 8 Mexico City, Mexico - Auditorio Blackberry
May 10 Guadalajara, Mexico - C3
May 13 Santiago, Chile - Teatro Teleton
May 15 São Paulo, Brasil - Carioca Club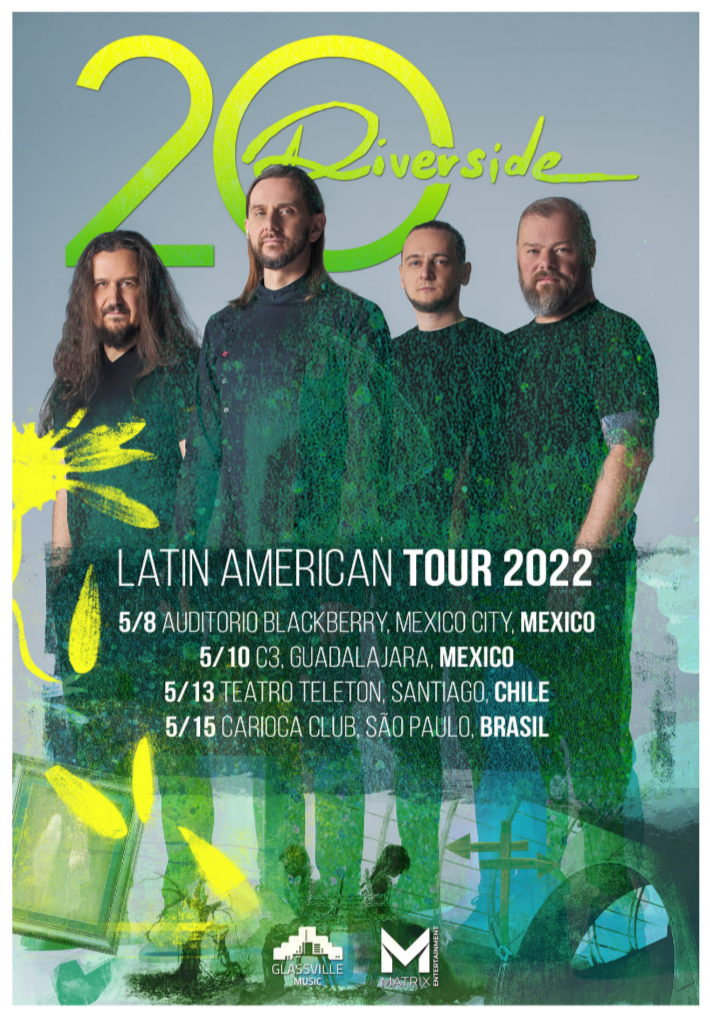 Ticket info for all shows can be found here: https://riversideband.pl/en/gigs/riverside-20
Stay tuned for more special, international anniversary shows to be announce soon.
RIVERSIDE have recently released a special Digital Single entitled "Story of My Dream" to enhance the anniversary celebration. This brand-new track was recorded and mixed at The Boogie Town Studio in Otwock, Poland during two days in July and five days in September 2021, engineered and mixed by Paweł Marciniak as well as mastered by Paweł Marciniak at Manximum Records in Łódź, Poland.
The Story of My Dream" single features artwork by Travis Smith (Opeth, Katatonia, etc.) and can also be checked out in a video clip directed by Tomasz Pulsakowski / Sightsphere here:
https://youtu.be/-s7fedFOP88
Additionally, RIVERSIDE also released two digital "best of" compilations via to showcase the comprehensive and rich back-catalogue from across the last two decades of band activity. Featuring material all especially remastered by Magda and Robert Srzedniccy (Serakos Studio) for this occasion, "Riverside 20 - Vol.1, The Shorts" includes 19 tracks and "Riverside 20 - Vol.2, The Longs" includes 14 songs each.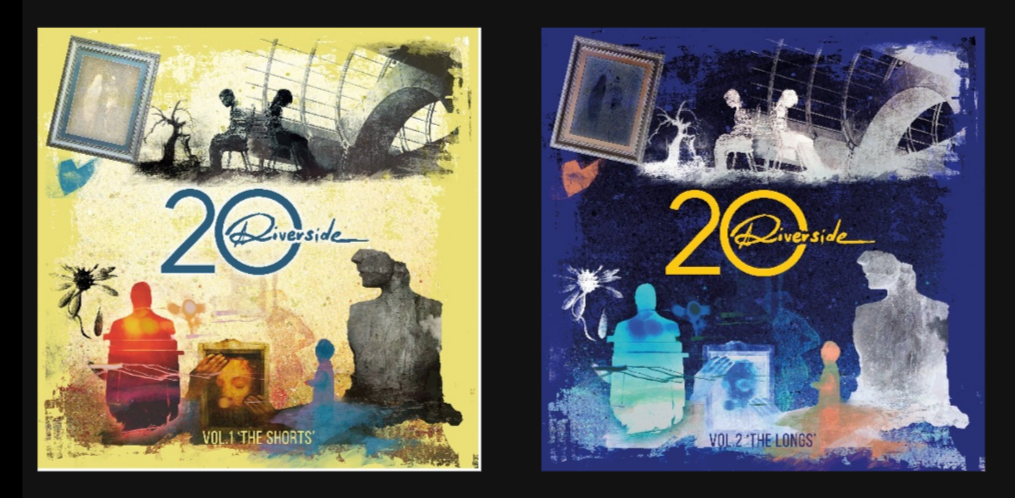 Both individual "Riverside 20" compilations as well as a bundle are available here:
https://riverside.lnk.to/Riverside20
RIVERSIDE previously also re-issued their debut album "Out Of Myself" as well as the "Lost'n'Found - Live in Tilburg" release via InsideOutMusic, following the launch of their acclaimed latest studio album "Wasteland" in 2018. Check out the various available back-catalogue titles by RIVERSIDE from the IOM webshop here: https://www.insideoutshop.de/Search?q=riverside
And stay tuned for more RIVERSIDE new soon…
RIVERSIDE line-up:
Mariusz Duda - bass, vocal
Maciej Meller - guitar
Michał Łapaj - keyboards and hammond organ
Piotr Kozieradzki - drums

RIVERSIDE online:
http://www.riversideband.pl
http://www.facebook.com/Riversidepl
https://www.instagram.com/riversideband.pl

INSIDEOUT MUSIC online:
www.insideoutmusic.com
www.youtube.com/InsideOutMusicTV
www.facebook.com/InsideOutMusic
www.twitter.com/InsideOutUSA
www.insideoutmusicshop.com

INSIDEOUTMUSIC Spotify Playlist: 
http://spotify.com/progrockessentials
http://spotify.com/progmetalessentials